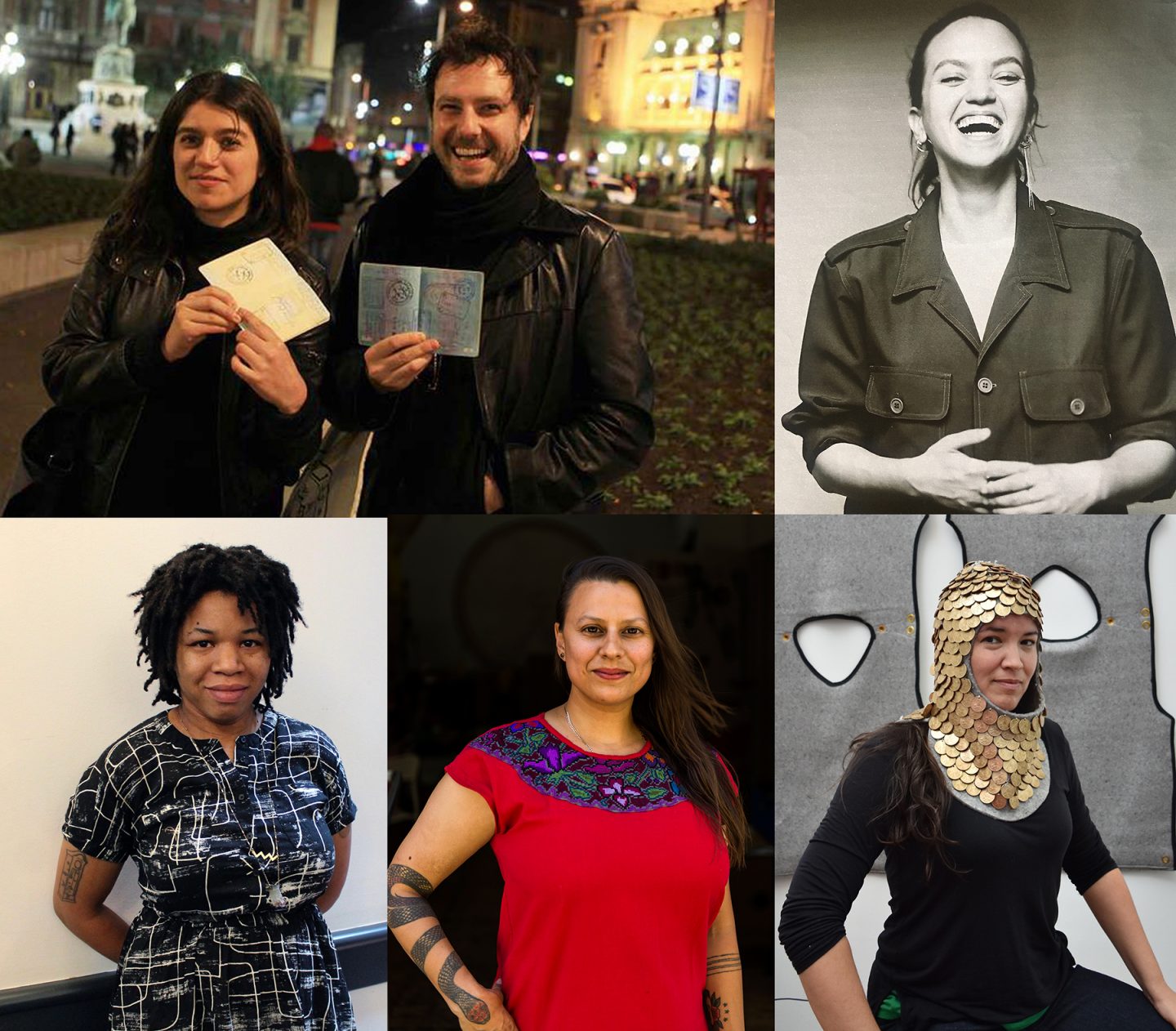 The Vera List Center for Art and Politics Announces Five New Fellows For 2020-2022 and the Selection of Five New Advisory Board Members
The Vera List Center for Art and Politics (VLC) at The New School has appointed five fellows for the upcoming 2020-2022 program cycle, including Boris Lurie Fellow Etcétera, and Borderlands Fellows Carolina Caycedo and Maria Hupfield. In addition, the VLC has selected Adelita Husni-Bey and Rasheedah Phillips as 2020-2022 VLC Fellows. Their appointment begins in Fall 2020 and runs through Spring 2022.
VLC also recently announced the selection of five new members to its Advisory Board. The new members are highly respected and prominent leaders in their respective artistic, educational and/or nonprofit fields, joining an already impressive advisory board that will guide the VLC through these critical times and into the future.
New Board members include: Linda Earle, Professor of Practice in Arts Management/Art History at Temple University's Tyler School of Art and Architecture; Pia Infante, Trustee and Co-Executive Director of The Whitman Institute and an alumna of The New School; Louis Massiah, a documentary filmmaker and the founder/director of Scribe Video Center in Philadelphia; Alan Michelson, an internationally recognized New York-based artist, curator, writer, lecturer and Mohawk member of the Six Nations of the Grand River; and Naeem Mohaiemen, an artist and educator whose work combines essay, film, photography, and installation to research socialist utopias, incomplete decolonization, shifting borders, unreliable memory, and family histories.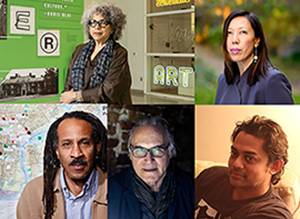 This group is uniquely positioned to provide guidance to the Vera List Center in its embrace of social justice and further its ongoing commitment to equity and inclusion. These appointments coincide with the VLC's expansion of its fellowship program from two to five fellows, and the new members will be engaged in supporting these artists as they undertake research-intensive and ambitious art projects that encourage social and political change
With the addition of the Boris Lurie Fellow and Borderlands Fellowships, this cycle represents a significant growth of the VLC's fellowship program and its support to artists. The expansion from two to five fellows, at a time when artists have been significantly impacted by the pandemic, enables these artists to undertake research-intensive and ambitious art projects that encourage social and political change.
The Boris Lurie Fellow and Borderlands Fellowships continue the VLC's tradition of providing a culturally rich environment for artists to thoughtfully engage in work that considers the political and historical impact of contemporary art. The Boris Lurie Fellow, established with a grant from the Boris Lurie Art Foundation, is awarded to an artist living outside the U.S. with special consideration of those who have faced political hardship. The Borderlands Fellowships will focus on the relevance of place, thus seeking to support and apply an Indigenous lens to reflect on questions of borderlands.
The fellows are appointed under the VLC's 2020-2022 thematic focus, As for Protocols, investigating both the urgency of the global pandemic and the protocols of power and control that are exerted over people, places, and the environment. These protocols of power impact marginalized groups — especially Black and Indigenous people — in systemic ways. While each fellow's practice is distinct in form and focus, their work represents a common commitment to community-building, bridging political and geographic borders, and a vital connection to others that incorporates protocols and is especially important during a time of social distancing and growing socio-political division.
The VLC has championed the arts as expressions of political moments since its founding in 1992. Today, debates around freedom of speech, deep political polarization, and identity politics make the VLC's charge as critical now as it has ever been.
Since its inception in 1993, the Vera List Center fellowship program has supported 33 distinguished artists and scholars including Lawrence Abu Hamdan, Maurice Berger, Jill Magid, Lorraine O'Grady, Walid Raad, and most recently, Dean Erdmann and Helene Kazan. Each fellow receives a $15,000 research grant and substantial curatorial, research, and production support over the two-year period and will present at public events, with access to The New School community. The VLC and Boris Lurie Fellows were selected from among 254 applicants, from 52 countries, through a rigorous selection process that included an advisory panel of curatorial peers, former fellows, New School students and faculty, and experts on the Vera List Center's board.
"The intimacy of the fellowship experience intersects with urgent concerns affecting people throughout the world. We're thrilled to be able to support the work of these exceptional artists over the next two years, and to significantly broaden the fellowship initiative in response to the needs of artists," said Carin Kuoni, Senior Director and Chief Curator of the Vera List Center for Art and Politics.
The Boris Lurie Fellow is named for Boris Lurie, an artist who arrived in New York in 1946, having survived nearly four years in Hitler's death camps. His art became a way to confront the overwhelming representation and commercialization of violence, as well as the complacency of those in power, through an extraordinarily layered and continuously evolving artistic oeuvre, consisting of collage, painting, writing, and sculptural pieces.
"The selection of Etcétera — with its sense of subversiveness and bold political views — is an exciting and auspicious choice for this inaugural Boris Lurie Fellow," said Gertrude Stein, Director of the Boris Lurie Art Foundation. "Our hope is that this fellowship with the Vera List Center will serve as an inspiration to artists everywhere to express their political views in their art. Boris Lurie was an artist who was not intimidated by the establishment and whose art was a reaction against the materialism and consumerism of the post-Second World War baby boom. His work, like that of Etcétera, shakes up the viewer and strives to make us take notice of our reality."
The Borderlands Fellowship is a collaboration of the VLC and the Center for Imagination in the Borderlands at Arizona State University in Tempe, Arizona, to support research projects that create communities across different geographical, cultural, and political landscapes. Borderlands Fellows were selected from a pool of invited applicants who were nominated by experts in the field.
"The Center for Imagination in the Borderlands uses a lens of Indigeneity which centers our connection to the land and waters of the borderlands, what exists beneath and around the man-made borders, and the connections — through body, language, ceremony, care-taking of land body and water, and movement — that honor both autonomy and our relationship to one another as people and also as non-human living beings," said Natalie Diaz, Akimel O'odham poet and director of the Center for Imagination in the Borderlands at Arizona State University.
The Vera List Center Fellowships support individuals whose work advances the discourse on art and politics. The two-year, low-residency appointments provide the opportunity to research and develop a project drawing from the curatorial, academic, and professional resources of the Vera List Center and The New School, and to bring the research and resulting work to the public through the Vera List Center's interdisciplinary public programs and organizational networks. Through their projects, the fellows contribute to the intellectual foundation of the Center and benefit from the engagement of New School faculty and students.