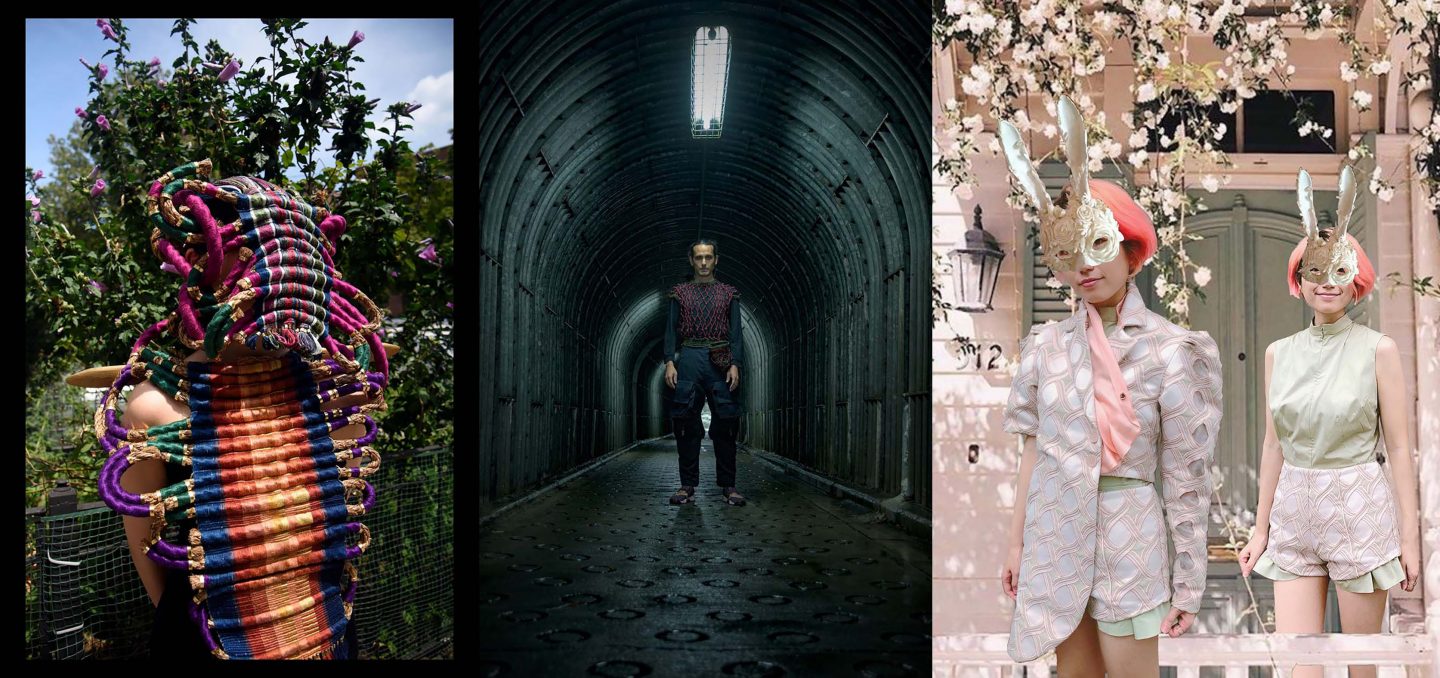 School of Fashion Debuts Virtual Platform to Showcase 2020 Graduates
On May 18, 2019, the School of Fashion at Parsons School of Design hosted their first ever street fashion show. The school transformed 13th street between 5th avenue and University into a runway, with more than 250 models walking down the street, wearing unique designs for a packed audience.
This year, the graduate showcase looks a bit different due to the Coronavirus, but in typical Parsons fashion, the presentation is just as innovative and groundbreaking as ever.
Here and Now is a virtual platform that presents the work of all graduating students from the School of Fashion's various programs, including the BFA Fashion Design, MFA Textiles, AAS Fashion Marketing & Communication, AAS Fashion Design, and MPS Fashion Management programs. 
Although the Covid-19 pandemic presented challenges, all of the program directors were impressed and inspired by their student's resilience and determination to finish their thesis collections.
"Fashion Management graduates looked at ways to reinvent the fashion system, creating solutions for social media and e-commerce, exploring rapid innovation methods, unlocking opportunities in retail, developing strategies to influence consumer behavior and integrating sustainability and social responsibility at all levels of the fashion industry," said Keanan Duffty, MPS Fashion Management Program Director.
"Our students worked tirelessly in adapting to digital landscapes, reformatting collection thinking and approaches, as well as a determined perseverance to complete their body of work," said James Butler, AAS Fashion Design and AAS Fashion Marketing/Communication Program Director. "It was wonderful to also see them engage with opportunities beyond the thesis in CFDA competitions, sponsorships, collaborations for editorial, with a keen focus for their career aspirations and not being discouraged by the pandemic."
"Everyone has felt the multitude of impacts of the last seven months – our students, faculty and support systems have faced some unbelievably difficult times and realities," said Neil Gilks, BFA Fashion Design Program Director. "Yet their ability to push through with such genuine love of design and belief in it's power for change and good has proven that Parsons BFA Fashion (particularly this latest crop of talents) are primed to lead in the next chapters of our developing design history."
Below are a selection of student thesis collections. The full range of work can be found on Here and Now.
"The clothing industry has taken a heavy toll on our environment," said Natalie Brown, AAS Fashion Design '20. "Sustainability has been at the forefront of the news due to recent major environmental tragedies. Most people, like myself before enrolling in Parsons, are not aware that some clothing can take up to 30-40 years to decompose, leading to a continuous build-up of waste. My thesis collection uses upcycled clothing to revamp the idea of upcycling with a fresh edge and luxury feel. When researching different companies that upcycle, I realized how small the pool of brands is. I also found myself underwhelmed with the lack of complexity or innovation of the recreated pieces."
"I didn't start at Parsons with a concrete plan in mind," said Jesse Prince, AAS Fashion Marketing '20. "I just wanted to work in fashion, and I didn't want to be a designer per se, but I was inspired by the content I saw on some of my favorite blogs, and wanted to create similar things. With that in mind, content marketing and merchandising interested me most. There is one common denominator throughout most of courses that I've taken in this program: the use of creativity. It's always been within me, and I've risen to each challenge. In this portfolio, I plan to show how I put my creative vision to good use."
"In my collection titled "Who Is She?" I decided to explore intense colors, space, repetitive compositions, and linear designs normally found in abstract expressionist painters, Franz Kline and Barnet Newman, in order to represent the multifaceted layers of my relationship with the oldest matriarch of my family, my grandmother," said Angelica Crump, AAS Fashion Design '20. "As a stoic woman who survived a segregated America her personality is understandably a representation of her time. Exploring a 1940's America where my grandmother, Annie, would be nearly the same age as I am right now helped navigate the creation of the silhouettes and prints, but ultimately staying true to the original theme of linear expressions."
"My collection embraces the theme of satisfaction and celebrates quality, luxury and leather craftsmanship," said Rachel Diana Weilbacker, BFA Fashion Design '20. "Inspired by the organic and fluid shapes of slime, these accessories provide perceptual pleasure for the wearer through textures, comforting and soft forms, and handles that function as a stress balls. Ultimately, I want the user to feel happy and at ease in this uncertain world."
"My collection's concept has come together in the way that it has led me back to the history of how my family in Colombia during the times where they were less fortunate," said Yankarla Gonzalez, Fashion Design '20. "They had to resolve their situations with creativity. Both of my grandmother's being seamstresses, used their skills to create everyday garments for my parents, it was a start of a journey constant inspiration. They used and worked with what they had to make something good out of it. Which is what I wanted to incorporate within my work, as I worked with making samples out of old garments, by cutting them apart to make my beginning designs. It was a great extensive process that sparked the end results of my collection. It led to the self discovery of my own unique graphic identity through the use of common used machinery and turning it into a graphic identity that is so personal in my process. I wanted my collection to give the modern twist on nostalgic feelings seen through my garments and accessories. Nostalgia is a feeling that should be enjoyed happily and taken as a daily inspiration to do greater things in life, because it's the history that makes us and stays with us."
"Each print is produced from my own drawings that are then intuitively scanned in a way to distort the images," said Sarah Ding, Fashion Design '20. "Monofilament fishing line and various textured yarn are machine knit together to create transparent textiles that are disrupted by the opaque yarn going through. Accidental holes on the knitwear are accentuated by the melting of the textiles and beads attached by jump rings. The knit textiles are then embroidered and embellished with different types of beads onto the prints, following the distortion of the images. In the photography, the subject is interacting and playing with the textiles, displaying vulnerability of self, and often captured in candid moments. The textiles come alive through the human bodies and the natural environment they are in."
"The American dream has always been a fragile agglomeration of (1) individual freedom of choice in lifestyles, (2) equal access to economic abundance, and (3) the pursuit of shared objectives mutually advantageous to the individual and society (Zangrando, J., & Zangrando, R., 1970)," said Jeff Karly, MPS Fashion Management '20. "While personal liberty, financial attainment, and community promise the eventual attainment of happiness, this has not been universally true for Black Americans. I am Creative too #IACT attempts to fill in research gaps by addressing the following questions: (1) How has generational wealth or family status relate to identity expression? (2) How has socio-economics of a neighborhood impacted professional, creative, and life path? (3) What structures or community programs impacted self-growth and identity expression? And (4) Who has access to become inventors/creator?"
"Double-jumping in time, the project presents the imagined future as the past, contextualizing the series of objects as part of a museum exhibition in an even more distant future," said Peter Salera, MFA Textiles '20.
"The highlight of AGAR TEXTILES is that all textiles are completely biodegradable and will not harm the environment – neither in their production process, nor in their disposal," said Yi Hsuan Sung, MFA Textiles '20. "AGAR TEXTILES not only perfected the material development with agar as the primary polymer and repurposed food waste to produce dyes (to color the agar), but also invented molds using 3D printing technology to create shapes and forms with the biomaterial. AGAR TEXTILES combined handcraft and high tech, and created different systems to produce agar yarn, agar fabric and agar embellishments."
"The sentiment of living within opposing value systems, rooted in my in-between identity as a first-generation Chinese-American and constant search for belonging, is explored in a fragmented and pieced together environment of perceptual landscapes using color, texture and light," said Laura Kung, MFA Textiles '20. "Slow methods of making such as natural dyeing, the weaving of broken threads and hand-knotting activate a meditative state and an opportunity to introspect."