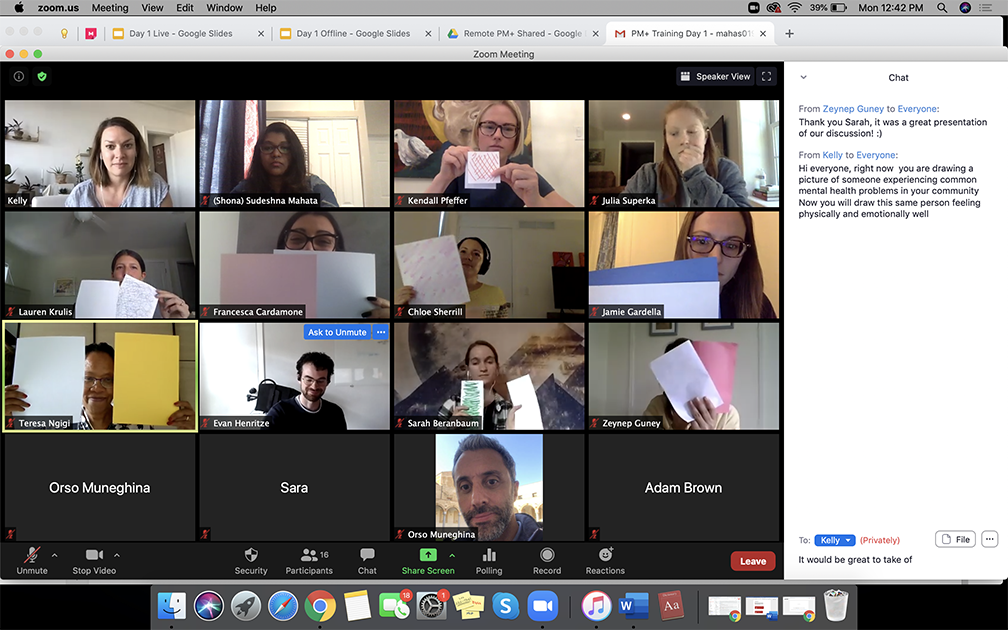 Trauma and Global Mental Health Psychology Lab Partners with Danish Red Cross to Provide Short-Term Mental Health Interventions to New Yorkers
Before the COVID pandemic began, Adam Brown, an associate professor of psychology, had been planning on piloting a World Health Organization (WHO) short-term mental health intervention called Problem Management Plus (PM+) that could train students at his Trauma and Global Mental Health Lab at The New School for Social Research. The pilot program would be conducted in partnership with the Danish Red Cross (IRFC Psychosocial Centre), which has used the intervention through partnerships such as the STREGNTHS (Used with Syrian refugees) project in humanitarian settings.
When the virus hit, Brown realized that the partnership could present an opportunity to reduce treatment gaps in access to care throughout New York City. He decided to reach out to the IRFC Psychosocial Centre and ask whether it could use the PM+ intervention, so that his students could learn the intervention online and deliver it over Zoom.
The WHO describes PM+ as a "low-intensity psychological intervention for adults impaired by distress in communities who are exposed to adversity…. [T]he intervention is developed in such a way that it can help people with depression, anxiety, and stress, whether or not exposure to adversity has caused these problems."
To find clients, Brown partnered with the Safran Center for Psychological Services. Several of the ten clients participating with Brown's lab are awaiting psychotherapy from the Safran Center, while others expressed interest in PM+. The clients receive two assessment sessions and weekly counseling for five weeks.
Eight PhD Clinical Psychology students — Chloe Sherrill, Julia Superka, Kendall Pfeffer, Evan Henritze, Jamie Gardella, Lauren Krulis, Zeynep Guney, and Sarah Beranbaum — have been trained by the IRFC Psychosocial Centre to treat clients in the Zoom therapy sessions. Pfeffer is collecting data on the intervention, which she will use for her dissertation research. Shona Mahata, a recent Parsons graduate, provided design and technical support for the students during their training and has been asked by the IRFC Psychosocial Centre to participate in future projects.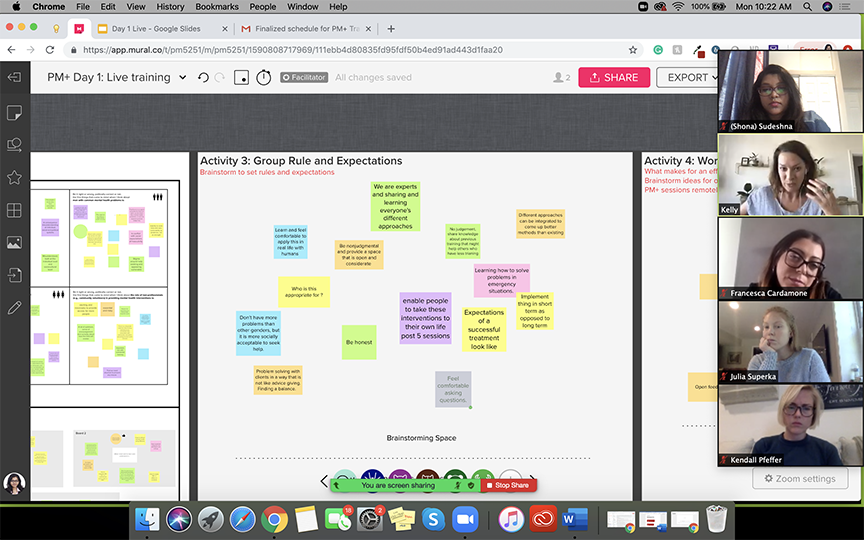 Brown says the work has been so successful that he anticipates increasing the number of students who will be trained to provide PM+. By participating in this research and training, students not only developed critical clinical skills but are also analyzing data and collaborating with local and international partners.
The initial online training was "pretty intense and demanding," according to Brown, but they are working on ways to make it less burdensome. He adds that students are reporting that their clients are greatly benefiting from the intervention and that learning PM+ has also helped them cope with these challenging times.
"COVID-19 is an unprecedented type of upheaval and stress," says Brown. "It is likely to exacerbate chronic mental health issues for many and contribute to the onset of new mental health conditions. We are especially concerned that individuals experiencing symptoms of anxiety, depression, or PTSD, may not seek care due to factors like time, cost, and navigating indoor spaces. We felt it was important to start building a knowledge base around whether an intervention that has been effective in humanitarian contexts, could be useful for providing practical and accessible emotional support during these times."
Brown says he and several colleagues have been collecting data on factors contributing to depression and anxiety in the city and have found "strong associations between intolerance of uncertainty and symptoms of anxiety among New Yorkers."
"Given the many unknowns about the course and nature of the pandemic, reducing barriers to care and providing people with basic techniques to help regulate emotions, increase self-efficacy, and maintain social bonds, will hopefully help mitigate some of the negative mental health impacts of this very unpredictable virus," says Brown.