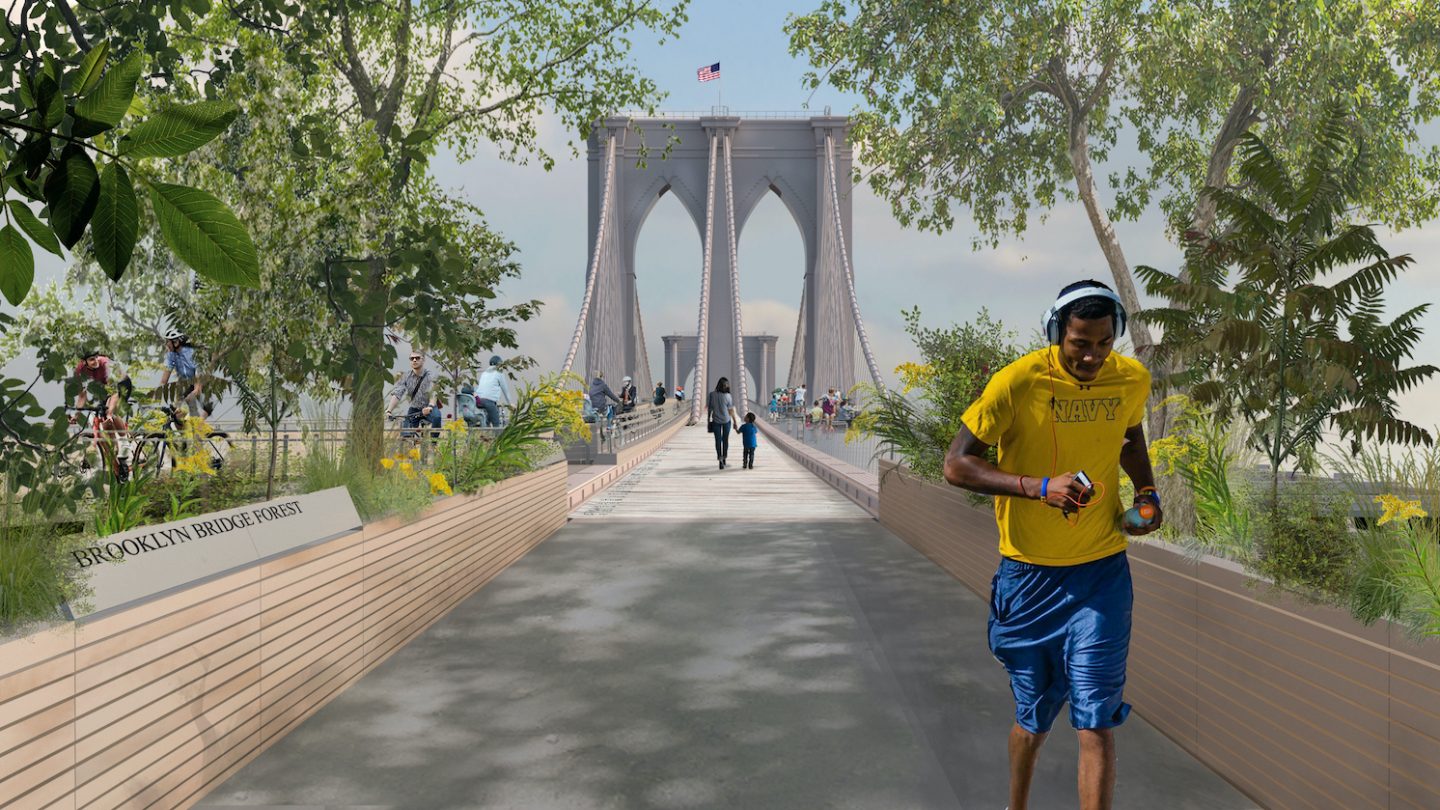 Christine Facella, Parsons BFA Product Design, '04, and Faculty Member Wins Reimagining Brooklyn Bridge Design Competition
Christine Facella, Parsons BFA Product Design, '04, and a current Parsons faculty member, is part of a team that recently won the prestigious "Reimagining Brooklyn Bridge" competition held by the Van Alen Institute. The team's entry called Brooklyn Bridge Forest defeated stiff competition and won $13,000 in prize money for each participant. 
According to the Van Alen Institute, "The Brooklyn Bridge has the potential to serve as a testing ground for designs that serve our communities in need — not just in an imagined, idealistic future — but now."
The competition was a response to the Brooklyn Bridge's iconic status being undermined by its cramped and sometimes unsafe promenade, (Pre-Pandemic) that everyday is crammed with thousands of pedestrians and cyclists. One of the contest's primary goals was to encourage discussion about the bridge itself–and the myriad problems facing New York's infrastructure.
The winning Brooklyn Bridge Forest group including Facella is a multidisciplinary team of ten professionals made up of architects, ecologists, an urbanist, a structural engineer, a forester, an environmental lawyer, educators, researchers, and a community engagement facilitator. Facella says that the idea for the project was first conceived about ten years ago by Scott Francisco, the team lead and former Parsons adjunct professor who formed the group through his design collective Pilot Projects.
Facella's team's winning entry "reimagines the bridge as an icon of climate action and social equity, improving mobility while respecting the landmark structure. The historic wooden walkway is expanded using planks sustainably sourced from a "partner forest" community in Guatemala that protects a 200,000-acre rainforest. A dedicated bike path and reclaimed traffic lane create new space for cyclists and low-carbon transit, while biodiverse microforests at either end of the bridge bring nature to New York City and serve as green spaces for underserved communities," according to the Van Alen website.
Facella says that all of the finalists in the competition were strong but that Brooklyn Bridge Forest stood out for the project's depth of social and environmental benefits. Among the project's proposals is to source timber for a new boardwalk from the community of Uaxactun, Guatemala while supporting the livelihoods of those who protect their surrounding tropical forest. Facella adds that the proposal's Microforests would "expand on accessible parks and shaded green spaces" for city residents and a dedicated bike path would ease "pedestrian and bicycle frustration."
"This is a victory for the idea that cities can and must take action at both a local and global level to ensure healthy, equitable environments, and to protect the forests and natural systems that sustain life for all," the team wrote in a statement. "After so many years of hard work and contributions from dozens of collaborators, this is rewarding and empowering. Our goal now is to manifest these ideas in NYC and beyond. Our proposal was based on feasible, low-cost incremental phases for the city to implement, starting right now. Given the stated urgency of fixing Brooklyn Bridge congestion, of creating equitable and inviting public space, of providing broader access to active transit options, and of slowing climate change, we hope that the city will work with us to implement these solutions straight away."
Facella  is a designer, maker and founder of recently launched 'Modest' (thisismodest.org) – a design and education entity that works to strengthen maker-communities by providing skills-building training to artisans in underserved communities, specifically promoting the use of native plant-based resources which have been cultivated locally in restoration scenarios that help rebuild natural systems.