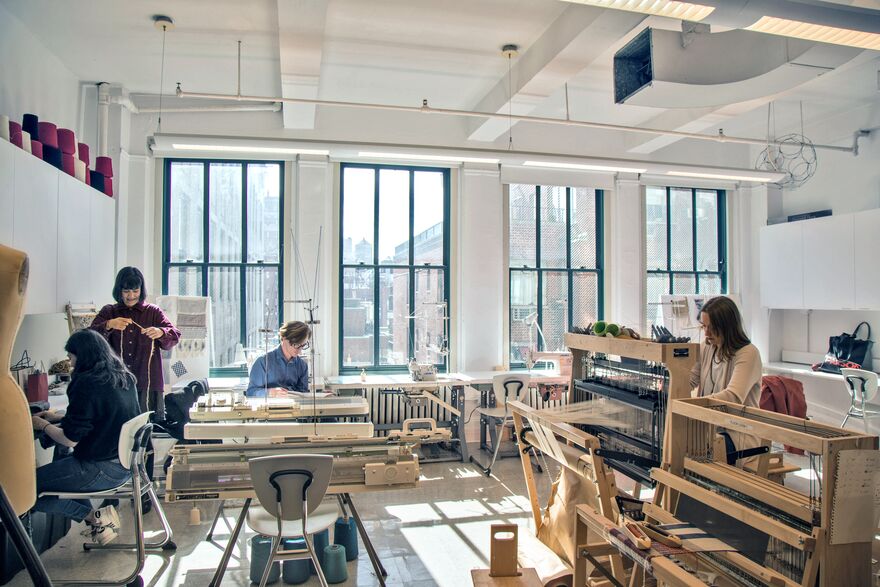 Parsons MFA Textiles Collaborates with Sister Parish Design for New Partnership
Mrs. Henry Parish ("Sister Parish") is considered by many to be the last of America's grande dame decorators. While best known for decorating the White House for Jackie Kennedy, Sister Parish originated the American Country look, one of the most enduring decorative styles of the twentieth century. Revived in 2000 by Sister Parish's granddaughter and great granddaughter, Sister Parish Design is an American heritage design brand owned and operated by women that began with the goal of resurrecting the prints and wallpapers that Ms. Parish loved.
Now, the iconic design company is collaborating with students from the MFA Textiles program at Parsons on a range of innovative and sustainable design concepts for products including wallcoverings and fabrics, and new processes to repurpose and reduce waste.
"Parsons is proud to collaborate with Sister Parish Design on this "real-world" project that will give our students the ability to research, innovate, and propose new concepts and ideas to one of the world's most iconic design brands," said Preeti Gopinath, MFA Textiles Program Director. "We are grateful to Sister Parish Design for the opportunity this provides to our graduate students, which will allow them to gain professional experience and learn valuable insights about the textile industry."
The MFA Textiles program is centered around the intersectionality of craft, technology, beauty and sustainability. Through the partnership with Sister Parish Design, students will investigate and explore the role of craft locally, research the global history of craftsmanship, and discover how new innovations and technology are influencing the field. Students will also examine materials and new uses for textiles, and what permanence and sustainability means with regards to wallpaper and other home textiles.
"Sister Parish Design is delighted to be partnering with Parson School of Design's MFA Textiles program. Given the shared history between the two (Sister's design partner Albert Hadley graduated from Parsons in 1949 and Sister Parish received an honorary degree) it is particularly resonant for us. We are delighted to be working with the iconic New York institution and their very talented graduate students," shares Susan Crater.
Throughout the course of the collaboration, students will research, ideate, virtually visit factories, and hear from leading textile experts and designers. Students will also have the opportunity to create prototypes of their designs, move into sample development, and potentially have Sister Parish Design bring their products to market.