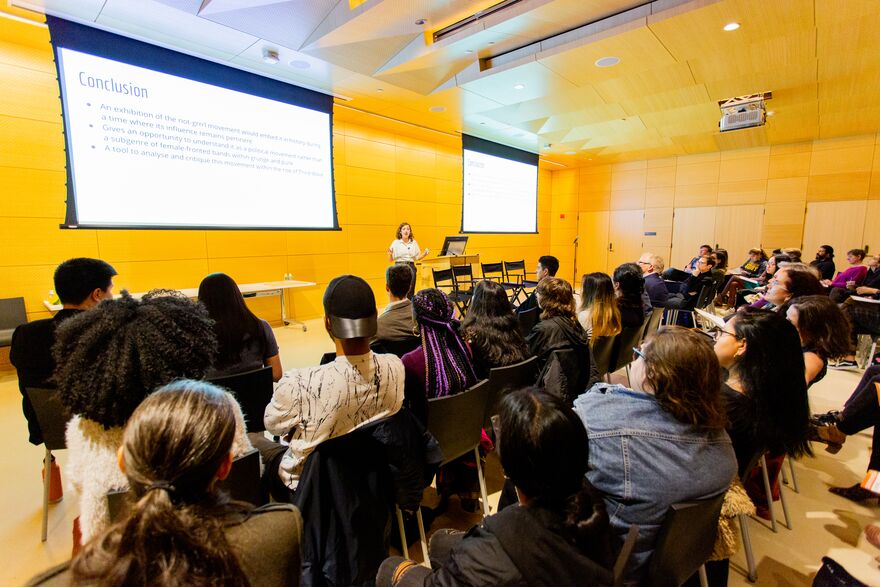 University Lecture Courses Take A Cross-Disciplinary Approach to General Education
With undergraduate students spread across 45 majors and programs and a wide range of minors to choose from, it's easy for students to find themselves in their own academic bubble. University Lecture Courses ensure that students have the opportunity to experience areas of study outside of their chosen majors and minors, bringing together students and faculty across academic disciplines in courses that address interesting and timely topics while developing critical intellectual skills.
University Lecture Courses function as a type of general education program that ensures that students develop core skills in written and oral communication, scientific and quantitative reasoning, critical analysis and reasoning, and information literacy. The goal is to create opportunities for students to develop these crucial skills while exposing them to new intellectual experiences, expanding their cultural awareness and sensitivity, and preparing them to think critically within and outside their field of study.
Housed in the University Liberal Arts program, these required courses unify the university's five colleges — Parsons School of Design, Eugene Lang College of Liberal Arts, The New School for Social Research, the Schools of Public Engagement, and the College of Performing Arts — and provide instruction for nearly 3,000 students a year.
Each year, a call for proposals is put out to faculty interested in teaching courses, and around 12 topics are offered a semester. These courses also provide a platform for faculty to share their research with the university community. The selected faculty give lectures to up to 200 students, with teaching assistants facilitating small-group breakout sessions of no more than 25 students. 
Instead of providing basic courses in mathematics, public speaking, and composition, the University Lecture Courses provide a cross-disciplinary approach that incorporates these essential skills under categories such as Tools for Social Change, Introductions to Social Research, and Interdisciplinary Approaches to the Arts and Humanities. Courses like (Un)Fair Representation: Gerrymandering and the Political Process teach mathematics and quantitative reasoning through exploring the effects of gerrymandering on the structure of government systems and democracy.
The course Worldmaking: Design and Designing In Social and Political Context combines cultural studies, design, and social justice to explore how designers and makers use "tacit knowledge" — skills, ideas, and experiences that people have that are not codified and may not be easily articulated — in designing objects and systems. The course will have students examine the implications of this type of knowledge, especially when tacit ideas about race, class, gender, sexuality, ability, and nationality, influence designs that want to have a great impact on the world. 
While the University Lecture Courses were created in part to meet the requirements of The New School's regional accreditor, Middle States Commission on Higher Education, the cross disciplinary approach brings an added benefit to participants. Bringing together designers, writers, musicians, artists, creators in a single context can prove to be an invigorating environment that can provide them with new ways of thinking about the world and their own work.