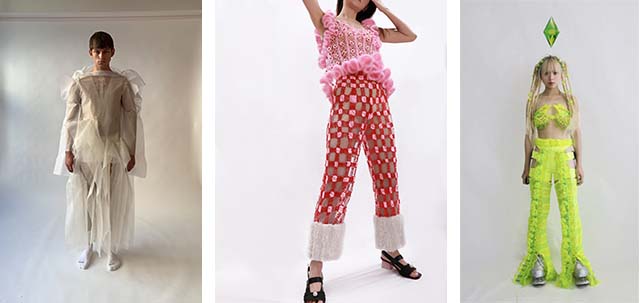 Parsons MFA Fashion Design and Society Presents Class of 2020 Collections
Every year during New York Fashion Week, the graduated designers of the Parsons MFA Fashion Design and Society program send their unique creations walking down the runway and out into the world.
This year, as the Coronavirus continues to disrupt plans and in-person events like fashion shows, the MFA program, like the rest of Parsons and The New School, came up with an exciting, innovative solution to showcase their student's work.
Partnering with 1 Granary, Program Director Shelley Fox and Associate Director JOFF created a documentary film that captured the designers as they worked to finish their thesis collections. The designers were also interviewed about the inspiration for their collections, their changing perspective on the future of fashion, and the benefits to completing their degrees remotely.
Below are looks from each designer, as well as statements about their thesis collections.
"A man wearing a dress, a taboo against social values, which is the forbidden pleasure I enjoyed a lot when I was a child," writes Chi Yu Han in his thesis statement. "That time I haven't been taught what does a dress mean under gender context or as social significance, instead I saw a dress as itself. I was fascinated by its softness, the big volume, and how it moves with my body. It's something fluffy like a cloud or a jellyfish, something with beautiful floral print, something makes me happy. Growing up made me re-think the connection of a dress and myself.
It's the fragile side of masculinity and the aggressive side of femininity, it's how they rely and perform each other, or maybe it's an extremely collapsed and blurred moment captured during aggressive interaction. I further developed and visualize this idea by re-experiencing a dress again. I paid attention to how I felt mentally and physically at the moment I put on a dress again after all these years – surprisingly instead of feeling awkward, I felt empowered, free and comfortable."
"My collection is about programming chance," explains Jessica Guzman in her thesis statement. "I am creating chance procedures in knitwear that allow for variations to emerge. The very nature of knitwear is so precise and technical, and so I am interested in exploring new ways to rethink knitwear that allows for a more blurred outcome that can not be anticipated. I see the potential for knitwear not only to exist in the traditional sense, but to actually inform the shape and silhouette of all types of woven fabrications. I am approaching knitwear as the inner structure of the garment, allowing woven garments that are typically very precisely formulated, to be freed of these pre-designed silhouettes.
Within my practice I think it is important to relinquish control over processes to allow space for uncalculated variations to emerge. By creating processes that can not be controlled, materials are given the freedom to evolve and change. The final outcome is always different. Exact replication is impossible. This means that each time a garment is produced, a different form emerges and it only arrives at its final form when worn on the body."
"I have started to create my own comic world since a young age and Henry Darger was a huge influence to me," explains Kaiwen Shi in her thesis statement. "Darger's most famous works are those depicting flowered landscapes populated by children and fantastic creatures. However, there were other scenes of terror depicting young children being tortured and massacred as well. Those drawings were informed by his childhood experience of escaping from a hideous orphanage. The wonderland is almost like another universe, but the war between those children and the army strongly reveals the lesson of real life, which is a magical way to look at reality. I am very curious in this tension between imaginary fantasy and real life, and comic is my fantasy land to recreate things and people I know in real life.
The material choice in the collection is tightly connected with my drawing preference. Most of my fabrications are made from synthetic material like beads and shinning thread, they are creating this world with an unreal sense. I used different kinds of beads to create my fabric with various techniques like wire beading, beads weaving, and beads embroidery, And I also used tufting technique to mimic the drawing process, Which give this collection a lot of fun."
"I like to work within the constraints of something serious, like the suit, and through abstracting it, create something that is playful and has a sense of humour," explains Karen Heshi in her thesis statement. "The suits could be chopped up to the point you couldn't tell it's a suit with a naked eye, but it is still maintaining a suit element. I want to pose the question, why must a suit look like a suit? Why must all clothing have one definition or one shape? Why are we living in a society of rules, dress codes and expectations? I think we can be anything we want it to be, life and existence, physical and digital, can be as abstract as we make it, and that's the ideology to translate throughout my collections."
"This collection is an exploration of cultural melancholia, looking at the feeling of longing, loss and incompleteness," explains Lily Xu in her thesis statement. "It is a materialization of an ongoing dialogue on identity, connection and detachment to cultural roots and familial ties.
Based on old photographs taken by my grandfather whom I did not know well, the miscellaneous snapshots of the past and unknown places inform the development of the knitwear. Through reinterpreting the photographs using a variety of techniques from print, painting and knit, the imagery is pieced together through the layering of garments and different fabrication. 'On Longing' is a reconstruction of memories that do not exist, making intangible emotions and thoughts real, through the form of garment making and experimental knitwear."
"This collection is based on the connection between me and mass-produced goods," explains Qingzi Gao in her thesis statement. "Born and raised in an inner city of China, I consider the mass-produced toys and plastic accessories one of the most important components of my childhood. My parents took me to the small commodity market to purchase dresses and accessories to dress me up. With ten plastic butterfly hair clips on my hair, I felt like a princess.
Through my collection, I want to use the process of toy production to tell a story that has two sides. One side of it, is me celebrating the "fruits" from mass production, a synthetic party. The tag "Made in China" is always associated with negatives and critical words such as "cheap" and "bad quality". From my perspective, this tag makes all the fancy toys and adorable accessories accessible to me. And the Chinese production is advancing with the times which I'm proud of. Everyone in the world benefits from it. These "made in china" objects are associated with all the love and memories in my life. They are priceless to my childhood. The intense and hyper perfection I try to achieve comes from the visually overwhelming small commodity market. As deeply affected, I am just like a mass-produced toy and I would like to tell a real toy story through my collection."
"My work as a designer centers itself around blurring the functionality and fixed codes found within objects, garments and accessories and finding a solution to not only liberate our fluid bodies from the restrictions of clothing, but to also extend the life of objects over time within our wardrobe and domestic spaces over time," explains Samantha Diorio in her thesis statement.
Function is at the core of my design practice, as I believe the true essence of design is about problem solving, specifically those relating to garment longevity and the body. Because of this, I've created a garment system that can be expanded, reversed and dissected into customizable clothing and accessories simultaneously. It's engineered with fixed and liberating deadstock and repurposed fabrications such as stretch, woven and melted knitwear to create functional, customizable pieces that can morph between clothing and accessories. This customisation and functionality enables a performance-based approach to dressing and evokes a sentimentality that reflects my interest in elevating the intimacy we have with clothing within our domestic spaces and our overall lives."
"STRANGE REALITIES, BORING FICTION is an exploration of how the banality of growing up in suburbia can lead to a fascination with the strange or taboo," explains Sarah Lim in her thesis statement. "Heavily influenced by the strong graphic languages of industrial and experimental/noise music and b-grade body-horror film, it utilizes a DIY zine-making approach across a range of mediums, including illustration/ print design, knitwear and tailoring."
"For my thesis collection, I'm exploring the tension between traditional cultural identity and the displacement status within the modern landscape, by combining the personal experience with the Chinese traditional art forms, I'm trying to rethink the meaning of the culture in a personal way," explains Shuxuan Li.
"I choose Chinese calligraphy as a symbol to explore the "meaning" for me, inspired by the construction of the Chinese character, which is built up by radicals, the meaning starts from the first stroke, followed with the second and the third, the literal meaning of the character is then complete through the stroke by stroke art practice. So based on this thought, instead of following the traditional cutting system of the garment, I'm trying to build up the meaning of a garment by following the principles of Chinese Character's construction – the stroke by stroke process. Using the shape of Chinese character strokes as the negative spaces, by changing the scale and tension of the positive and negative space on a piece of fabric, to create the different effects on the body, the tension between fitted and loose, stability and collapse, restraint and rebellion, solid and fragile… I want to use the whole journey to find the self- expression of the traditions with my own fashion language."
"My thesis collection is about a visual recording of drawing on my body," explains Zhuoran Li in his thesis statement. "I began to draw "marks" on my body and then used transparent paper to trace the drawings. I have never dared to face my body directly because I always walk slower than others. But this time I want to face it. I think it is special. I want to communicate with my body.
Knit is a means of representing "marks" or ink making and my second skin. Also, I use color as a tool for expressing shading and dividing the shapes throughout the knitwear design. By knitting shaped fully-fashioned knits I link them into the shape of geometry to explain how I see a certain part of the body as a certain geometric shape. And I reimagine the spatial relationship between the body and the geometry at different angles. The softness and texture of knitting make the geometry and the body form an intimate relationship."