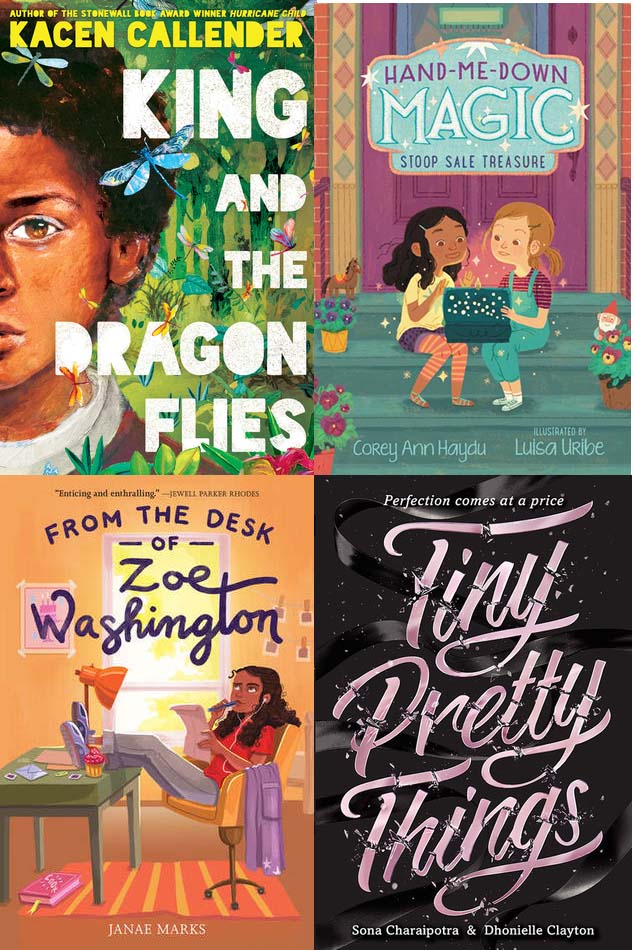 The Creative Writing Program's Writing for Children and Young Adults Concentration Specializes in the Form and Function of Crafting Stories for Young Readers
Alumni of the Writing for Children and Young Adults program have recently racked up a number of remarkable achievements. Last week, the National Book Awards finalists were announced, and among the selections in the Young People's literature category was King and the Dragonflies by Kacen Callender, MFA Creative Writing '14. Janae Marks', MFA Creative Writing '10, debut From the Desk of Zoe Washington has been earning stars and stellar reviews.  Soon after graduation, Sona Charaipotra and Dhonielle Clayton, both MFA Creative Writing '12, created a book development company, Cake Literary, which has led to the publication of many new voices in middle grade, teen, and women's fiction; in addition their own book "Tiny Pretty Things" has just been turned into an hour-long drama series on Netflix. Corey Ann Haydu, MFA Creative Writing '12, a popular YA and middle-grade author has just published the first two books of her new chapter book series, Hand-Me-Down Magic, this summer. 
General interest in the field of young adult and children's literature has grown steadily — fueled by the success of juggernauts like the Harry Potter, Twilight, and Hunger Games franchises, along with stand-alone bestsellers like The Hate You Give, Children of Blood and Bone, and Love, Simon. But MFA writing programs at only a handful of universities, including The New School's Creative Writing Program, offer concentrations for authors targeting this age group. "Good writing is good writing, but there are very specific craft choices that come up when writing for different ages," says Caron Levis, faculty member and program coordinator for the Writing for Children and Young Adults concentration. "Everything has its own format or issues you have to be aware of, from picture books, which have a very specific form, to writing for teens, which is an ever-shifting area in terms of content and craft, so being in a program where you are in a workshop full of people immersed in the same world you are is invaluable."
Although a program focused solely on writing for young readers may sound highly specific, there is incredible variety within the concentration. "Because the concentration covers a wide range of topics and age groups, I've loved learning more about writing for the different age groups within the larger Children and Young Adults category," says, Isabella Hendricks, MFA Creative Writing '21. "We have picture book, middle grade, and YA writers in the cohort, and I think that studying all of these categories strengthens your writing, regardless of which age group, or groups, you're primarily writing for. It's also great to have a group that is not just passionate about writing for young people but is also avidly reading what's out there. Everyone is well-versed in children's and young adult lit and, as a result, is critiquing each other's work from a perspective informed by the genre."
With only ten to 15 students selected every year for the program, each cohort is able to develop and create a strong community that supports them through their time at the university and beyond. "Our faculty of authors and editors, who are highly active in the field, bring their knowledge and experience to the program; in addition, as our students go into publishing world, they discover that their community of fellow writers, is just as essential to their writing and careers," says Levis.
This access to a writing community was a strong draw for Eleanor Owens, MFA Creative Writing '21. "I believe one of the most important things I possibly could have gotten out of The New School's MFA program is the group of like-minded writers who have critiqued me, recommended incredible books, pushed me to grow, and changed me in ways I'm sure I'm still not aware of," says Owens. "When I applied to MFA programs, the only ones I applied to were in-residency for this exact reason. I ended up choosing The New School because it offered me a significant scholarship, has an incredible reputation, and is based in New York City, so it was hard to beat its access to book events and author interviews."
The program has also been successful in attracting authors interested in expanding the diversity and inclusiveness of children's books. "What has been historically lacking in the field of children's literature is greater and authentic diversity, inclusion, and representation of all children and their experiences," says Levis. "There have always been amazing books, but there haven't always been books everyone can see themselves in them. A lot of our alumni are contributing to shifting that whether that's through their own writing, as editors, or being an active part of the We Need Diverse Books movement; many people come to the program with a specific interest in writing books for communities of readers that have been under or incorrectly represented."
For Levis, who is also a social worker, the children's book community's willingness and desire to address social issues like Black Lives Matter and #MeToo are crucial to their work. "Children's writers often consider how stories can support children and young adults navigate their worlds," she says. "That can happen through a super silly book or one that tackles tough and fierce themes. For young people, reading the right book at the right time can have significant impact on their lives. Writers in this program understand that, and that's what brings them here."