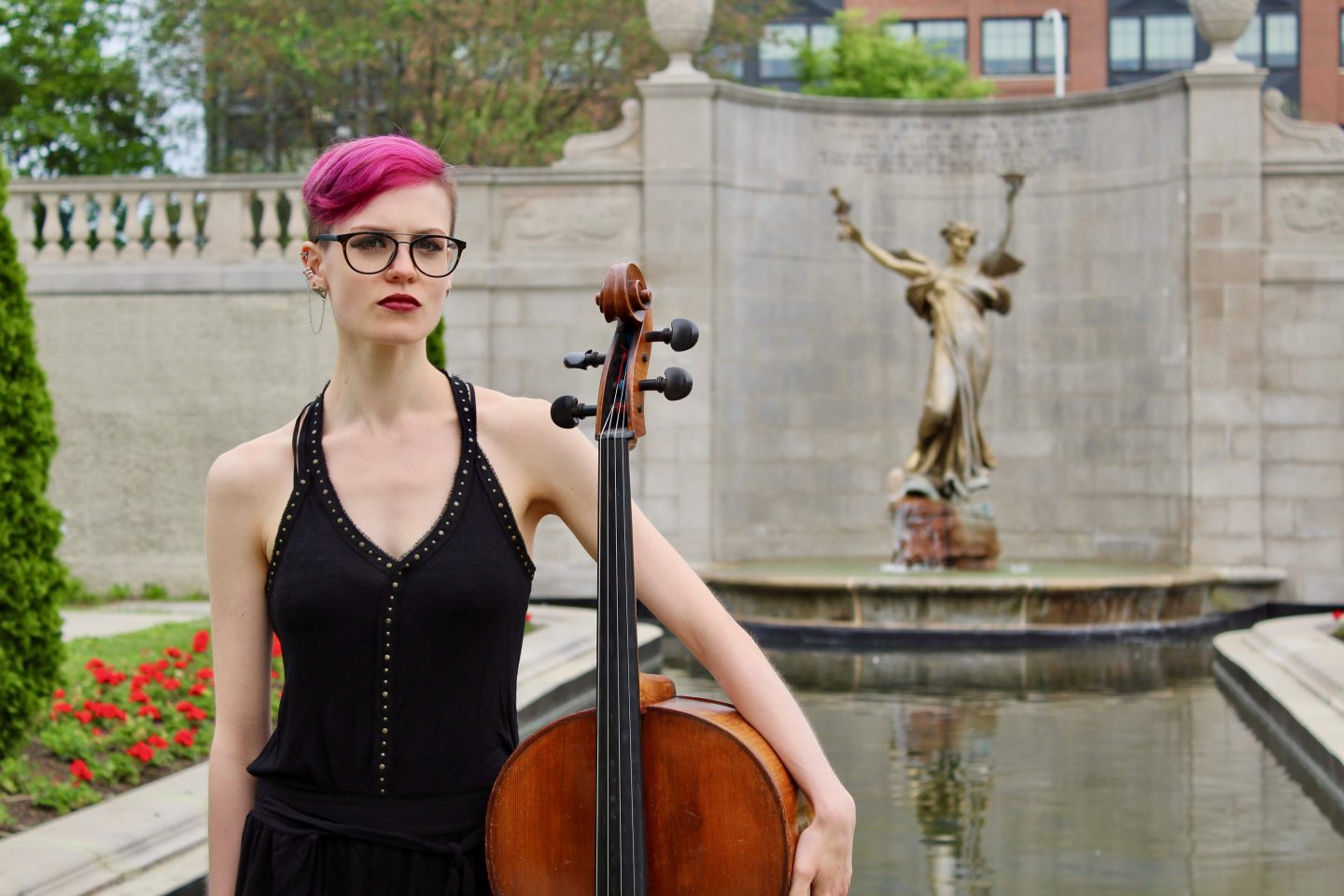 Carolyn Regula, Mannes PDPL '21, Presents Classical Music to a Digital Audience
The coronavirus pandemic has upended industries across the world, but very few have been hit as hard as the performing arts. Theaters and performance venues remain closed, which means that artists and musicians have had to be resilient and innovative with their work, and find new ways to present to audiences.
Carolyn Regula, who is currently earning a Professional Studies Diploma in cello performance at Mannes School of Music, is a prime example of a musician ready to tackle the challenges of the current moment through unique methods, leading to exciting results.
Regula started her popular social media channel "The Cello Doll" about two years ago, where she uploads original pieces, mash-ups, cello tips, and more in order to make classical music more relatable and accessible to people. Her approach to social media and music is perfectly captured in a recent video, where she blends pop culture with the classics, playing a mash-up of "A Lannister Always Pays His Debts" from Game of Thrones with Brahms' "E Minor Cello Sonata."
"For me, social media was the biggest stage I could think of for 'The Cello Doll,'" explains Regula. "In uploading a video or picture, your content is immediately accessible to people all over the world, and that can be a powerful way to express your ideas and, in my case, artistic visions."
After earning her undergraduate and graduate degrees in Boston, Regula came to Mannes in order to network, find further education in a new city, and explore the career opportunities available to musicians in New York. She was also drawn to working with Mannes faculty member Yehuda Hanani, an internationally acclaimed performer and educator.
Like many members of the New School community, Regula has continued to both study and create while classes remain virtual, and feels that Mannes has done a strong job in adapting to remote instruction.
"There has been a resilient attitude of 'we cannot change this, so we will make the most of it and even take advantage of it,'" shared Regula. "I especially have been impressed with Mannes' partnership with the International Contemporary Ensemble, and getting to work with their members. They have been so helpful in remote recording practices and encouraging us to use this time to explore who we are as artists, not only musicians."
The curriculum at the College of Performing Arts is rooted in training musicians and artists for a rapidly evolving performing arts landscape, which has given students the opportunity to work with new technologies and collaborate across disciplines more than ever before. For Regula, this means she has continued to record new works, and is currently preparing a virtual performance of Henry Dehlinger's piece "Preludes of T.S. Eliot," which she will also remotely record a music video for as well.
Regula is also working on a solo "Cello Doll" album, and after the pandemic is over, plans to continue performing with other musicians, collaborating with local composers, and making more social media content.
"I will continue to make cello tip videos, vlogs, and music videos on my YouTube Channel, but will constantly be planning ways to expand it," she says. "By using the popular medium of social media, I think I am presenting classical music in a way that is more modernized for our present-day audiences and listeners."