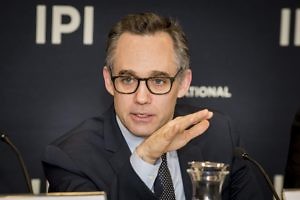 NSSR Alumnus Adam Lupel Named Acting President, CEO of the International Peace Institute
Adam Lupel, MA Liberal Studies '97, PhD Politics '07, has been named the Acting President and Chief Executive Officer of the International Peace Institute (IPI). The International Peace Institute is an independent, international not-for-profit think tank dedicated to managing risk and building resilience to promote peace, security, and sustainable development through policy research, strategic analysis, publishing, and convening.
According to an announcement from IPI's Board of Directors, "The Board has complete confidence in Dr. Adam Lupel to steer the IPI forward at this challenging time," said Kevin Rudd, Chair of the Board. "Adam is held in high esteem by staff, including for his professional integrity and dedication, exemplified by his fourteen years of service to the IPI."
"Adam also has a distinguished academic record in international relations, including his PhD from the New School," Mr. Rudd said. "Furthermore, the fact his appointment has been so warmly received across IPI's partners and the wider international community over the last 24 hours shows the regard the UN and diplomatic community has for him, including for his role as the driving force of the Independent Commission on Multilateralism's secretariat."
Lupel joined IPI in 2006 as Editor, and has served as IPI Director of Research and Vice President. Between 2014 and 2016, he was Director of Research and Publications for the Independent Commission on Multilateralism.Lupel is a former New School faculty member, having taught modern and contemporary political theory at Eugene Lang College of Liberal Arts. He is the author of Globalization and Popular Sovereignty: Democracy's Transnational Dilemma (2009) and the co-editor of Peace Operations and Organized Crime: Enemies or Allies? (2011) and Responding to Genocide: The Politics of International Action (2013).