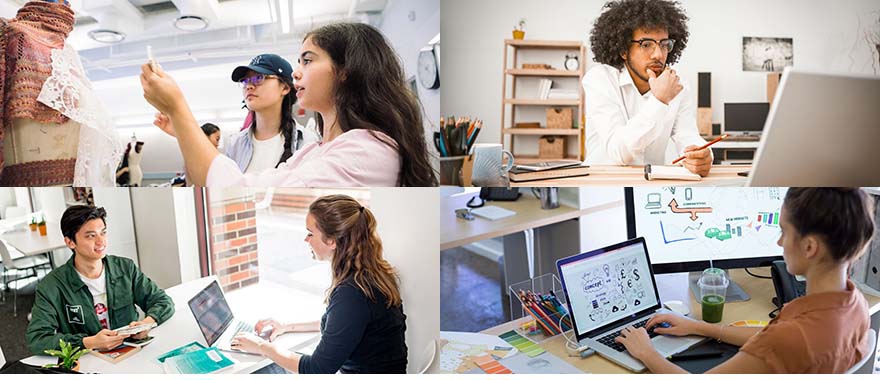 100 Years of Challenging the Status Quo in Continuing and Professional Education
"We're a one-of-a-kind destination for all types of entrepreneurs, creatives, innovators, makers, and learners to develop the knowledge and skills that will enhance their talents and change their lives in unexpected and wonderful ways," explains Laura Nitz, Director of Adult Programs in Art, Design and Fashion, when she discussed the new Continuing and Professional Education (CPE) online portal with New School News.
Building on the university's legacy of continuing education—most recently offered through Open Campus—CPE is so much more, combining a redesigned online portal with expanded educational programming for adult and young learners. Meeting the increasingly growing demand for specialized non-degree programs, CPE offers learners of all ages one of the richest opportunities to advance their personal and professional interests. "Our goal is to provide great educational experiences that can engage individuals at different points of their lives," says Anne Adriance, The New School's Senior Vice President for Marketing and Business Development.
Students will have the opportunity to explore a range of professionally and culturally enriching offerings through CPE's non-credit certificates, adult non-degree courses, and credit-bearing summer intensives, as well as youth and pre-college summer and school-year programs. These courses provide access to The New School's rich history of innovative teaching and creative practice through instruction by faculty from The New School's world-renowned colleges, including Parsons School of Design, The New School for Social Research, Schools of Public Engagement, Eugene Lang College of Liberal Arts, and College of Performing Arts. Its contemporary programming is tailored to meet the interests and needs of learners of all ages.
A key feature of CPE is its certificate programs, which offer a flexible pathway for developing and demonstrating competency with in-demand industry skills. The certificate tracks are consistently reviewed, modified, and upgraded to ensure they stay current with industry standards and the educational needs of adult learners. "Our staff is constantly monitoring industry trends to see how professional skills are expanding and evolving," says Nitz. "We're able to refine our courses and certificate offerings to ensure that students can develop and enhance the skills and knowledge that will keep them at the top of their fields."
To ensure that students are able to take advantage of all of its programming, CPE's new portal gives learners more control over their continuing education pursuits. The mobile friendly, self-service portal allows students to track all aspects of their education online—from reviewing enrollment and financial history, accessing their schedule, and submitting applications, to tracking their progress towards completing one or more certificates—providing real-time updates on an individual's status and academic progress. "We have reimagined how learners interact with self-directed education, and this new portal provides a rich, full-service environment where they are able to manage their educational experience in new ways to help them advance their personal and professional interests," explains Adriance.
Although the redesign of CPE was underway long before COVID-19 arrived, the pandemic has accelerated a trend in career-changers exploring alternative credentials and continuing education programs. "While the pandemic did not affect our plans for the redesign, this timely change will make it even easier for interested individuals to access our programs," says Adriance.
Professional and adult learners are not the only ones who will benefit from CPE offerings. Younger learners can explore a range of programs that will spark their creativity through the Youth and Pre-College programs. These year-round and summer intensive courses give students from elementary through high school the opportunity to work with The New School's world class faculty in project-based learning and discovery in art, design, fashion, music, and more.
"Youth and pre-college programs give students a chance to experience a range of opportunities and see what's right for them," says Christopher Musci, Director of Art and Design Summer Intensives and Pre-College Programs. "Through this exploration they may uncover new passions or pathways that will fuel their futures."
The need for youth and adult learners to have a space to explore their intellectual curiosity outside of formal degree programs makes CPE a vital part of the university. "The New School was founded more than a century ago on the ideals of intellectual curiosity and lifelong learning," says Adriance. "CPE carries that history into the 21st century, providing a platform for individuals to discover and indulge their lifelong passions."