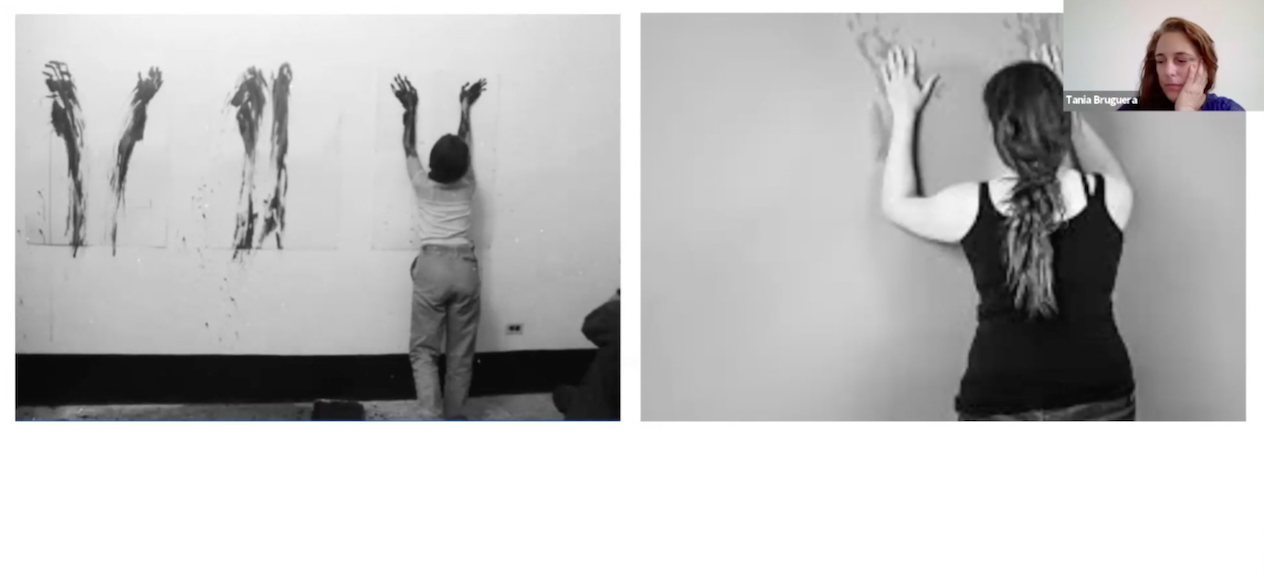 Eugene Lang's "Virtual Bodies" Event Series Explores the Multiplicity of Bodies
The impact of the coronavirus pandemic on the arts and higher education has been immeasurable, which has led many artists and academics to not only shift their methods of making and teaching, but wrestle with new questions about the very nature of their work.
This semester, an event series hosted by Eugene Lang College of Liberal Arts brought together artists and academics to explore the theme of "Virtual Bodies," through both their own work, and in connection with a wide range of courses. The series was programmed by faculty member Joshua Lubin-Levy, and included the participation of professors including J. Mae Barizo, Ted Kerr, Jeannine Tang, Alan Ruiz, Iliana Cepero-Amador, Rachel Churner, Alhena Katsof, and Masha Chlenova, as well as inspiring speakers including Tania Bruguera, Liz Deschenes, Jackson Polys, Yvonne Rainer, Serubiri Moses, and Julie Tolentino. 
"The course seeks to explore the multiplicity of the body, how it exists not as a fixed and knowable entity, but contains and attaches itself to many selves, identities, singularities, and ways of becoming itself and knowing its relations to others," explains Lubin-Levy. "To me, it was especially important to bring in artists who work on and with the materiality of the body, especially as my students were grappling with the topic of the "virtual body" in the new intensity of today's online learning environment."
The weekly series foregrounds the work of performance artists, dancers, and choreographers— those artists hardest hit by the pandemic as performance venues remain closed— who, by the very nature of their work, have been at the forefront of imagining what it means to gather in person, in a kind of liveness that is never unfiltered by the layers of our mediated selves.. Taking up a different theme each work, many of the events in the series were presented as conversations between New School faculty members and their invited guests, which helped create a greater sense of community for students and faculty from across different disciplines throughout the university.
The "Virtual Bodies" programs were open to the public, but students that participated in the course also met weekly for a seminar discussion led by Lubin-Levy. This allowed for multiple ways of learning and teaching, as well as vigorous and critical debates and discussions.
"The aim of mounting these events was to offer a course that used the online learning environment to weave together large-scale virtual talks (public engagement that was open to all) with small-scale in-class discussions for enrolled students," explains Lubin-Levy. "The public programs themselves were shaped by many exceptional faculty with expertise in global art and performance histories, and wide-ranging engagement in BIPOC, disability, and queer justice movements. But the heart of the course, for me, was the discussion it produced among the seminar students, as they found connections among the programs, not only learning but experiencing interdisciplinarity."
Lubin-Levy's background as a dramaturg and curator in the world of performance and dance has been instrumental in guiding the creation of "Virtual Bodies," which is the first pilot course in a new format of Platforms courses. He was previously the Interim Director of Visual Arts at Abrons Arts Center, and currently leads online educational programs for the Whitney Museum of American Art.
At The New School, the Platforms courses have been spearheaded by Soyoung Yoon, Director of the Art History & Visual Studies Program at Lang, Neil Greenberg, Chair of the Department of The Arts at Lang, and Rafael Muñoz, Assistant Director of The Arts at Lang, and are designed to combine public programs and seminar-based learning. A second Platform course is planned for Spring semester, titled "Border As Method." For faculty members, the event series presented a unique opportunity as well.

"Since many of the public programs were being organized by different faculty members, I had the great pleasure of being a student as much as a teacher," shares Lubin-Levy. "Especially as a part-time faculty, you don't often have the chance to sit in on your colleague's classes or get a sense of the larger curriculum that your course participates in."