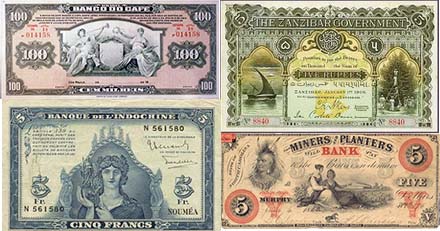 Lang, NSSR, and SPE Faculty Awarded $225,000 Sawyer Seminar Grant from Andrew W. Mellon Foundation
An interdisciplinary team of researchers at The New School will conduct programming on "Currency and Empire: Monetary Policy, Race, and Power" through a $225,000 Sawyer Seminar grant awarded by The Andrew W. Mellon Foundation. Through this two-year grant, faculty members and graduate students will explore the relationship between monetary systems, the production and consolidation of racial difference, and imperial power. According to the Mellon Foundation, Sawyer Seminars provide funding and support for "comparative research on the historical and cultural sources of contemporary developments."
Faculty members Gustav Peebles, Associate Professor of Anthropology at the Schools of Public Engagement (SPE), and Emma Park, Assistant Professor of History at The New School for Social Research (NSSR) and Eugene Lang College of Liberal Arts, will serve as the principal investigators for this initiative. Peebles and Park will be joined by NSSR and Eugene Lang College faculty members Aaron Jakes, Assistant Professor of History; Sanjay G. Reddy, Associate Professor of Economics; and Paulo L. dos Santos, Associate Professor of Economics, as well as a broader coalition of international scholars during the grant's timeline.
The prestigious award includes funding to conduct the Seminar, which will culminate in an international conference, a one-year post-doctoral fellowship, and research fellowships for graduate students. Professors Park and Peebles expressed their enthusiasm, stating, "We are thrilled to have been awarded the Sawyer Seminar, which will allow us to launch our study of the deep interplay among monetary policy, historical and contemporary dynamics of imperialism, and the construction and consolidation of racial capitalism. We're looking forward to continuing our work with all the people who helped this project get off the ground, and also those who will join us in realizing this project's potential moving forward."
This is the fifth time that a proposal from The New School has been selected since the inception of the Sawyer Seminar program in 1994. Planning for the Sawyer Seminar will take place throughout the remainder of the 2020-2021 academic year. Programming, events, and research will begin in Fall 2021.
"I offer my congratulations to the faculty leaders of this Sawyer Seminar and thank the Mellon Foundation for its support," says Mary Watson, executive dean of SPE. "This project exemplifies the outstanding interdisciplinary work of our faculty. Their ability to combine research, theory, and real-world practice makes this an exceptional place to explore the intersections of money, race, and power."
"This Sawyer Seminar comes at the perfect moment, as we reconsider our understanding of imperialism, colonization, and decolonization, and work with our students to think historically about these issues," says Will Milberg, dean of NSSR and professor of economics. "The generous support from the Mellon Foundation will allow our faculty to continue to collaborate across disciplines and ask important questions about money, race, and power, and to bring our graduate students into the center of these discussions."