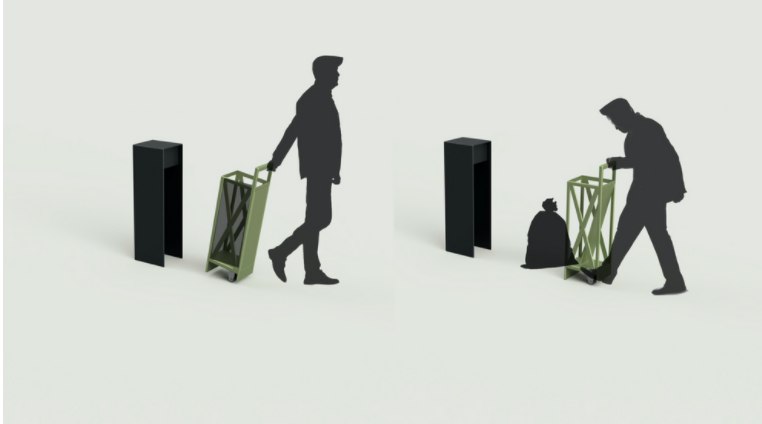 Parsons Product Design Class Creates Bzr.Studio to Give Back
The average person probably doesn't think about the trash cans in their home often. In the kitchen, it's usually under the sink, next to a bin for recycling, and gets emptied as necessary, but what if the user has back problems? Are you tired of losing your rings by forgetting where you left them? Isn't it every art student's worst nightmare to drag supplies to and from school, and then leave them disorganized and scattered all over the place?
A suite of new products from innovative Parsons designers aims to provide solutions to some of the most common household problems, with those items and other souvenirs going on sale this week as part of Bzr.Studio, which was created by a collaborative team of students in the Spring 2021 Product Design cohort. The studio has found new ways to connect remotely with one another by collaborating through Miro and Zoom to develop their individual designs. The studio is overseen by professors Barent Roth and Tucker Viemeister, who developed the course so that students were paired together in order to design something for each other, which led to the formation of the studio sale.
Some of the proceeds from the sale, which will take place via a livestream benefit on December 17th at 10am, will go to the River Fund New York, an organization that fights hunger, homelessness, and poverty. The benefit will be co-hosted by QVC guest Gary Ray and one of the students in the class, Ada Chen.
"This semester was unusual, to say the least, but this studio has been our fuel to keep us motivated because although the workshops were not as accessible we could still produce something tangible," shared Chen. "Our studio worked as closely as any startup studios would and were able to produce something we really feel proud of. It may not be individual designs, but this platform and conversation we created collectively is something we know we can use and learn from for the future."
The digital bazaar also includes a versatile shelving system meant for bathroom essentials, a set of biodegradable bamboo wine cups, a stool made from papier-mache and other natural and recycled materials, and much more.
"The course inspired us to work together, putting all of our skills into use to organize this digital bazaar," explained Chen. "Through this, we learned through experience how to outsource our designs, stick to external deadlines, and promote an event like this."