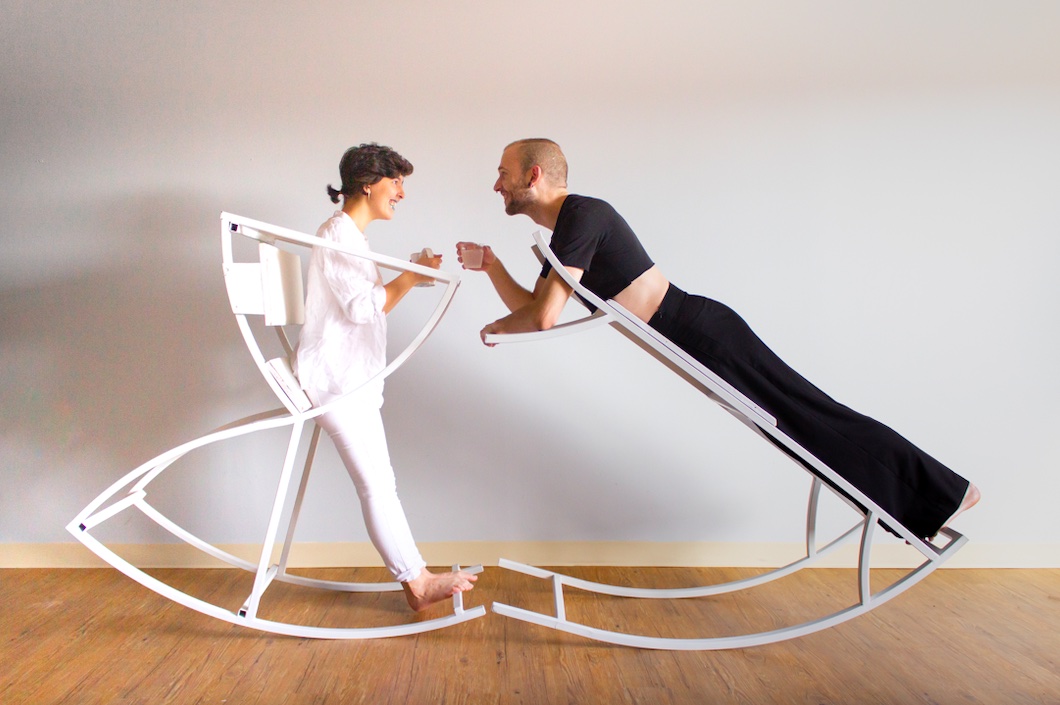 Frankie Bingxin Yu, MFA Interior Design '21, Wins Award for "ReDefine" Chair Collection
When you think of a rocking chair, the first image that comes to mind is usually a traditional wood chair that rocks back and forth at the base. And while Frankie Bingxin Yu, MFA Interior Design '21, was initially inspired by her friend's warm memories of spending time in a rocking chair with her grandmother, the pieces she created as part of her ReDefine chair collection represent a bold, exciting new direction for rocking chairs, and how we might begin to think about them.
There are two styles of rockers in Yu's collection, which was recently included as a Best Student Design in the Interior Design Magazine "Best of Year" awards for 2020. The white chairs upend expectations for how to create a rocking chair, as people can either stand upright while leaning back in one version, or vertically lay on their stomach in another one.
"My design comes from daily observation and interaction motivated by my curiosity," explains Yu. "I was wondering if I could deliver such warm and calm emotion through chair design. The ReDefine rocking chair collection brings people together to share their memories."
As a current student in the MFA Interior Design program at Parsons, Yu has learned new perspectives and cultivated her sensibility toward interior space that have informed her approach to design, and helped her further develop the ideas she had when she started the program – to create humane environments that benefit both the physical and psychological well-being of those who live in them. As Parsons and the entire New School continues to learn remotely, Yu recognizes the challenges but also sees the potential of working and learning in a new environment.
"I take the remoteness as an opportunity to deepen my understanding of my way of connecting to the world," she shares. "Quarantining at home, I have been watching how sunlight travels through my room. Such close observation has influenced my thesis in the MFA Interior Design to investigate the interactions among sunlight, space, and the occupants' mental needs in domestic interiors. My goal is to create a domestic therapeutic environment to serve mental needs for calmness, security, and happiness."