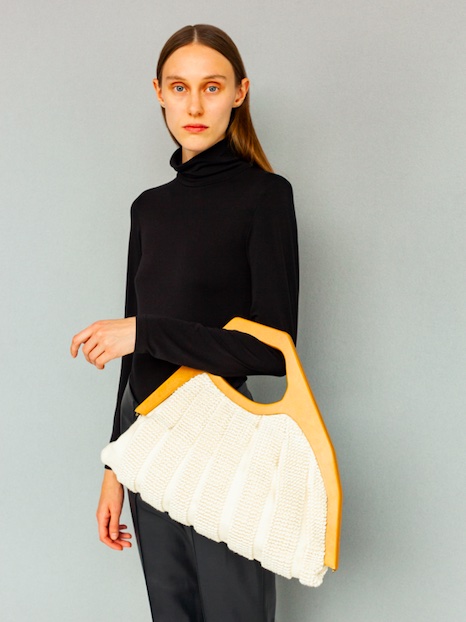 Parsons Paris and Officina Borbonese Announce Winners of "Savoy Faire" Competition
Founded more than a hundred years ago, Borbonese is an iconic Italian brand renowned for their expertly crafted bags and ready-to-wear created with sophisticated manufacturing techniques. Last Spring, the brand collaborated with Parsons Paris students on "Savoy Faire," a project centered around creativity and management that is part of the brand's "Officina Borbonese," a global collaborative project with the most prestigious international fashion academies where young talents propose innovative ideas and solutions in design and communications.
Recently, Borbonese announced the finalists of the "Savoy Faire" collaboration, which includes Lara Gerlach's Rinasci bag, Alice Le Ster's Buttonera bag, and Caterina Masoni and Elena Marshall's La Cinta bag. A special jury composed of the Borbonese team and Sara Sozzani Maino, Head of Vogue Talents and Deputy Editor in Chief of Vogue Italia, named Gerlach and her Rinasci bag as the winner, which means her design will be featured in the Spring/Summer 2022 Sales Campaign, and she'll be offered an internship with the company after she graduates.
"Being the winner of this project is a huge accomplishment for me, and I'm very excited to see what the future holds, and how this collaboration will impact my future as a designer," said Gerlach. "Going into this project I had no experience in bag design, but I think my inexperience pushed me and my design in an interesting and experimental direction."
The "Savoy Faire" project highlighted the interdisciplinary approach to education embedded in the Parsons curriculum, as Fashion Design students designed the bags, while students in the Strategic Design and Management program created a marketing and communications strategy to launch the products in a new market. Students also integrated sustainable practices into their work, and collaborated with craftswomen including Wilda Scanu, head of the Su Trobasciu all-female artisan cooperative of Mogoro, who shared details about the secrets of tapestry processing and the use of traditional materials. Additionally, Scanu made the woven components of the finalists' prototypes in her Sardinian atelier.
"Officina Borbonese aims to form a community of young creatives who share the company's values," says Alessandro Pescara, CEO of Borbonese. "We would like Officina Borbonese to be a laboratory of ideas as well as of research on the product. Parsons Paris seemed right from the start the ideal partner: the one-year project was carried out through constant discussion with students from creation to final prototypes, despite the difficulties imposed by the health emergency."
Gerlach took inspiration from the history of Borbonese and the artisanal weavers of Su Trobasciu while designing and creating her award-winning bag, in addition to the Italian Renaissance, and "The Fountain of Youth," a painting by the German artist Lucas Cranach. After her bag was selected as the winner, Gerlach was able to collaborate with Borbonese on the production and manufacture of the prototype, and plans to pursue a variety of options in design after graduation.
"Collaborating with such traditional artisans was interesting because it was about finding a balance between honoring their traditional weavings and translating them into the world of fashion," says Gerlach. "It was also interesting to see how to work together with professionals from the industry, and adapt my design to their vision, while also staying true to my own."