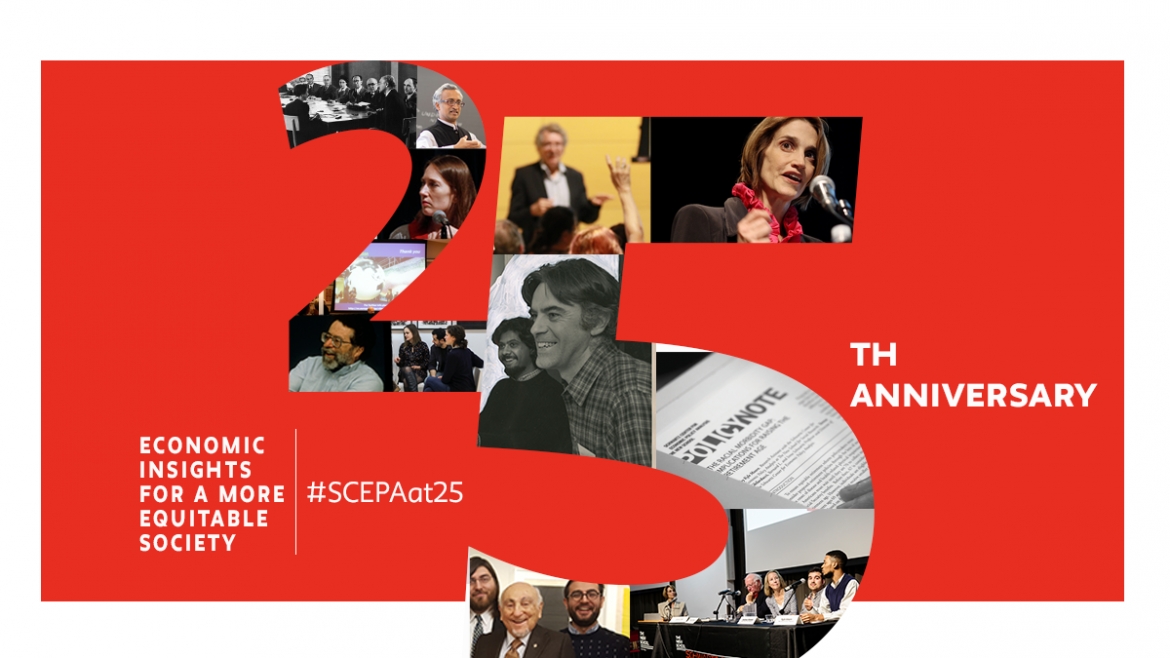 SCEPA Celebrates 25 Years of Providing Economic Insights for a More Equitable Society
The Schwartz Center for Economic Policy Analysis (SCEPA) is celebrating its 25th anniversary this March. From March 1 – 25, the center will honor its history and the staff members and supporters — past and present — who have furthered its mission of examining the role government can and should play in a market economy to create economic security and challenging economic doctrines that foster social inequity and harm the climate.
The center was founded in 1995, at a time when small government and pro-market ideas were favored in the United States. The country was also experiencing the beginning of the Internet boom — the Internet trailblazer Yahoo! was incorporated that March — and a number of political, cultural, and environmental upheavals, such as the federal government shutdown that fall, the bombing of a federal building in Oklahoma City, and a devastating and deadly heat wave that swept through the Midwest that summer.
The economic dogma in 1995 "among both Democrats and Republicans was that government should be small and that markets would give us solutions to all of life's vexing problems," says Teresa Ghilarducci, the Bernard L. and Irene Schwartz Professor of Economics at The New School for Social Research (NSSR) and the director of SCEPA and The New School's Retirement Equity Lab (ReLab). "There would be public/private solutions for climate change, and social innovations in technology from Silicon Valley were going to solve our community problems. All that government needed to do was get out of the way."
SCEPA was founded in that social and economic climate, with the aim of helping to build a more equitable future through sharing the radical and innovative research and scholarship of NSSR's Economics department with the policymakers, advocates, and scholars enacting public policy. "We're dedicated to producing economic research and insights that move us toward a more just and sustainable society," says Ghilarducci. SCEPA has carried forward this tradition for 25 years by bringing in-depth economic analysis to conventional economics.
SCEPA was originally launched as the Center for Economic Policy and Analysis (CEPA) by the founding team of David Gordon, an NSSR professor of economics; John Eatwell, a Cambridge University professor of economics; William Janeway, a Cambridge PhD and businessman; and William Milberg, an NSSR professor of economics and the current dean of NSSR. The early years saw many successful initiatives, such as the MacArthur Foundation–supported working paper series "Globalization, Labor Markets, and Social Policy" and the Ford Foundation–supported research project "International Capital Markets and the Future of Economic Policy," later expanded into a book, Global Finance at Risk, by Eatwell and Taylor. The center continues to explore key topics of national economic policy such as retirement, climate change, and public finance through research papers and conferences. Ghilarducci herself recently testified at a hearing of the U.S. Senate's Banking, Housing, and Urban Affairs Committee called "Who Wins on Wall Street? GameStop, Robinhood, and the State of Retail Investing," about the popular investment apps' role in causing market volatility.
One problem SCEPA faced in its early years was the lack of sustainable funding to support its work. In 2008, the center reached a turning point when it won support from the philanthropist and businessman Bernard Schwartz. Schwartz was impressed by SCEPA's research on the nation's crumbling infrastructure in 2007 and on the near collapse of the world financial system in 2008, as well as its efforts to advocate for a government role in raising living standards. His contributions to SCEPA helped it chart a more sustainable path. "Bernard's support provided us with the means to fund our student researchers and staff and fulfill our vision to bring the good work in the department up front to journalists, the media, public policy makers and advocates," says Ghilarducci.
While SCEPA strives to influence national economic policy , the center also plays an important role at The New School. "We are an organization that is a platform to take faculty work and expertise and share it with the world, but we are also internally focusing on working with and developing our students who are conducting research with SCEPA," says Bridget Fisher, SCEPA's associate director. "We've worked with multiple research associates over the years, and a lot of our anniversary celebrations are also celebrating the jobs, work, and research those students, now alums, are doing out in the world."
SCEPA has produced a number of notable alums, including Heather Boushey, who was appointed to President Biden's Council of Economic Advisers, and Kyle Moore, a senior policy analyst for the congressional Joint Economic Committee. "We attract certain students interested in conducting policy research that creates positive change in the world. You can see that in our alums' position in the research they conduct," says Fisher.
Adds Ghilarducci "As we think about the next 25 years, SCEPA is excited to build on its legacy and body of work to confront the challenges of economic, racial, and climate inequality, which are so urgent today amid the pandemic, retirement crisis, and climate crisis."