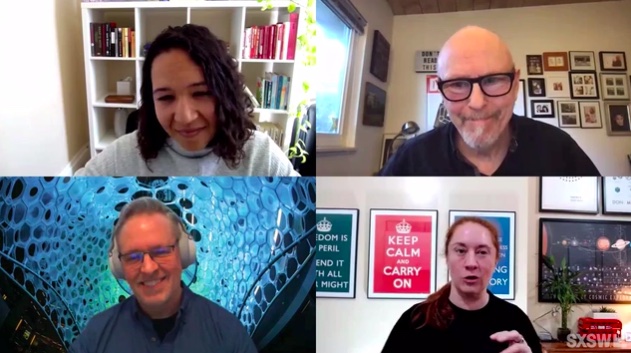 South by Southwest Highlights Transdisciplinary, Innovative Alumni Work
"What Are NFT's, Anyway? One Just Sold For $69 Million" stated a recent headline in The New York Times, which accompanied a story about "nonfungible tokens" (NFT's) and how one sold at a Christies' auction for $69 million. The story is one of many recent articles by the media to try and explain what, exactly, is going on with cryptocurrency, blockchain technology, the art world, and beyond.
At this year's South by Southwest (SXSW) festival, currently taking place virtually, Vladislav Ginzburg, BS Liberal Arts '12, hosted a conversation about "The Future of Monetizing IP and Digital Content." The discussion he hosted touched on everything from defining what an NFT is to how brands and content creators can capture more of the value they create using the new blockchain technology, as well as how to educate people about how they can engage with NFT's.
Speaking about the music industry and how it can utilize NFT's, Ginzburg noted that "The way that fans experience their favorite artist might vary from artist to artist, genre to genre. Understanding the culture around that fandom is so important. Blockchain makes digital better, so we have to think about how we can make that fan culture a little bit better."
Elsewhere at the interactive festival, Karin Giefer, MFA Lighting Design '04, appeared on a panel discussion about "Responsible Innovation: Move Fast and Fix Things," where as a design leader at Amazon, she is uniquely positioned to design technology that can help build a healthier, more sustainable future.
"I don't know what responsible innovation is, because it's something that is changing every single day," explained Giefer during the conversation. "Just like our universe, it is expanding. There are more and more places for all of us to be in that space, which means this is a really exciting time because everyone has a seat at the table. I think of it like a global group project."
Alumni were also involved in SXSW's interactive experiences, as Oliver Lewin, BA Contemporary Music '14, premiered Before Your Eyes, a virtual game he directed that allows viewers to go on "An emotional first-person narrative where you control the story—and affect its outcomes—with your real-life blinks. Through this innovative technique you will experience a soul's journey into the afterlife, as an entire life flashes before your eyes."
Mickey Liddell, AAS Interior Design '89, produced the new documentary Introducing, Selma Blair, which follows the actress and activist as she fights to take control of her personal health after revealing her diagnosis of Multiple Sclerosis in 2018.

Finally, Jillian Hervey, BA The Arts '11, who sings under the moniker Lion Babe, also performed at the festival.