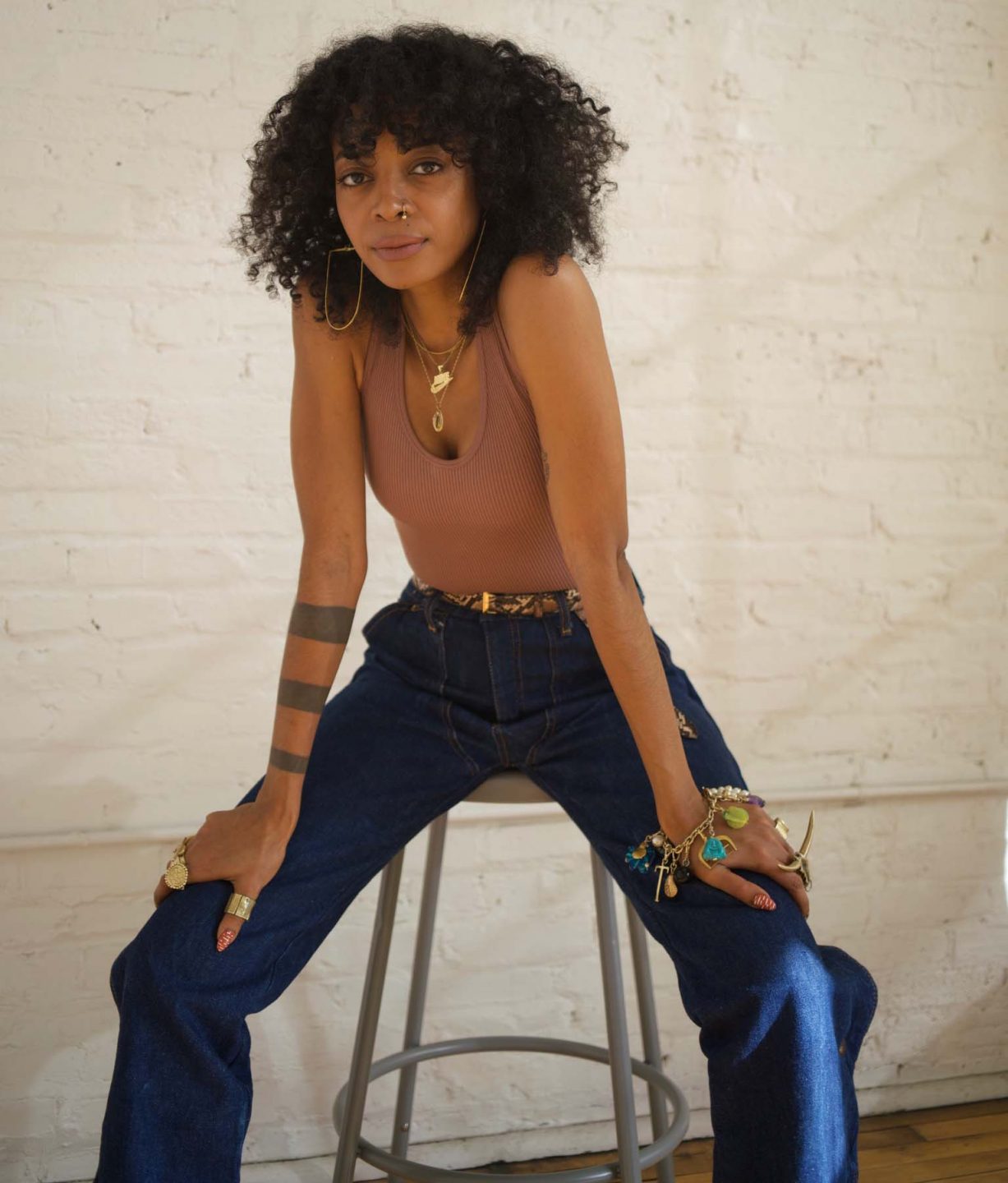 Trae Harris, BA Arts in Context'10, Explores the Space Between Performance and Creation
The buzz surrounding the new feature film Judas and the Black Messiah has brought renewed interest in director Shaka King's earlier works. His 2013 debut feature, Newlyweeds, which premiered at Sundance, marked the film debut of alum Trae Harris, BA Arts in Context '10. Since that auspicious start, Harris has appeared in Naomi Wallace's And I and Silence at New York's Signature Theater, the Netflix series Orange Is the New Black, and the short films Didn't I Ask for Tea?, Ori Inu: In Search of Self, Hair Wolf, and Bodymore. She has now begun working behind the camera, exploring the space between performance and creation.
"I feel like I've been in a bubble for two and a half years, because I'm working with my writing partner on scripting a feature film. This is my first endeavor moving from in front of the camera to behind the camera in a real way," says Harris. "My writing partner and I have created two short films that we want to release this year that have, in a lot of ways, inspired our working relationship and our working creative partnership. We're finding entryways into a new style of filmmaking that we're interested in seeing and are developing as we go along."
The ability to explore the space between performance and direction and connect acting with activism is a skill she honed in Lang's Arts in Context program, in which she focused on Theater and Poetry. Arts in Context takes the study of art out of the conservatory and has students study the humanities and social sciences, connecting those disciplines to arts practice. This unique take on the study, meaning, and purpose of the arts is part of what drew Harris to The New School. "The idea that I could create my own learning experience and really concentrate on the subjects I wanted to in a way that would let me direct my own collegiate experience felt right to me," says Harris.
"Trae was one of the most committed, intelligent, and eloquent students to pass through the Lang Theater program," says Zishan Ugurlu, an associate professor and the director of the Theater program. "Her work is driven by a deep and unwavering curiosity: intellectual, cultural, artistic, and human. She has a strong work ethic, and her accomplishments are demonstrative of her discipline. I just talked to her recently about her movie script; I am sure she will be able to bring it to life in the most inspiring way."
Harris' ability to move freely between arts media and the liberal arts is reflected in her work in her first poetry anthology, Hindsight, published last year. "It's a culmination of pieces I've worked on since graduating from Lang that I curated into a chapbook," she says. It was important to her to make completing the book a "family affair"; she brought in former classmates to provide finishing touches. "I wanted the first piece that I published to include the people who have included and supported me from day one. It includes editing by two of my former Lang classmates and graphic design work by a Parsons alum. It's a whole New School labor of love," says Harris. "That's who my community still is and who my friends still are."
Maintaining the connections Harris built as a student are important to her both personally and professionally, but she found these connections difficult to establish when she first arrived at the university. Moving from Baltimore to New York, "I experienced a culture shock that was intense at the beginning of my time at The New School," she says. "I was in student housing and rooming with four girls from all over the world. There were language barriers and cultural barriers. In retrospect, I realize that it was amazing, but in the moment, it was overwhelming." A serendipitous encounter in the lobby of the Eugene Lang building brought her into contact with another Black student, who wanted to make sure Harris knew there was a community waiting for her at The New School. Through this student, Harris was introduced to the Women of Color organization, and within two weeks, she was co-directing a production of Ntozake Shange's prose poem/play for colored girls who have considered suicide/when the rainbow is enuf.
The community Harris built at Lang remains important to her as an alum. She's been a consistent participant in the annual AlumNight, created by Ugurlu in 2007. The event spans a few nights in which alums who are playwrights, actors, directors, and dancers present their work. "Bringing alumni together gives them the opportunity to become familiar with the work of other Lang graduates. This event also provides a space for possible collaborative efforts in the future and fosters a sense of community even after graduation," says Ugurlu. "I find AlumNight events very exciting, as they reflect a convergence of artistic disciplines and a strengthening of community."
As befits a graduate of Lang's interdisciplinary style of learning, Harris has many more projects in the works in addition to her poetry and film. She's currently fleshing out concepts for television pilots in preparation for applying to the Sundance Episodic Lab program. "I have people who believe in me and are advocating and pushing for me to do this. I can only fail if I don't apply."