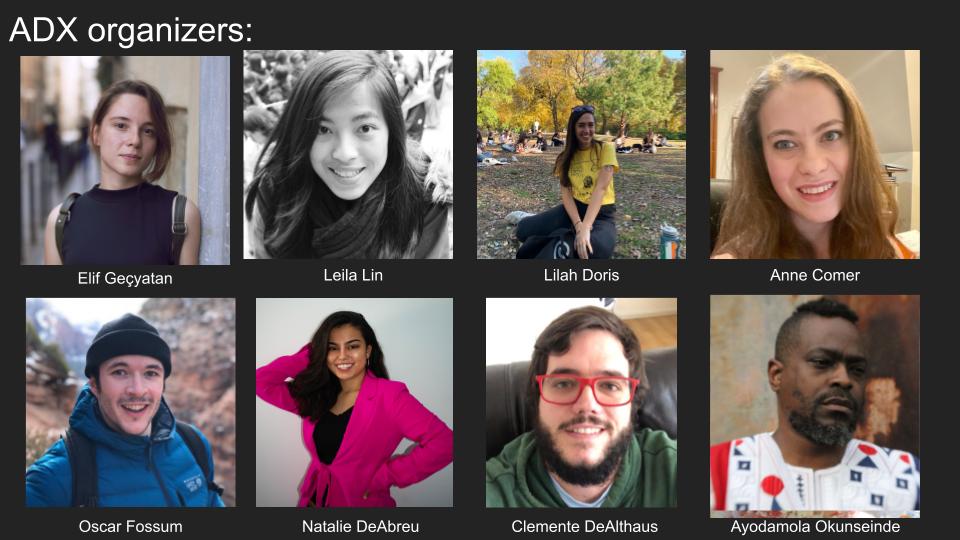 ADX Student Group and the XReality Center Create a Virtual Space for Exploring the Creative Possibilities of Anthropological and Design Research
The Anthropology and Design Student Working Group recently held its first ADX Exhibition, presenting student projects in which they explored and experimented with new epistemological and creative possibilities for anthropological and design research methods. Working with The New School's XReality Center to create a virtual exhibition space, the students took part in experimental forms of interdisciplinary digital engagement. The event also enabled anthropologists and designers to connect with one another, share work, and collaborate outside of disciplinary silos. While the global pandemic has forced many student conferences worldwide to cancel their plans, the ability to create a virtual gallery and presentation space allowed practitioners to present a highly creative response to the way people's lives have been transformed by the transition from real-world settings to virtual space.
The idea for the exhibition originated last fall from a group of students taking an Anthropology and Design course led by Shannon Mattern, professor of anthropology at The New School for Social Research. Meeting weekly after class, they quickly realized there was a need for resources and community around this area of study for students throughout The New School. "After a few weeks of regular meetings, we decided to make an event that would be a platform for anthropology and design that could feature student work beyond projects done by those of us in the class and student group," said Oscar Fossum, an MA Anthropology student.
Initially the plan was for a small exhibition, but funding from The New School for Social Research's MA Project Grants and Dean's Conference Fund enabled the organizers to expand the exhibition into a program that drew presenters from universities worldwide, including the University of Chicago, the University of Washington, Brandeis University, Illinois Institute of Technology, New York University, RMIT University, Carnegie Mellon University, and Goldsmiths, University of London.
"The MA Project Grants and Dean's Conference Fund are really amazing resources. They really allow MA students, who tend to be very enthusiastic and have many ideas for interesting programs, to actualize their plans. Getting these grants was a huge boost to our momentum. Having the support of the university really helped us boost our profile. We're really grateful," said Leila Lin, a PhD Anthropology student.
Connecting with the XReality Center was a logical step for a program focused on design. "We all wanted to have a creative approach to the exhibition, and Ayo [Ayo Okunseinde, assistant professor of interaction and media design] was the first to come up with the idea of having this be a VR experience. He was familiar with the XReality Center as a resource at The New School," said Fossum. "We would not have been able to pull off the event technically with the budget that we had without having the XReality Center here. Maya Georgieva, the Director of the XReality Center, was our behind-the-scenes magician, and worked with us every step of the way to develop a unique VR exhibition space to meet our needs for the exhibition."
"It's hard to overstate how incredible it is to have the XReality Center here. They are so motivated and so eager to work with us and showcase their skills. This couldn't have happened anywhere else. There are students at other universities who don't even have access to Adobe Suite, and here we have that and the XReality Center," said Lin.
"It was really exciting to match up with the XReality Center at the moment we did because they were looking for ways to expand their portfolio with doing live events for students and the public," said Lilah Doris, an MA Anthropology student. "They have done internal projects with faculty and different departments, but they were eager to try out Hubs by Mozilla [a virtual collaboration platform for creating 3D spaces] events and different ways to use their skills. It came about at just the right time to be this successful partnership. They were a joy to work with."
An area of focus for the university for years, Anthropology and Design has now become one of the many graduate minors offered at The New School. Blending social science with design, the program prepares students to think more critically and creatively about anthropology and ethnography, the designed world, and their own research.
"A lot of the first-year students, including myself, who participated in the exhibition came to NSSR wanting to study anthropology and design. There's this niche interdisciplinary program available here. And there's Parsons, which is extremely attractive to a social science student, who can engage with arts in that way," said Doris.