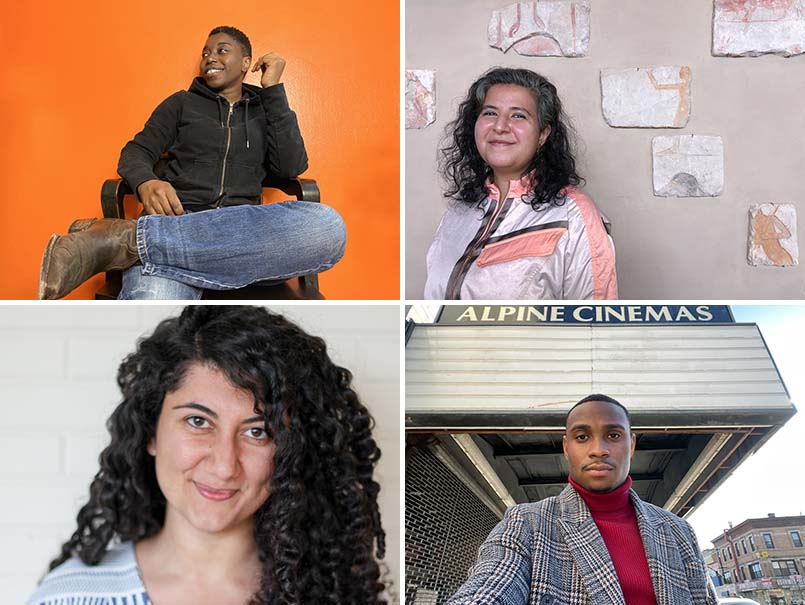 Four New School Alumni and Faculty Receive the Whiting Award for Emerging Writers of Fiction, Nonfiction, Poetry, and Drama
Writing programs at The New School, which offer instruction in genres ranging from playwriting to poetry and fiction, from memoir to children's literature, have long attracted talented students and faculty interested in reimagining and expanding the boundaries of the craft. Recently four alumni and faculty members received the Whiting Award, which is presented to ten emerging writers of fiction, nonfiction, poetry, and drama. Since the program was established by the Whiting Foundation in 1985, this prestigious award has recognized the early-career achievements of a notable group of literary figures, including Colson Whitehead, Anne Boyer, Don Mee Choi, Tony Kushner, Susan-Lori Parks, and Creative Writing faculty member Sigrid Nunez. The award comes with $50,000, a sum that is larger than any other award for emerging writers in the United States. Jordan E. Cooper, BFA Dramatic Arts '18; Sylvia Khoury, MFA Playwriting '15; School of Drama faculty member Donnetta Lavinia Grays; and Lang faculty member Marwa Helal, MFA Creative Writing '11, received the award.
Coming from writing programs at the School of Drama and the Schools of Public Engagement, the achievement of these winners reflects the depth and breadth of writing programs across the university. Cooper and Khoury studied playwriting at the School of Drama, which carries forward The New School tradition of groundbreaking education in the theatrical arts since the creation of the Dramatic Workshop in 1940. The School of Drama has built on this legacy, continuing to produce artists who are artistically fearless and socially conscientious, who can use the performing arts to address human challenges, give voice to underrepresented groups, and bring joy with audiences.
Cooper, an Obie Award–winning playwright and performer, was drawn to the School of Drama by the university's interdisciplinary approach, which provides opportunities to interact with a variety of artists, scholars, activists, and researchers. "I chose The New School because it was in the heart of NYC, but also because it was one of the only schools that felt like a playground for artists of all kinds — actors, writers, musicians, fashion designers, community organizers.. One couldn't help but be inspired in some way, shape, or form," said Cooper.
While the pandemic shut down live venues last year, Cooper stayed busy creating a pandemic-centered short film, Mama Got a Cough, which was named as part of the Best Theater of 2020 by the New York Times. "Plays are the things that let us tell stories as they were meant to be told, with the listener in the room. There's an exchange of breath, space, and time that can never again be duplicated. It's an instinctive and immediate community. And community is what changes the world," he said.
Khoury, whose plays include Selling Kabul, Power Strip, and Against the Hillside, credits the opportunity to connect and work with industry professionals as a student as a key factor behind her development as a playwright. "My education at the School of Drama, under the immense talents of Nicole Burdette, Michael Weller, Frank Pugliese, Stephen Karam, and Lucy Thurber — to name a few — was indispensable to the process of learning my craft."
With the world opening back up after the pandemic, she is enthusiastic about the potential of theater to help people reconnect after the disruptions caused by quarantines and shutdowns. "What I find vital about theater now is its potential to reestablish the collective — onstage and offstage — after a period of profound separation," she said. "What will we find when we sit side by side in a darkened room again?"
Helal, author of Invasive species and Ante body and winner of BOMB magazine's biennial 2016 Poetry Contest, sees poetry as "an efficient vehicle for the stories and experiences I want to relay. It is a genre that in building upon many disciplines transcends all art forms." Her transition from studying at The New School to teaching in Lang's First Year Writing program as a faculty member has given her the opportunity to share her experiences with a new group of emerging writers and scholars. "My Lang First Year writing students are the main reason I am proud to be an alum, and I am grateful for the chance to be the type of professor I always envisioned when I was a student."
School of Drama faculty member Grays notes that theater can promote affinity, kinship, and belonging, even in difficult times. "The beautiful thing about theater, of course, is its intimacy. Even in these challenging and necessary Zoom times, it's the one thing we are trying to re-create," said Grays. "That intimacy allows for a vulnerability unique to the theater. And no one is immune — the audience, the actors, the director, the designers, and the playwright. We are all taking this leap together."In addition to writing plays, including Where We Stand, Warriors Don't Cry, and Last Night and the Night Before, Grays helps the next generation of artists grow and develop, an endeavor in which she takes great pleasure. "I'm an acting teacher first. So it's exciting for me to work with young performers who write. It's an opportunity for them to realize, as I had to, that as actors we already have an organic instinct for storytelling. And as unique individuals from varying walks of life, we have stories worth telling," said Grays.