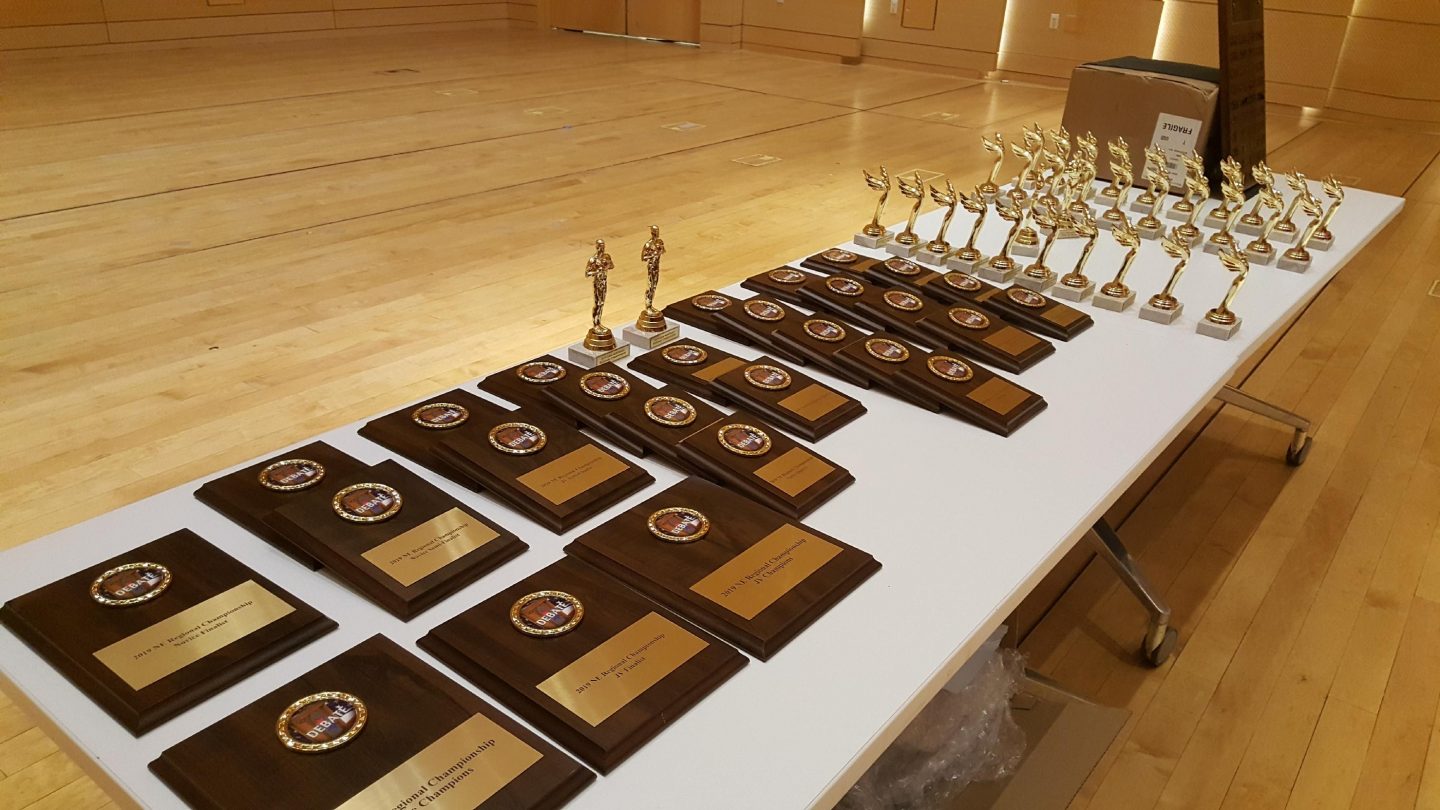 New School Debate Approaches Research and Policy Through the Lens of Social Justice
This year marks the 25th anniversary of New School Debate, which has represented The New School in intercollegiate competition since 1996. A program of the Office of Civic Engagement and Social Justice at Eugene Lang College of Liberal Arts, it is open to all degree-seeking undergraduates interested in learning to conduct research on policy questions and to debate employing the lens of social justice.
"We approach debate from a social justice perspective, looking at it as a way to understand power structures and how to make change from within them," says Vik Keenan, Eugene Lang College lecturer and coach of the debate team since 2015. "Our vision for the team is very particular. For us, it is not just about winning trophies or arguing about topical issues; every argument or research investigation that we do is grounded within social justice."
The New School Debate team is composed of 13 competing members along with a few non-competing members. Although the team is small, it has racked up a number of wins and speaker awards. At the recent Northeast Regional Championship and National Qualifier, novice debaters Quinn Kowitt, Journalism + Design '21, and Adina Karp, Journalism + Design '21, were respectively ranked the fourth and second speakers. In the JV section, Maya Wilson, The Arts '21, was ranked the ninth speaker, and Noor Lima Boudakian, Global Studies and Economics '23, took home the third speaker ranking, placing just behind the tournament champions from Boston College.
T­­he team attracts a wide swath of students — some passionate about social justice issues, while the research aspect of debate appeals to others considering PhD programs. "The debate team is a research nerd's dream come true," says Karp. "You get assigned a random theme and create a story around that through research — I love that."
It also attracts students considering becoming attorneys and policymakers, who are interested in learning how to develop concepts and arguments, skills that will be useful in their careers. "I'm very interested in going into law or politics," says Kat (Katrina) Butler, Politics and Economics '23. "While I've always had an interest in debate, my high school never had a steady debate program. When I found out The New School had a debate team, I figured I would go to a meeting and find out what it's about." She's now wrapping up her second year with the team and preparing for her 14th tournament. "I've always loved arguing — my family could tell you all about it — and I love being able to home in on my actual argumentation skills and learn how to debate issues in the most effective manner."
While participants develop solid analytical and practical skills in argumentation, advocacy, policy analysis, and public speaking, they are also drawn to the community found within the team. "I love the community of tournaments and the interpersonal relationships it allows for — to have such incredible connections with people from other universities," says Lima Boudakian. "I think that the community on the debate team is unlike any other, from the nature of what we do and the way that we are able to know each other."
Although the COVID-19 pandemic interrupted the debate season one year ago, Keenan was eager to keep the team together online, knowing that the culture and community is a boon for students. "Since so many students stay on the team because of the culture and sense of community that we have, normalizing the community online was a big priority for us," she says. "Our team met online almost every week last summer. We used that period for returning participants to learn how debate would look and feel in the online environment, so that by the time they started competing again in September, they were comfortable and had preferences in the style of online tournaments they wanted to join."
Adds Karp, "Aside from the thrill of competition, what I enjoy most, or even more, to be honest, is the weekly team meeting. I think especially over the past year, the routine of logging on to a Zoom which I don't dread but actually look forward to has been a blessing."
In addition to taking part directly in debates, many of the students serve as judges for New York City debate programs. These include the Success Academy Debate League, a middle school league in New York City, and the New York City Urban Debate League, which works to increase access for all students to debate programs. "Part of the social justice commitment is making sure debate is a viable activity but also creates sustainable choices for students that meet real needs," says Keenan.
Keenan values the interpersonal skills and self-confidence built by debate as well as its educational benefits. "Debate reinforces that it is OK to be passionate about something you think needs to change. Particularly for women and young women of color, it is OK to embrace joy, anger, passion, or whatever emotional resonance they feel that is tied to the actions they take," she says. "A big part of what we do is talk about the ways we are perceived because of social location and the ways we can use that to our advantage — and the ways we can use techniques to deal with other people's internalized notions of how we are supposed to look and sound."