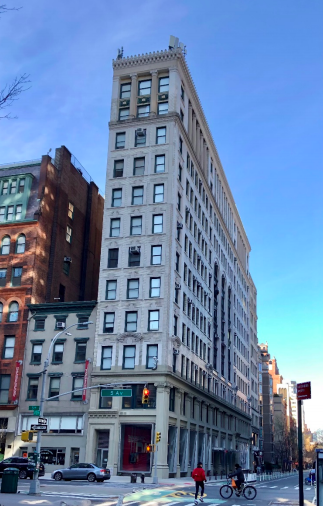 NYC Landmarks Preservation Commission Designates New School Building 70 Fifth Avenue
The New School is honored to announce that the New York City Landmarks Preservation Commission (LPC) unanimously voted to designate 70 Fifth Avenue—home to Parsons School of Design and the Sheila C. Johnson Design Center—for its architectural, historical, and cultural significance to New York City's diverse history. Historically known as the Educational Building, the structure has been home to many organizations, most notably the National Association for the Advancement of Colored People(NAACP), that advanced social justice and equality. This is a legacy that The New School has strived to uphold since it first called the vibrant community of Greenwich Village home more than 100 years ago.
"As an institution founded to engage citizens in solving pressing social issues, The New School has long advanced the values of social justice and equality to strengthen our community," said Tokumbo Shobowale, The New School's Executive Vice President for Business and Operations. "We welcome the designation, which recognizes the vital history of this building that today houses the university's acclaimed Sheila Johnson Design Center, an academic and creative hub located at 70 Fifth Avenue. The space reflects The New School's rigorous, multidimensional approach to education and provides a street-level view into the innovative work of our Parsons School of Design community."
The recognition of 70 Fifth Avenue is the second designation of a New School building, joining the Auditorium at 66th West 12th Street which received an interior landmark designation in 1997. 70 Fifth Avenue was commissioned by book publisher-philanthropist George Arthur Plimpton and built in 1914. Among its earliest tenants was the NAACP, which leased offices for almost ten years, from February 1914 to June 1923. These years were formative to the organization, during which it grew its nationwide presence and launched a series of effective campaigns against segregation, race discrimination, and mob violence. The building was also home to several other progressive non-profit groups, including the American Union Against Militarism (AUAM) who founded the National Civil Liberties Bureau (later known as the ACLU) in the building, League for Industrial Democracy, League of Nations Union, National Board of Censorship in Motion Pictures (later the National Board of Review), National Child Welfare Association, New York Teachers Union, Pan American Society, Women's Peace Party, World's Court League, as well as many book publishers. The New School acquired the building in 1972, which today houses the Sheila C. Johnson Design Center at The New School's Parsons School of Design.
"LPC is committed to ensuring diversity and inclusion in our designations," said Landmarks Preservation Commission Chair Sarah Carroll. "As part of our equity framework launched earlier this year, we are prioritizing designations like 70 Fifth Avenue…to make sure that we are telling the stories of all New Yorkers. 70 Fifth Avenue recognizes the important contributions of the NAACP, as well as many progressive organizations that advanced social justice and equity."
The Landmarks Preservation Commission is the mayoral agency responsible for protecting and preserving New York City's architecturally, historically and culturally significant buildings and sites. Since its creation in 1965, LPC has granted landmark status to more than 37,000 buildings and sites, including 1,439 individual landmarks, 120 interior landmarks, 11 scenic landmarks, and 151 historic districts and extensions in all five boroughs.
City Council Speaker Corey Johnson noted that the "vote recognizes the contributions the NAACP and other prominent civil rights organizations made at 70 Fifth Avenue. I want to thank the Landmarks Preservation Commission for designating this historically significant building which will now be protected for generations to come."