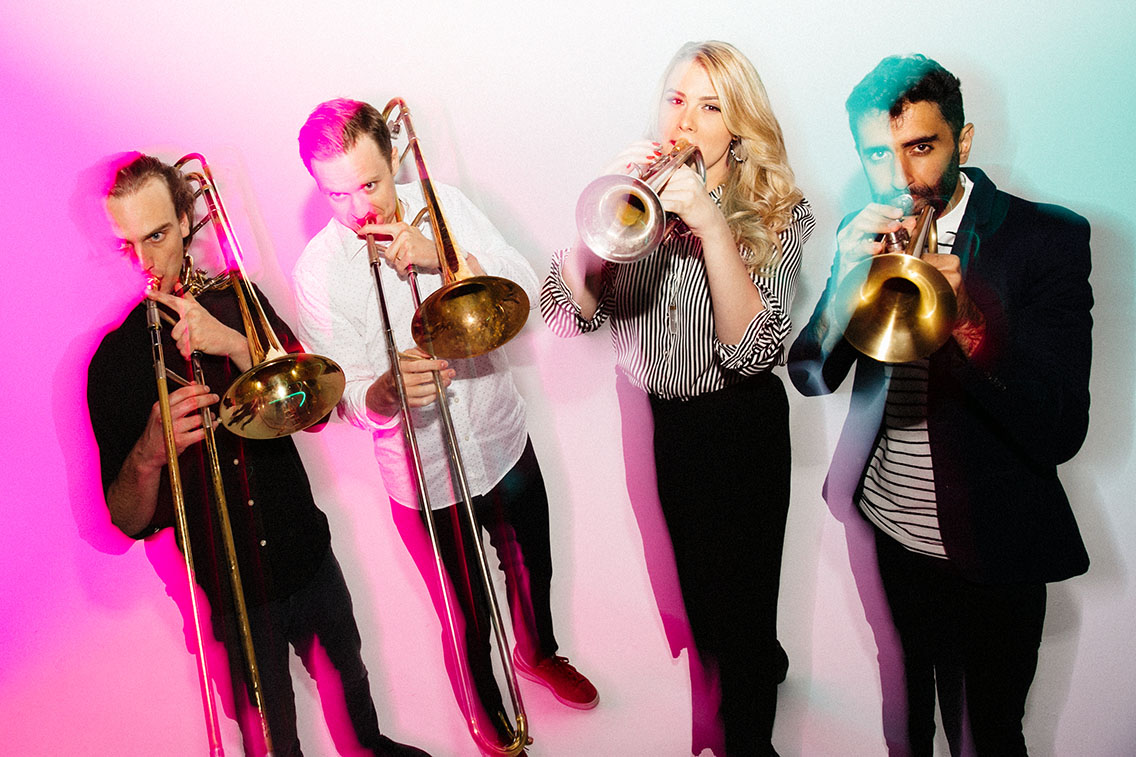 Acclaimed Ensemble The Westerlies Joins School of Jazz and Contemporary Music in Residence
In recent years, the College of Performing Arts has attracted leading musicians and ensembles to teach, oversee new initiatives and programs, and develop innovative courses. Building on CoPA's mission to train and foster the next generation of multidisciplinary artists, the school recently announced that The Westerlies will be joining the School of Jazz and Contemporary Music this Fall as the inaugural small ensemble-in-residence.
The Westerlies, a New York City based acapella brass quartet comprised of childhood friends from Seattle, Riley Mulherkar and Chloe Rowlands on trumpet, and Andy Clausen and Willem de Koch on trombone, perform original and extant works that draw on a wide range of musical styles and genres. They have been described by The New York Times as "an arty quartet…mixing ideas from jazz, new classical, and Appalachian folk," and have performed around the country at music festivals, in addition to releasing critically acclaimed albums.
At CoPA, they will coach chamber ensembles, lead master classes, and give concerts. Each member will be appointed to the faculty at School of Jazz and the private lesson faculty at Mannes School of Music. The residency will evolve to include a Westerlies elective ensemble, a cross-CoPA brass class and New School Studio Orchestra rotation. The Westerlies will work on projects and partnerships across the entire College of Performing Arts and The New School.
"The Westerlies have always sought to build bridges across the boundaries of genre; we avidly pursue collaborations with a wide variety of artists," said Willem de Koch, MA AME '18 and co-founder of The Westerlies. "We could not have found a better home than The New School, an institution dedicated to interdisciplinary collaboration and progressive thinking. As a proud alumnus of The New School, I am thrilled to be joining the esteemed faculty at CoPA."
During their first year with CoPA, The Westerlies will primarily be focused on collaborative ensemble work by bringing together musicians and artists from diverse backgrounds in order to explore new musical possibilities. Additionally, they'll delve into the process of creation, and how performers can bring their own experiences with composition and improvisation into their artistic practice.
"We'll be working with students to get to what we think is at the heart of ensemble-based music: developing a group sound that is greater than the sum of its parts, while creating space for each individual's unique musical personality to shine," explained de Koch. "We will also be sharing our experience launching, developing, and sustaining The Westerlies, so that we may serve as a resource to students as they launch their own independent musical projects."
"It's difficult to describe how much I admire The Westerlies," said Richard Kessler, Executive Dean of CoPA and Dean of Mannes. "In a relatively brief amount of time they have reinvigorated the notion of a brass chamber ensemble and are well on their way to building the most exciting new repertoire for brass ensemble. They are all such fine human beings, not to mention great artists, who can do just about anything that is required of chamber ensembles in the early 21st century. I have no doubt that the students and the entire New School community will benefit greatly from this residency."
During their respective time at CoPA, both de Koch and Chloe Rowlands, Jazz '13, felt right at home in a diverse community of progressive thinkers, artists, and activists. They were encouraged to take musical risks and follow a process-driven, rather than results-driven, path.
"This type of environment gave me the space to grow and develop into the artist I am today, and I am eager to continue to foster this type of environment in my new capacity as a faculty member," said de Koch.
In addition to The Westerlies, the JACK Quartet and the Vanguard Jazz Orchestra are currently in residence at CoPA, while the school is also home to The Stone.