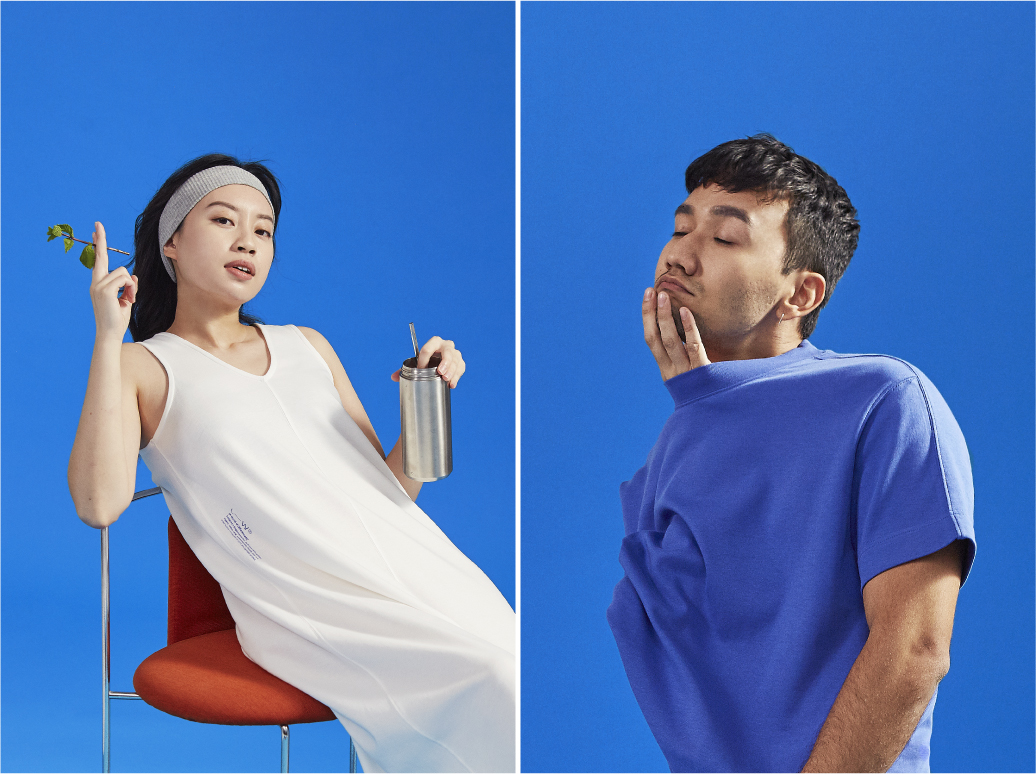 Jon Max Goh, Fashion Design '15, Debuts New Collection for Livingwear
"What is Living?" and "Who are real people?" are the two central questions at the heart of Livingwear, a fashion start-up co-founded by Jon Max Goh, Fashion Design '15, who serves as the label's Creative Director and Chief Design Officer. Recently, the brand launched a Kickstarter campaign in order to fund their new capsule collection, Joy of New Beginnings, which celebrates their "tumultuous journey as a young business with a hopeful resilience set towards the future," according to Goh.
"This capsule collection is a stubborn celebration in the face of everything that is threatening to drag you down — choosing wholeheartedly and surely to fight for what gives you hope," shares Goh. "It is a reminder (for me) that despite the darkness that surrounds us, what unites us and raises us out of our despair is hope. My team and I could not have come out of this bleak period without the steadfast support of our closest friends, families, mentors who've been there for us. It's a celebration of humanity."
The debut piece of the new collection is a Mock Neck Tee made from 100% organic cotton that is GOTS and Fair Trade certified, highlighting Goh's and the brand's commitment to designing sustainably. All of the pieces in the capsule collection emphasize comfort and confidence, and because of the way they are designed and manufactured, they'll retain their shape for longer periods of time. The brand also donated a portion of their Kickstarter proceeds to charities supporting India as the country continues to grapple with COVID-19.
"Comfort is not just the physical touch of soft fabric to skin, but the peace of mind that comes with shopping ethically, and the effortlessness of adding new elevated staples that fit your existing wardrobe seamlessly," explains Goh. "As long as we are putting products out into the world, we want to make sure that (as a brand), we know as much as possible about our supply chain and our raw materials. For us, sustainability – and more importantly, accountability – is about an on-going practice of asking the right questions, and learning to put the right requirements in place when working with our partners and supply chain."
During his time at Parsons, Goh won Menswear Designer of the Year, and then went on to work for brands including Jonathan Cohen, Altuzarra, Kenneth Cole, Joe Fresh and more. For Goh, the Parsons community has been a critical component of his success, as his fellow designers and creatives continue to inspire and teach him that he can create positive change with his work.
"My Parsons education has taught me to ask why and how I create and put things out into the world, and to be critical of my own practice," says Goh.
In addition to his work with Livingwear, Goh is also one of five winners of Uniqlo's recent Sustainability Design Challenge in partnership with DesignSingapore Council, and his work is on display at Uniqlo's store in Plaza Singapura until June, 2021. He is also one of 5 finalists in this year's Singapore Stories competition organized by The Textile and Fashion Federation of Singapore.
Livingwear will be releasing the next 2 items in their 11 piece capsule, available for pre-order in July 2021.