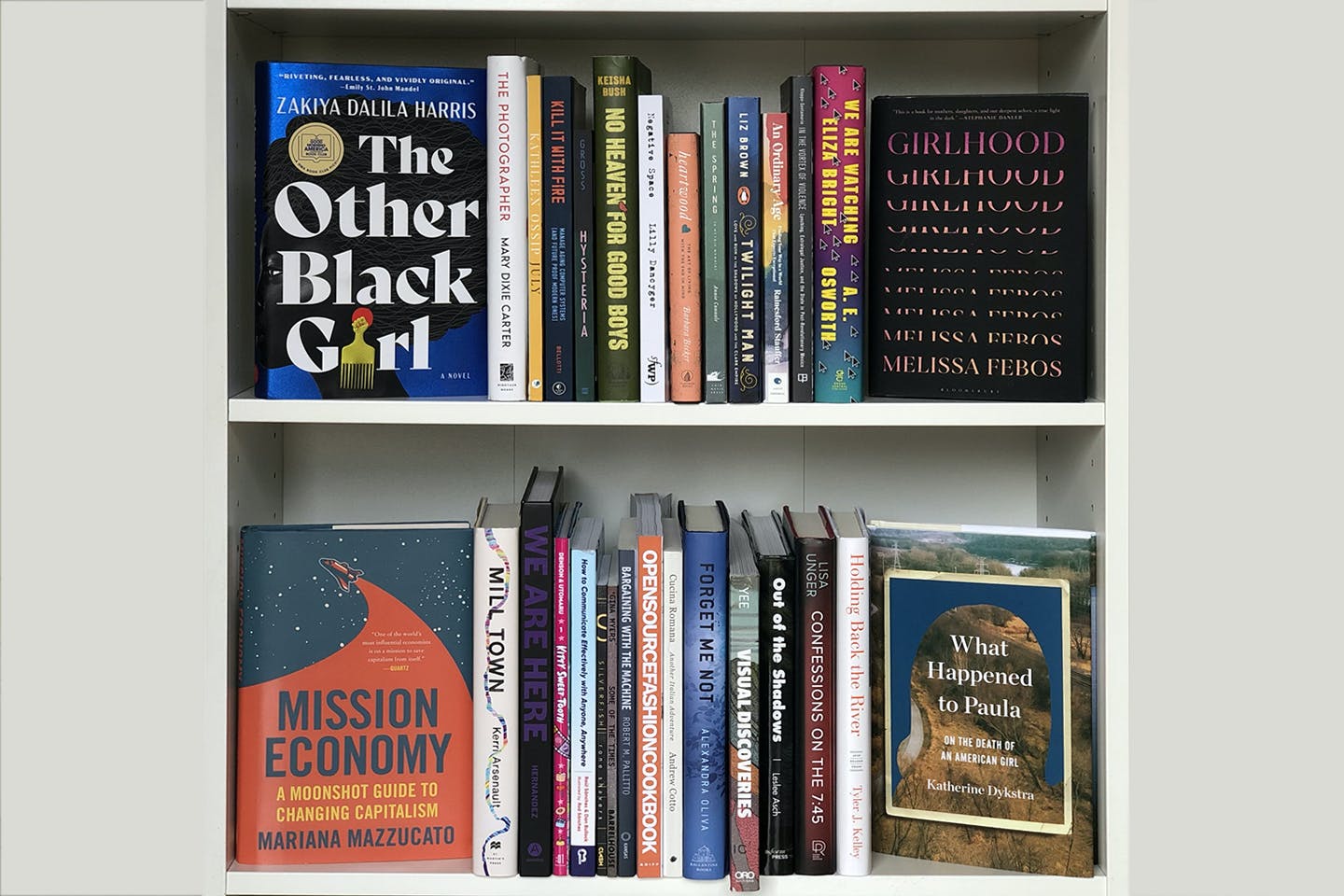 The New School's Academic Year in Books 2020-2021: Alumni
The 2020-2021 academic year was another successful one for The New School's alumni authors, who published a number of compelling works that resonated with audiences around the world.
Alumni authors created captivating stories that attracted significant critical attention and commercial success. Melissa Febos, BA Liberal Arts '03, wrote a groundbreaking memoir, Girlhood. Robert M. Pallitto, PhD Politics '02, published a timely exploration of technology and privacy in Bargaining with the Machine: Technology, Surveillance, and the Social Contract. Tyler Kelley, BA Liberal Arts: Literature '07, looked at the troubling effects of aging infrastructure and climate change on America's great rivers in Holding Back the River: The Struggle Against Nature on America's Waterways. And Zakiya Harris, MFA Creative Writing '16, examined privilege and racism in the workplace in a thrilling debut novel, The Other Black Girl.
Discover your next great read in the list below, and browse The New School's alumni online bookshelf for more selections.
Fiction
No Heaven for Good Boys
Keisha Bush, MFA Creative Writing '15
The Photographer
Mary Dixie Carter, MFA Creative Writing '17
Cucina Romana: Another Italian Adventure
Andrew Cotto, MFA Creative Writing '08
Hysteria
Jessica Gross, MFA Creative Writing '18
The Other Black Girl
Zakiya Dalila Harris, MFA Creative Writing '16
The Gordian Knot Trilogy
Jonathan Emmanuel Hernandez, MFA Creative Writing '19
Forget Me Not
Alexandra Oliva, MFA Creative Writing '11
We Are Watching Eliza Bright
A.E. Osworth, MFA Creative Writing '16
A Room in Dodge City: Vol. 2
David Rice, MFA Creative Writing '19
Silverfish
Rone Shavers, MFA Creative Writing '01
Confessions on the 7:45
Lisa Unger, BA Liberal Arts '92
Memoir
Heartwood: The Art of Living with the End in Mind
Barbara Becker, MA Media Studies '00
The Spring
Annie Connole, BA Liberal Arts '07
Negative Space
Lilly Dancyger, BA Literary Studies '11
Girlhood
Melissa Febos, BA Liberal Arts '03
Nonfiction
Mill Town: Reckoning with What Remains
Kerri Arsenault, MFA Creative Writing '15
Kill It With Fire: Manage Aging Computer Systems (and Future Proof Modern Ones)
Marianne Bellotti, MS Nonprofit Management '10
Twilight Man: Love and Ruin in the Shadows of Hollywood and the Clark Empire
Liz Brown, MFA Creative Writing '01
How to Communicate Effectively with Anyone, Anywhere
Daniel Bullock, MA TESOL '18
Rodrigo Sánchez, MFA Design and Technology '04
What Happened to Paula: On the Death of an American Girl
Katherine Dykstra, MFA Creative Writing '05
Strive from Within: The Jazzmeia Horn Approach
Jazzmeia Horn, BFA Jazz and Contemporary Music '14
Holding Back the River: The Struggle Against Nature on America's Waterways
Tyler Kelley, BA Liberal Arts: Literature '07
The World We Need: Stories and Lessons from America's Unsung Environmental Movement
Audrea Lim, MA Philosophy '08
Why Cats Are Assholes
Liz Miele, BA Liberal Arts '06
An Ordinary Age: Finding Your Way in a World That Expects Exceptional
Rainesford Alexandra Stauffer, BA Liberal Arts '17
Social Sciences
Banning the Bomb, Smashing the Patriarchy
Ray Acheson, MA Politics '14
Everyday Violence against Black and Latinx LGBT Communities
Siobhan Brooks, MA Sociology '01, PhD Sociology '08
Afro-Latinos in the U.S. Economy
Michelle Holder, MA Economics '07, PhD Economics '13
In the Vortex of Violence: Lynching, Extralegal Justice, and the State in Post-Revolutionary Mexico
Gema Kloppe-Santamaria, MA Sociology '10, PhD Sociology and Historical Studies '18
PEOPLE|NON|SPACES: Humanity in Homogeneous Zones
Bridget Leslie, MFA Fine Arts '17
Mission Economy: A Moonshot Guide to Changing Capitalism
Mariana Mazzucato, MA Economics '95, PhD Economics '99
Care Ethics and the Refugee Crisis: Emotions, Contestation, and Agency
Marcia Morgan, MA Philosophy '98, PhD Philosophy '03
Bargaining with the Machine: Technology, Surveillance, and the Social Contract
Robert M. Pallitto, PhD Politics '02
Worldly Shame: Ethos in Action
Manu Samnotra, MA Politics '07
Poetry
Ghost Hour
Laura Cronk, MFA Creative Writing '05
Some of the Times
Gina Myers, MFA Creative Writing '05
July
Kathleen Ossip, MFA Creative Writing '98
Ghost Face
Greg Santos, MFA Creative Writing '09
Art and Design
Out of the Shadows: The Henson Festivals and Their Impact on Contemporary Puppet Theater
Leslee Asch, MM Nonprofit Management '05
Fashion Thinking: Creative Approaches to the Design Process
Fiona Dieffenbacher, AAS Fashion Design '90, BFA Fashion Design '93, MA Fashion Studies '19
The Garden
Erik Madigan Heck, MFA Photography '10
We Are Here: Visionaries of Color Transforming the Art World
Jasmin Hernandez, BBA Strategic Design and Management '02
Yes No Thank You Goodbye
Sam Klegerman, BFA Photography '20
Open Source Fashion Cookbook
Angela Luna, BFA Fashion Design '16
Still Bombay
Mayur Tekchandaney, BFA Communication Design '00
Visual Discoveries: A Collection of Sections
Allen Yee, MFA Design and Technology '04
Literature for Children and Young Adults
Kitty Sweet Tooth
Abigail Denson, BA Liberal Arts/BFA Illustration '99
Taking Up Space
Alyson Gerber, MFA Creative Writing '12
Ever Cursed
Corey Ann Haydu, MFA Creative Writing '12
K-Pop Confidential
Stephan Lee, MFA Creative Writing '18
Secret Spy Society: Case of the Missing Cheetah
Veronica Mang, BFA Illustration '19