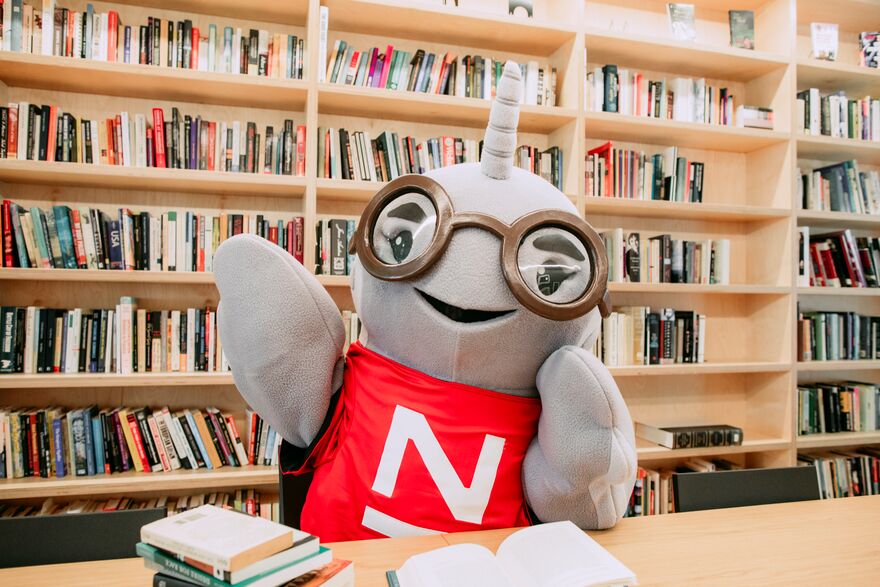 Gnarls, The New School's Mascot, Debuts a New Look
Mascots have been making headlines for the past few years, in large part because the sports teams and universities that use them are changing with the times and retiring offensive names or symbols that relied on cheap stereotypes.
The New School's mascot, Gnarls Narwhal, has a wholesome backstory, and in true university fashion, is an innovator with a passion for social justice and fighting the injustices of climate change. In the past year, Gnarls, a Pisces, has come out as non-binary, and is currently the only sea mammal to earn a BAFA dual degree from The New School, majoring in Communication Design at Parsons and Environmental Studies at Lang.
"In order to prepare students to succeed in a rapidly changing society our values must reflect the evolved needs of our population," explains Zach Harrell, Assistant Provost for Student Engagement. "In this way, our students can make the world a better or just place and Gnarls is meant to symbolize that. We hear the phrase "that's so New School" all the time with students and I think the hope is that Gnarls is also "so New School" and a symbol that prospective students, current students and alumni can look at as a representation of their experience."
During the 2020-2021 academic year, Gnarls, like the rest of The New School community, was working and learning from home, where during their downtime, they experimented with new looks. This Fall, Gnarls will debut a new outfit, in addition to chic glasses which highlight their soft bone structure and make their aquamarine eyes pop.
"Gnarls' helps build students' sense of community and belonging," says Harrell. "They are very photogenic, and students, staff and families all love opportunities to take photos with Gnarls."
"Gnarls is an offbeat and unconventional mascot that is beloved and embraced here," says Hailey Hunerlach, Drama '22. "Gnarls represents the spirit of individuality, a trait that we take a lot of pride in."
As the university welcomes students, staff, and faculty back to campus this Fall, Gnarls will be out and about at various New School events, greeting new students during Orientation Week, and posing on the street. Wherever Gnarls might be, you can easily track them using the hashtag #wheresgnarls on social media.

Gnarls is proud to be part of The New School community, and aims to foster a spirit of connection and collaboration at the events they attend. If you would like to see Gnarls at your next event, fill out the booking form to kick off the appearance process.