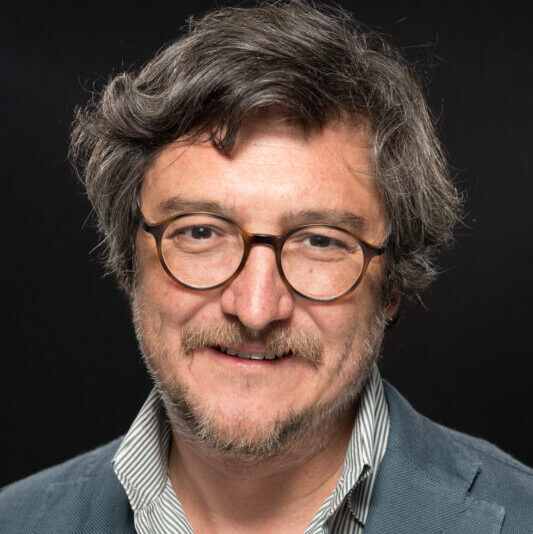 Koray Caliskan, Professor of Strategic Design and Management, Wins 2021 Falling Walls Science Breakthrough Prize in Social Sciences and Humanities
Koray Caliskan, an economic sociologist and Associate Professor of Strategic Design and Management in the School of Design Strategies at Parsons, was running along the Bosphorus Strait in Istanbul and listening to a podcast about blockchains and cryptos when inspiration struck. Although he didn't know much about bitcoin or cryptocurrency at the time, he began to explore the new technologies that have been making headlines for the past year, which in turn became a research project that was recently awarded a Breakthrough Prize in Social Sciences and Humanities from the Falling Walls foundation.
Caliskan's research sheds new light on the materiality of cryptocurrencies, their communities, blockchains and markets. By locating a historically new money form, the Data Money, his research showed that cryptocurrencies draw on monetizing the right to send data privately on the public accounting spaces of blockchains. Concurrently employing an ethnographical study of one data money community and a macro sociological and longitudinal view of all cryptocurrencies and their global markets, Caliskan analyzed the making of an emergent global socio-economic phenomenon and its power dynamics.
"It was already an honor for me to be nominated, and then to be shortlisted was wonderful news," shares Caliskan. "But being a winner was a true surprise. I am very happy for my fellow scientist colleagues' nomination and the jury's recognition of my quite heterodox research, bringing together complex computational analysis and global ethnographical research."
Although the podcast inspired Caliskan's initial interest in cryptocurrency, he engaged with the market in order to further his research, buying and selling cryptos. He sold his portfolio back in 2018, and recently discovered that everything he sold a few years ago is currently valued at $6 million dollars.
"I am not sure my family was happy when I told them that I sold every cryptocurrency I had bought for research ethical reasons," he says. "This research has become my most expensive project."
With an economy that recently passed $2 trillion, cryptocurrency has been gaining steam for years, even though many people do not know what a crypto economy entails, or how to engage with the communities that utilize these new forms of technology. Caliskan's research project is especially important and relevant for a variety of reasons, and draws on ethnographical fieldwork, computational text analysis of a million pages of documents, a big data analysis of all Twitter interaction of half a million handles, and a sociological survey of a global cryptocurrency community.
"My research presented four core findings," he explains. "1) Focusing on the materiality of data money, my scholarship shows how cryptocurrencies are made by monetizing the right to send data privately on a public space, built by blockchains. 2) Contrary to expectations, the research showed that Data Monies are not replacing fiat currencies; they contribute to dollarization and euroization of trading. Furthermore, centralized exchanges are now replacing decentralized blockchains on the ground, creating a need to rethink policy measures surrounding crypto economies. 3) Drawing on a detailed study of a global cryptocurrency community, the project makes visible how these seemingly decentralized financial universes are dominated by sociologically identifiable centers of power in terms of gender, geographical location, development considerations and education levels. 4) Exchange platforms are now mere two-sided markets. We cannot regulate them if we keep thinking that platforms like Amazon or Crypto Exchanges are a new kind of market. They are Stacked Economization Processes. It is a new thing. It requires a new logic of approach and regulation."
Caliskan's research has made an immediate impact on the world of cryptocurrency, which has already started working to be more inclusive and diverse by moving away from a male and white dominated community, in addition to new findings for economic communities everywhere. He is now working on a book about his research, "Data Money," which will come out later this year.
"My research's largest implication is on all economic communities, not only crypto communities," explains Caliskan. "The new financial world opened by blockchains and emergence of data monies will be one of the most important changes in world economic history."
Caliskan is also the recent winner of a prestigious research grant from the Economic and Social Research branch of the United Kingdom Research and Innovation Council. He will work with a team of researchers and post-doctorate colleagues to carry out socio-economic research on Online Advertising and its Data, Materiality, Systematicity and Power.
"Online advertisement is now financing the entire internet," he explains. "Yet there is very limited research on its economic and sociological universe. Our team, led by one of the top economic sociologists of our times, Don MacKenzie, will shed some light on digital advertisement universe by opening "the hood" to examine its (search) engines, its transformation from a mere 'renting' of space on websites to today's real-time ad auctions, data generation strategies, and infrastructural design considerations."
Additionally, the research project will examine why advertising technology takes the form it does, and investigate the relationship of advertising's materiality to diverse forms of power and politics, such as Google and Facebook. The project will be grounded in a transdisciplinary research framework in order to ensure that the findings reflect reality, and are not siloed. Caliskan plans to co-lead the research of U.S. platforms with his colleague Don MacKenzie.
"We will draw on design considerations, social research and technical analysis to make sense of the economic sociological universe of digital advertising," says Caliskan. "We are very excited to start out this long journey with many difficult questions to offer hopefully a few satisfactory answers."