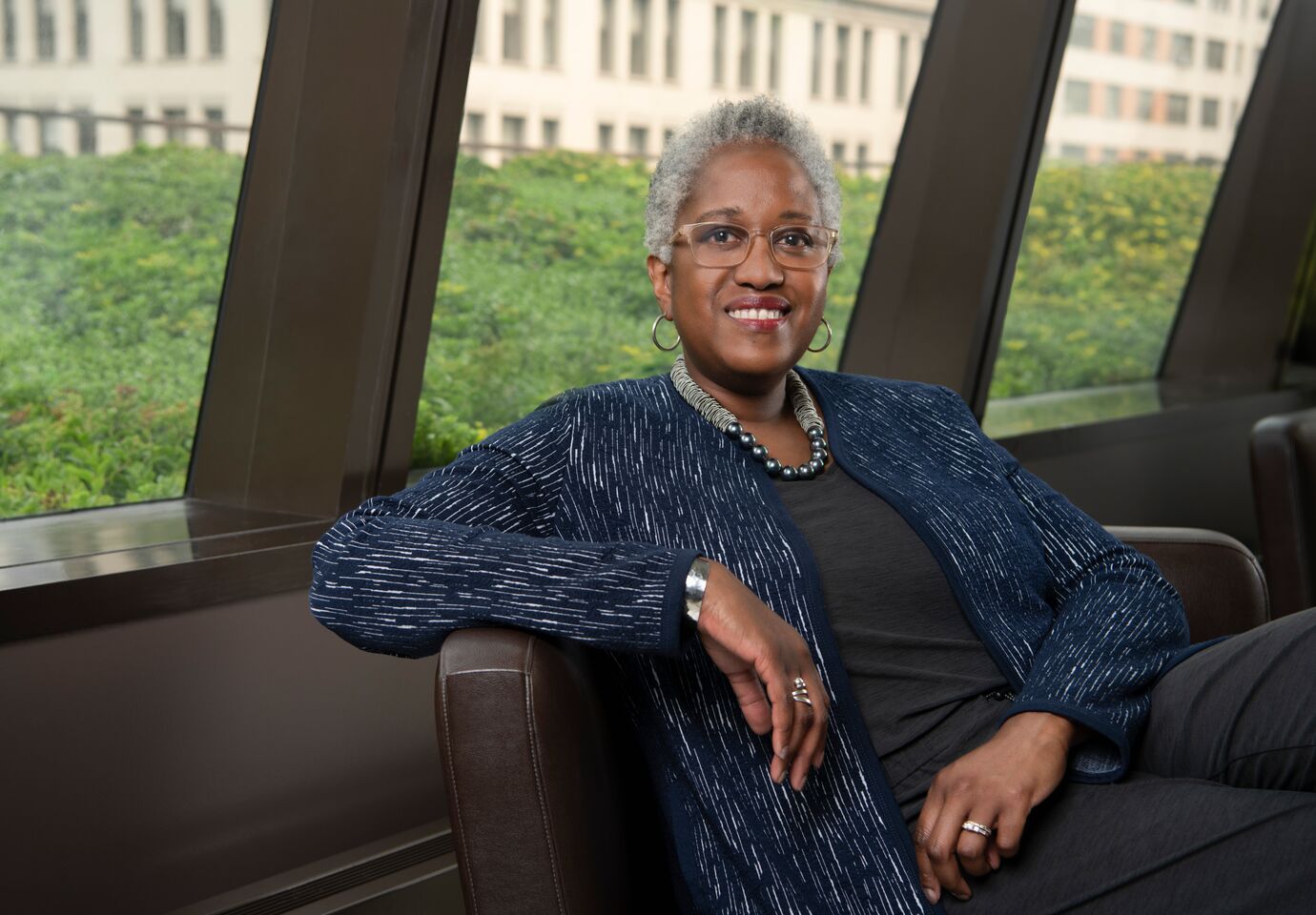 An Interview with Dr. Renée T. White, The New School's New Provost
Dr. Renée T. White is a leading scholar on race, gender, and social inequality, an accomplished higher education administrator, and a celebrated author and editor. She is also the new Provost of The New School, where she officially began on August 1st.
New School News recently spoke with Dr. White on a wide variety of subjects, including her excitement about moving back to New York City, the reasons she wanted to join The New School, the passionate activists and leaders she looks up to and draws inspiration from, and much more.
What attracted you to The New School?

Having grown up in NYC, I've always known about The New School and admired it a great deal. I have always been drawn to institutions with a clear mission, and ones that are grounded in the principles of social justice. Furthermore, the prospect of being at an institution that is so steeped in the visual and performing arts, design, social policy, and community engaged scholarship was very appealing to me. I've also been aware of President McBride as a scholar and was intrigued by the opportunity to work with him. I was very impressed by everyone—students, staff, faculty, alumni, and trustees—that I met throughout the interview process
How have your past roles and experiences prepared you for your current role?
I am a sociologist and a Black and Africana studies scholar. I situate my work (as a scholar and academic leader) in Black feminism and critical theory. Because of that I have always conducted research, examined policy, asked critical questions, and invited collaboration from that vantage point. I have endeavored to use my expertise in the service of community and as a result I've always been drawn to colleges and universities with missions that include a commitment to authentic community partnerships. I've been a professor at different kinds of institutions: land grant, public, and private Jesuit. That gave me so many perspectives on higher education and the student experience, both undergraduate and graduate. I was a dean at a women-centered institution and a provost at a private liberal arts college. In that final role, as provost at Wheaton College (in MA), I was able to advance their commitment to EISJ through everything from introducing implicit bias training for faculty searches, establishing their Center for Collaborative for Teaching and Learning (which is built on EISJ principles), launching a new curriculum that includes a scholars program dedicated to social justice, to working with the heads of academic departments as they develop antiracist plans. I enjoy being a facilitator and builder, and always do so in light of an equity framework and mindset.
What are some of the things you plan to do during your first academic year at The New School?

I suppose I have a pretty ambitious plan. First and foremost, I want to explore all of the ways we support our students outside the classroom and ensure that we continue to orient ourselves as a premier university using a holistic approach to the student experience. Beyond that, my goal is to work with faculty and staff to clearly define what it means to be a global university and to highlight the ways the scholars within the university create works that have long lasting impact. On a more concrete level, I'm looking forward to completing a few key searches, helping with some institutional planning initiatives, and many other projects on my list. As a scholar I'm hoping to do some writing and maybe present or moderate at a few conferences.
Are there any leaders or artists from the past or present that you turn to for inspiration and whose words or work you think inspire others?
Oh yes. There are so many I could identify. As a high school student I had the good fortune to meet Yuri Kochiyama, a lifelong activist and social justice advocate in so many domains. She and her family lived through WWII internment in a camp in Arkansas and she later moved to Harlem where she was a friend of Malcolm X. What was especially powerful was her ability to care for each person she met and her boundless curiosity. In terms of artists, I am always taken by artists whose narrative compels me. Since I was in middle school I have been fascinated by Bruegel the Elder (and some of his son's work too) because he told stories about regular people in his art. A few years ago I became aware of the Afro-Cuban American painter Harmonia Rosales, who merges Italian Renaissance technique and Yoruba iconography with other representations from the African Diaspora. I am riveted by videos of her working in her studio. There are so many musicians who inspire me as well. In my office I have two photos: one of Ella Fitzgerald with Louis Armstrong and the other is of Lady Day (Billie Holiday). In the jazz scene I'm inspired by artists from the bebop era through today. I admire the innovations of folks like the late Roy Hargrove plus Esperanza Spalding and Brad Mehldau. They experiment with genres and are risk-takers. Terri Lyne Carrington is an inspiration as a drummer, band leader and collaborator and in terms of the ways she has been a strong voice advocating for gender equity in music. Artists like singer/composer/actor Rubén Blades, cellist Yo-Yo Ma and LA Philharmonic conductor Gustavo Dudamel connect artistry to local music education and cultural literacy projects and see music as a vehicle for peace making. If you consider chefs as artists, then I must also mention José Andrés, founder of World Central Kitchen. WCK is not only a relief organization but also focuses on developing coherent on-the-ground food ecosystems: from addressing food insecurity to offering culinary training and advocating for environmentally equitable social policy. I am drawn to his work because he stays grounded in the world of food but uses that to address any number of urgent needs.
What are you most excited about doing on campus once the university re-opens?

In the spirit of the title of Langston Hughes' autobiography, I like to wonder as I wander. I am always fascinated by architecture and I'm interested in how physical spaces tell the story of an institution. In the case of our university that means I'm also looking forward to seeing site specific art in different buildings. Beyond that, I'm glad I'll have the opportunity to meet students and attend campus events.
What most excites you about living in New York City?
Everything. Being able to see my family and dear friends who live in the city. Going to Yankees games (I'm a lifelong fan). Checking out live music. Reacquainting myself with the arts scene: galleries, dance, all of it! I am from a family of musicians. My husband plays cello, piano and electric bass; my dad had a brief moment as a jazz vocalist; my sister-in-law is a singer — as are my niece and two of my stepdaughters — and we have a lot of friends in the performing arts. Being able to support them, and local venues, excites me.
What books are on your bedside table right now? And which TV shows are you currently binging?

You mean my bedside table, floor, and nearby chair? I have a lot of books. I just finished reading Chocolate Cities: The Black Map of American Life by Marcus Anthony Hunter and Zandria Robinson and reread Thick by Tressie McMillan Cottom. In the pile are a number of volumes by Toni Morrison and Eddie Glaude, Jr, Silvia Moreno-Garcia's Gods of Jade and Shadow, the Smithsonian's Hip Hop Anthology, and The Final Revival of Opal and Nev by Dawnie Walton. As far as TV shows go, I've just finished "Picard" and can't wait for the new season. I am a huge sci-fi fan: in particular I'm into "Star Trek," along with the "Battlestar Galactica" and "Dr. Who" reboots. Other shows I loved include "Killing Eve," "I May Destroy You," "Catastrophe," "The Great," and "Flack." Like many academics, I had to watch "The Chair." My tastes are all over the place.