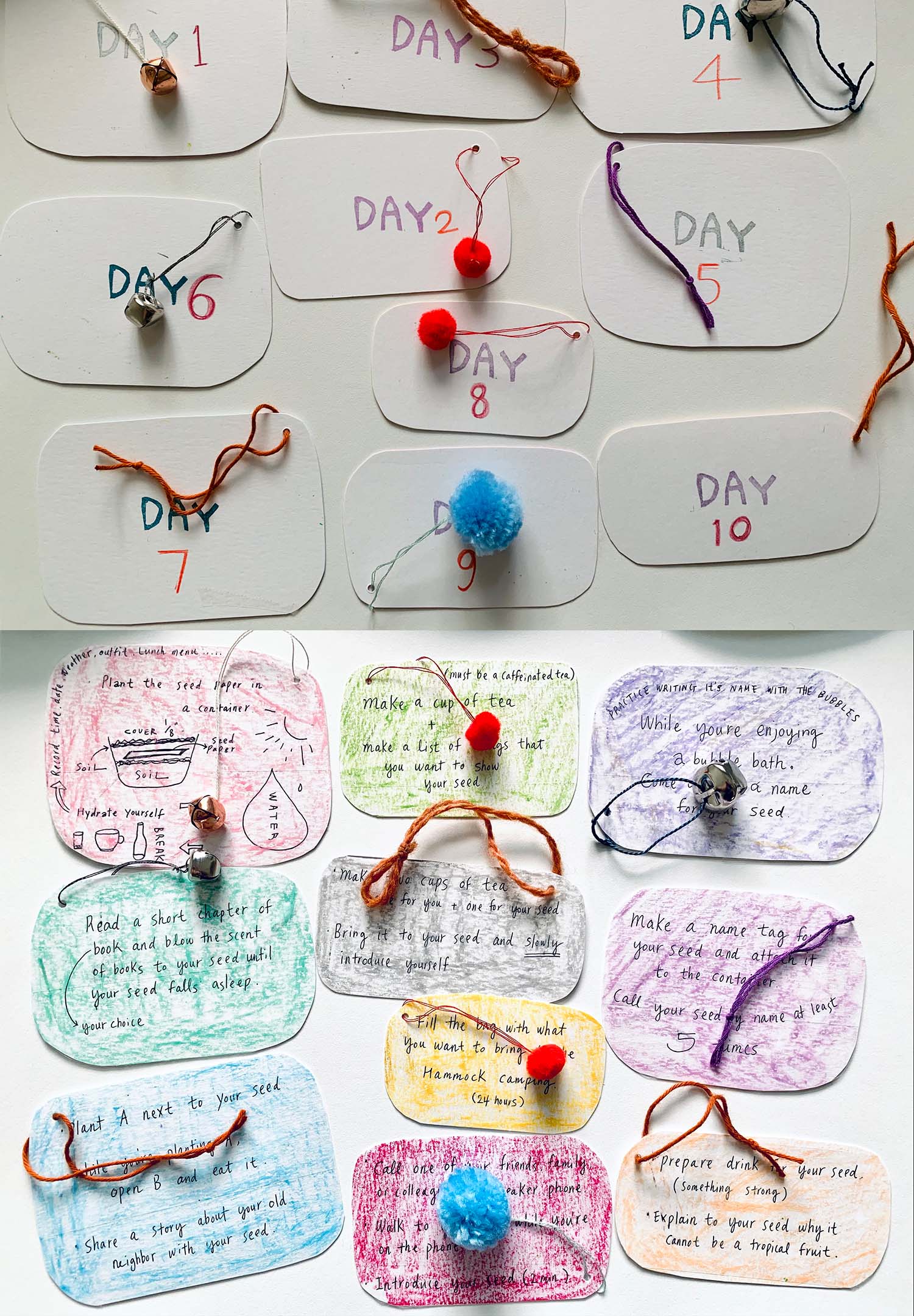 Marisa Tornello and Yiseul Kim Lemieux, MM Performer-Composer '21, Create Green Therapy Tool for Artists
There might not be a better class in the College of Performing Arts that effectively highlights and communicates the mission and vision of the school than "Artists as Activists." Contributors (as opposed to students) survey and analyze selected works by major artists and activists, and the complex artistic, social, and cultural impact of the artist as activist.
For their final project during the Spring 2021 "Artists as Activists" class, Marisa Tornello and Yiseul Kim Lemieux, MM Performer-Composer '21, developed a virtual green therapy program inspired by the hard times they saw people going through as a result of the coronavirus pandemic. They created the Grow Space, which allows artists to go on a 10-day journey with gardening. Tornello and Lemieux learn about each individual artist applying for the program, and then send them a personalized Grow Pack, which contains seeds, a handmade journal made for them, instructions for a 10 day cycle, and items unique to their interests. 
"Throughout this journey, they plant their seed, watch it grow, and reflect in their journal on the feelings of slow growth, patience, progress, and appreciation of smaller things and moments along with special prompts for them to execute," they explain. "This project lives as a durational form of mindfulness, as the artists take 10 days to focus on the tasks at hand."
Tornello and Lemieux are hopeful that their project will help people view life from a different perspective, and as they nurture the life in the seed, they'll see the growth in their own lives as well. The two students also felt it was important to make the program free, in order to provide mental health services to those communities who have a hard time affording the tools they need.
"We want to use our platform as artists and mental health advocates to speak to this population – to communicate the message that they are not alone, and that they can get through this," they say. "So often, when we are in our worst places, we have the hardest time speaking out. In the Grow Space, we want that to be the easiest possible journey it can be."
Although Tornello and Lemieux started in the MM Composer-Performer program during the coronavirus pandemic, the unique online experience has given them the opportunity to create different types of connections with their peers. They also rethought and redefined their role as students at CoPA, which in turn inspired them to focus their project on mental health.
"This limited environment inspired many of us to think about how our art can impact our communities right now," they share. "Learning how to reshape our practices through a virtual lense allowed us to start approaching our work differently. What kind of power do we have as artists? We have our voices. Our expressions."
Students, faculty, and alumni from throughout The New School regularly collaborate on projects that address pressing social issues, including Mannes School of Music faculty member Jennifer Koh's coronavirus pandemic musical series, which she recently turned into a new album, and a group of Parsons Design and Technology alumni who won an Open Access Challenge from the Smithsonian Museum for their project that helps visually impaired people experience art.
Tornello and Lemieux are eager to continue expanding The Grow Space by nurturing a community with new social spaces on their website, which they hope will foster new connections. They also want to host workshops and garden events with their participants as New York City continues to reopen.
"We spent money out of pocket to create these free experiences for our participants because we don't want anyone to feel alone," they say. "We want them to know that every small thing can have so much power if you allow it to have that power."