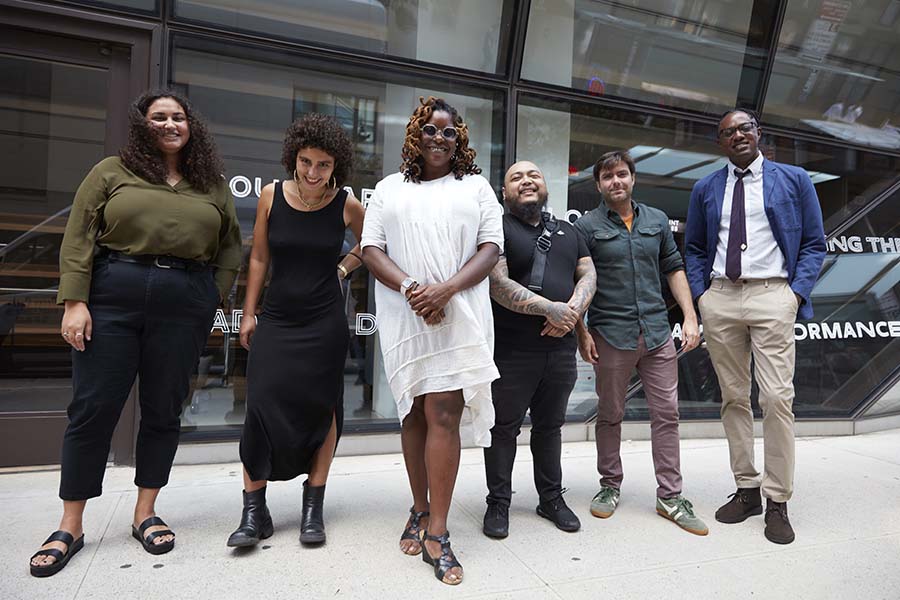 Mellon Initiative for Inclusive Faculty Excellence Launches Fellowship for Emerging Scholars
"Inclusive excellence isn't just about social justice. It's about equity — equity of access and experience, equity of being able to exercise fully our intellect, our critical apparatus, our research, who we are and what we bring to the table. Nothing less than that is at stake when we talk about inclusive excellence," said President Dwight A. McBride, speaking to the inaugural cohort of Mellon fellows during its first Transformative Seminar.
The new fellowship program is part of The New School's Mellon Initiative for Inclusive Faculty Excellence, designed to provide essential mentorship and professional development to emerging scholars and expand social justice work and scholarship throughout the university. Funded by a $5 million grant from the Andrew W. Mellon Foundation, the initiative is designed to increase the demographic and intellectual diversity of professors in the humanities and social sciences. "It matters who is in these jobs, and for too long we've neglected what it is to be actively involved in terms of the kind of leadership we want to see for our institutions," said President McBride. "It is through those institutions that we are able to change the landscape of higher education overall."
The initial 18 fellows are scholars at the doctoral, dissertation, professorship, and community levels representing disciplines including philosophy, literature, design, politics, sociology, psychology, public and urban policy, culture and media, and community organizing. They began their fellowships with the Transformative Seminar, part of a biweekly series that allows for mentoring, networking, and community building for the inaugural fellows. The seminar will regularly bring these academics and activists together in an intellectual community whose members engage with one another's ideas, research, and projects.
"We come from different academic disciplines, from community activism, and from a variety of different places in the world, but what we are all engaged with is intellectual pursuit for understanding and unpacking issues regarding structural inequality," said Deva Woodly, associate professor of Politics at The New School and faculty director of the initiative. "The seminars will build community through the fellows' intellectual engagement with one another. By sharing their research — what they're experimenting with, imagining, and dreaming, as well as what things are possible, probable, and practical — the seminar will become a community where the nexus of those ideas, the praxis of those ideas, will begin to take shape."
The fellows will use the seminars as a place to develop and critique their unique research projects, which employ the humanities, social sciences, or public policy to engage with and interrogate the ways structural inequality — inequality in the intersecting structures of social, political, and economic power — shapes social and economic relations, culture, and daily life. The seminars will provide a transdisciplinary framework within which the fellows can build a university-wide community, expand university knowledge, and diversify approaches to these topics.
Dr. Renée T. White, university provost and executive vice president for Academic Affairs, connected the creation of this community to the support she received as a graduate student. "We're often in spaces where we are invited in but we are also unwelcomed," said Provost White. "Even in those moments when I thought I didn't have a way to carve out and claim space for myself, I was connected with other people who shared similar values and commitments, and I could find a way to claim my space. It is our duty to steward this program and to do it responsibly. And it's also personal, which makes it an honor to do so as well."
"What we're doing here is not really about diversity. It's not about variety and a kind of power-neutral notion of diversity. It is about learning to render the world as it actually is using the intellectual languages that have insisted on misreading the world and not understanding things as they actually are," said Woodly. "What is so exciting about this endeavor is the possibility that is in this room, the creativity that is in this room, and the potential that is in this room. It's about getting it right — using all of our knowledge to create a picture of the world that reflects people's lived experiences in a way that is often ignored and suppressed."