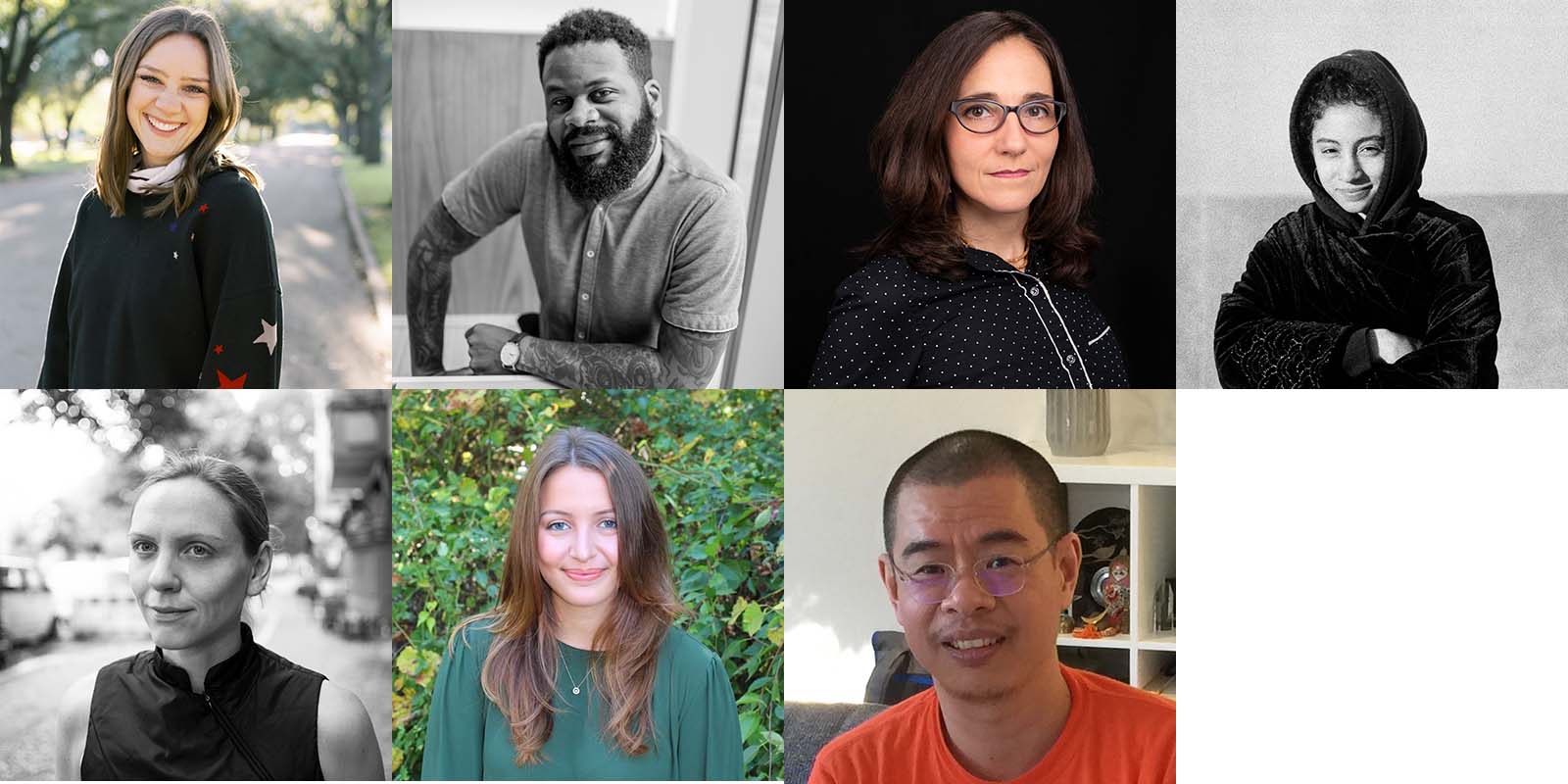 Student Research Award Winners Address Critical Social, Political, and Environmental Issues
Preparing students to critically investigate our rapidly changing society and develop the knowledge—both theoretical and practical—that will enable people to better understand the world is a key part of The New School's mission. One of the tools the university uses to reach this goal is the Student Research Awards (SRA), which provide grants each semester to undergraduate and graduate students for research in every area of study available at The New School. Recently ten students received awards for their projects, supporting their development as researchers, scholars, and creative practitioners.
The recent cohort of award winners includes Samantha Bakke, MA Psychology '22; Anthony Boiardo, PhD Psychology; Teah Brands, MFA Interior Design '22; Aryana Ghazi-Hessami, PhD Anthropology '25; Bettine Josties, PhD Sociology '23; Eliza Newman, MFA Photography '22; Marissa Pizziferro, MA Psychology '22; James Tee, MA Psychology '22; Emily Weiss, PhD Psychology; Isaiah Winters, MFA Photography '22; and Guillermina Zabala Suarez, MA Media Studies '21.
SRA is a collaboration between the University Student Senate and the President's Office and is managed by the Office of Research Support (ORS). For Adam Brown, the vice provost for Research and an associate professor of psychology, overseeing this year's SRA process was especially difficult given the challenges created by the ongoing pandemic. "Despite the many challenges and disruptions posed by COVID to research and creative practices, we received an unprecedented number of proposals of the highest caliber," says Brown. "Applicants put forth bold ideas reflecting the diversity of intellectual interests, backgrounds, and methodologies of our community. There were many exceptional proposals, and those that were selected for funding demonstrated the significance of the work and also effectively articulated the processes and potential impacts of their research."
The SRA grant has provided a critical foundation for Aryana Ghazi-Hessami's project, Imagining Queer Futures: Queer Publics in Digital Space—The Case of MyKali. "It's incredibly important to have this kind of research funding support, especially in anthropology, as we're expected to have preliminary fieldwork—which can be costly!—before applying for larger internal or external grants," says Ghazi-Hessami.
Fittingly for a university that prides itself on a desire to challenge the status quo, SRA expands the concept of university research to apply to art and design in addition to areas traditionally thought of as legitimate subjects for research. "New School students have always found a way to use art and design to document, represent, and respond to urgent social, political, and environmental issues," says Brown. "The proposals we received this year again underscored the importance of art and design in research. Many of the proposals this year from designers and artists demonstrated how they are doing their work in partnership with communities, outside of the university, in ways in which they are thinking deeply about co-creation, equity, and visibility in research and scholarship. I think they are in many ways at the leading edge of what it means to create knowledge, and I hope the SRA can continue to be a catalyst to support this work."
Interior design student Teah Brands was determined to leave "no scholarly stone unturned" during her time at Parsons, especially as beginning her studies remotely meant looking beyond typical sources of support. "Starting the course online was difficult, as it meant I was not able to take full advantage of the resources on campus, but I knew that there were more opportunities connected to The New School that I could explore from home," says Brands. She credits the SRA with helping her refine her interests, especially with her project Aspirational Black Homes: An Aesthetic Analysis of Domestic Interiors in Ebony Magazine, 1959–2009. "It feels wonderful to know that this institution is interested in supporting my ideas beyond the curriculum. I have learned so much about my design practice and my career goals through this process."
The winning projects were selected at the recommendation of a committee of faculty, staff, and students representing a range of fields and areas of expertise. "I was especially humbled by the thought that went into the discussions and considerations among faculty reviewers," says Brown. "People are juggling a lot right now, but it was clear that they brought their full attention to every aspect of this process. It was a real coming together, and even on Zoom, I think, we all felt energized and inspired by the ideas of our students."
More than just providing monetary support, the award connects students to a rich array of resources, from guidance by the ORS on grant management to opportunities for academic connections. "This university award is valuable not only in terms of the financial support, but also in terms of research resources and academic networking," says Guillermina Zabala Suarez, principal investigator for Young Artivists: The Journey from Artist to Activist. "Since my career plans are to continue working on media research, I feel that the selection of my research proposal by the SRA selection committee reaffirms the significance of the theme and focus of my research and encourages me to pursue it so that I can contribute to the field of media and activism studies."
Students also work with a faculty mentor who helps introduce students to the research culture, methods, and most pressing questions in their chosen field of study or area of practice. Photography student Eliza Newman connected with photography professor Simone Douglas, one of her primary professors, for her photography and text project Hay There: Hay as an Ethical and Economical Solution for Central Texas Farmers. Through Douglas, Newman connected with Joel Towers, University Professor and director of the Tishman Environment and Design Center, who has become a mentor offering his knowledge of the environmental and economic aspects of her proposal. "Both Simone and Joel are phenomenal people as well as mentors," says Newman. "It means so much to not only have their support but the support of many other faculty that I have yet to meet. I know that everyone involved has my best interest at heart and wants to see me succeed, seeing as they gave me this opportunity."