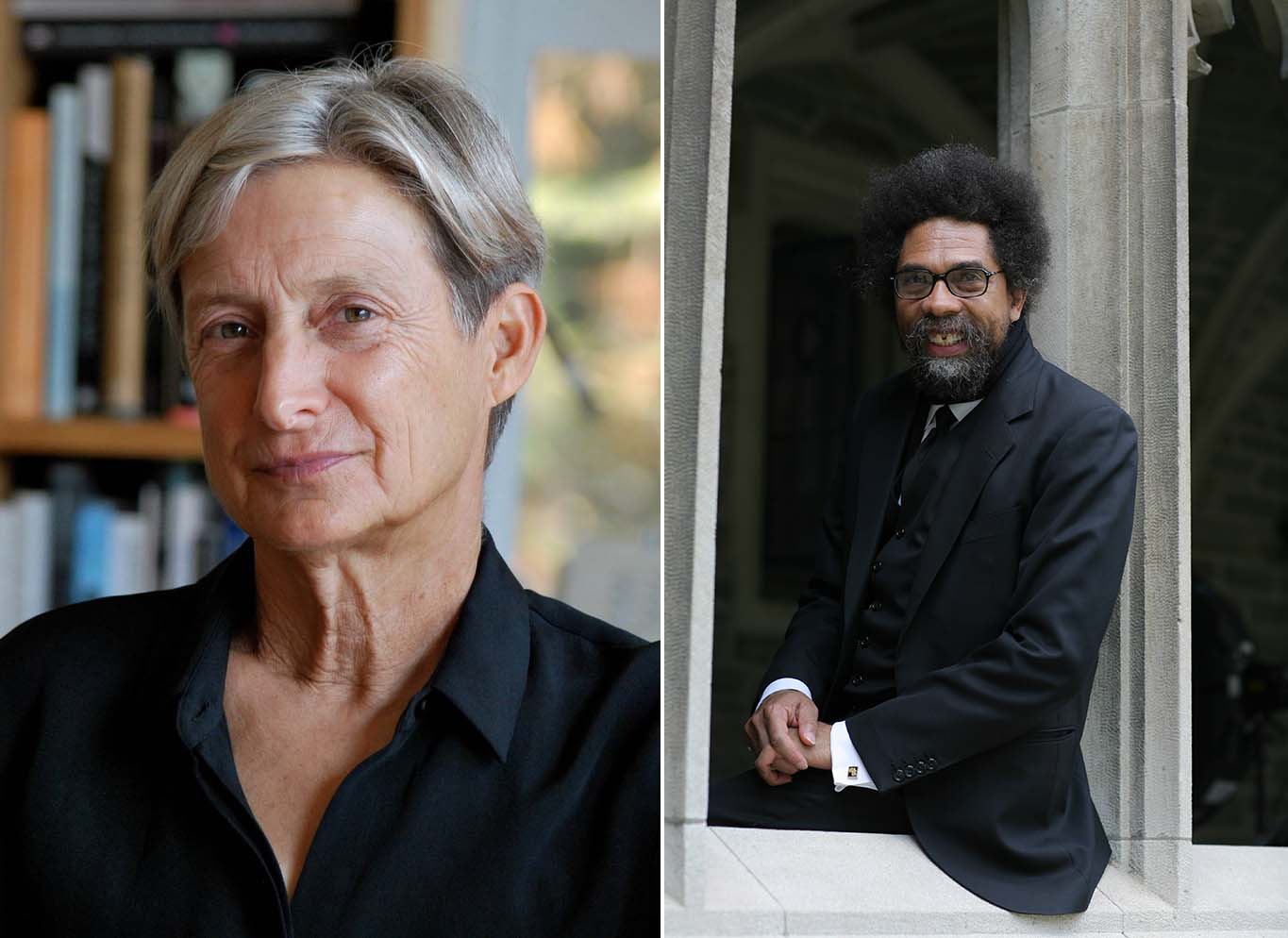 Renowned Philosophers Judith Butler and Cornel West Named The New School's 2021–2022 Presidential Visiting Scholars
Scholarly explorations that span disciplines and challenge conventional thinking are hallmarks of The New School and reflect its commitment to inclusiveness and excellence. To enhance this intellectual discourse, the university has launched the Presidential Visiting Scholars program, which will bring thinkers of the highest standing to the university by special invitation to join the New School faculty for a short period of time.
In the inaugural year, the program is bringing two of the most significant American philosophers of our time, Judith Butler and Cornel West, to the university. They will join the faculty of The New School for Social Research and lead seminars, lectures, and discussions. Butler, known internationally for their work in gender theory, will lead an intensive graduate seminar, Contemporary Feminist Philosophy, during the fall 2021 semester. West will join the school during the spring, delivering one lecture open to the public and two lectures open to New School community members. He will also meet with MA and PhD Philosophy students for open discussion.
"We are honored to launch this important program with the visionary scholars Judith Butler and Cornel West, who are renowned for constantly challenging the status quo, making them ideal selections as our inaugural Presidential Visiting Scholars at The New School," said Dr. Dwight A. McBride, president of The New School, in a press release. "This new way of bringing outstanding academics to our campus will enrich the intellectual opportunities for our students, who will be able to engage with some of the most inspiring, provocative, and groundbreaking thinkers in the world."
The Presidential Visiting Scholars program builds upon an important aspect of The New School's history — bringing to campus outstanding academics, artists, and activists known for their bold research, pedagogical innovations, and groundbreaking ideas to engage with the university's faculty and students. Butler is well-known for their theories of the performative nature of gender and sex, and their work has been highly influential in the areas of critical theory, gender and sexuality studies, social and political thought, and literature. West works to keep alive the legacy of Martin Luther King, Jr. — a legacy of telling the truth and bearing witness to the importance of love and justice — through his passion and willingness to communicate with a vast variety of audiences.
Both are prolific writers who have shared their thoughts, ideas, and research in dozens of books. Butler is the author of a number of well-known works, including Subjects of Desire: Hegelian Reflections in Twentieth-Century France, Gender Trouble: Feminism and the Subversion of Identity, Bodies That Matter: On the Discursive Limits of "Sex," Antigone's Claim: Kinship Between Life and Death, and, most recently, The Force of Non-Violence: An Ethico-Political Bind. West has written 20 books and edited 13 and is best known for the classics Race Matters and Democracy Matters and his memoir, Brother West: Living and Loving Out Loud.
"Judith Butler and Cornel West are important and bold thinkers in philosophy on issues of gender and race and social change, and we are so honored to host them at The New School for Social Research," said Will Milberg, dean and professor of economics at NSSR, in a press release. "Their appointments as inaugural Presidential Visiting Scholars continue a rich tradition of welcoming luminary intellectuals — from Eric Hobsbawm to Jacques Derrida to bell hooks — to our university. I hope our Presidential Visiting Scholars will enjoy being part of our intellectual community, and I encourage New School faculty and students to take advantage of opportunities to engage with them."