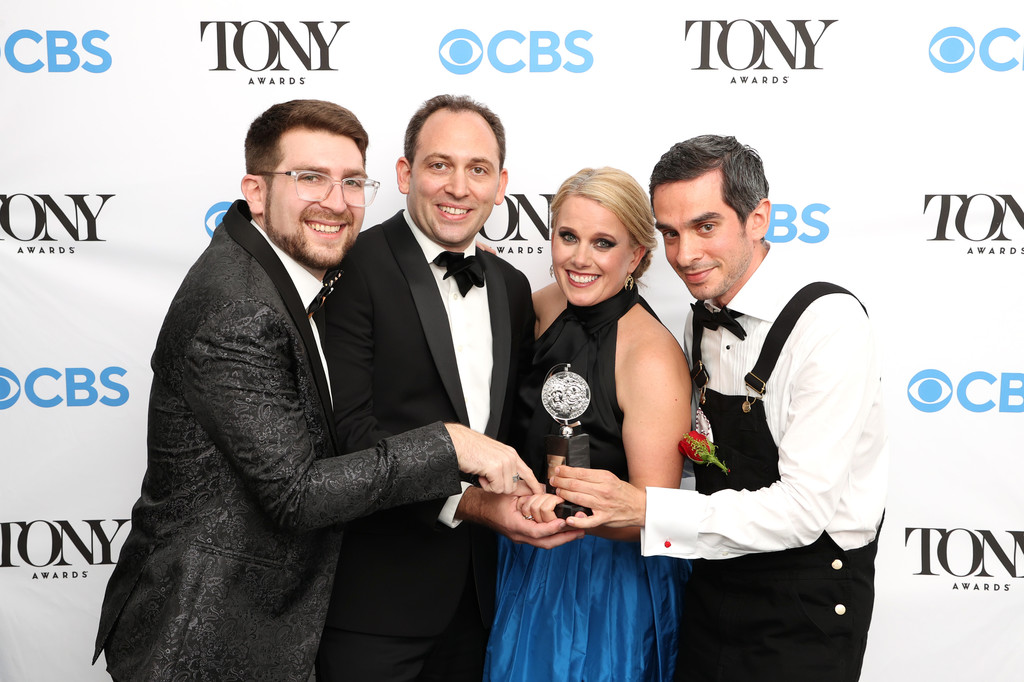 Katie Kresek, Mannes '01, Wins Tony Award for Moulin Rouge!
Almost a year after the nominations were announced, and more than 18 months since New York City theatres had been shut down due to the coronavirus pandemic, the 74th annual Tony Awards finally took place on Sunday, September 26th, 2021.
This year's awards were especially meaningful, as they took place while Broadway starts to re-open, and audiences flock to shows.
Moulin Rouge!, which officially opened on July 25, 2019, was a clear standout at the awards show, and won the most awards all evening. The musical's ten Tony's included "Best Orchestration," which was awarded to Katie Kresek, Mannes '01, as well as Justin Levine, Charlie Rosen and Matt Stine.
"It was thrilling, honestly," shared Kresek. "I just went with the excitement of being there to support the show and see so many beloved colleagues and members of the Broadway community."
The award was announced by Cyndi Lauper, who Kresek has loved since she was young.
"She's one of the reasons I fell in love with pop music and her spirit has always been a tremendous influence, so to have her present our award was very meaningful," Kresek said.
The same week as the Tony Awards, Kresek helped Moulin Rouge! reopen, where in addition to her work with the orchestrations, she participated in opening night at the Al Hirschfeld Theatre as the concertmaster.
"The thrill of hearing an audience back in the theater was fantastic, as well as hearing the very first notes played by the band," Kresek said. "When we came back together and played for the first time, it was a feeling I really missed. I love making music with my colleagues every night at the Hirschfeld."
Kresek is also a recording artist, and has worked with countless other impressive musicians throughout her career. She also dedicates much of her time to teaching and working with educational initiatives on Broadway and other cultural institutions.
"Teaching makes every artist a better artist, in my opinion," she said. "The process of sharing what we do with others, whether through mentoring, lessons, coachings, or otherwise, is all about reflecting on what we do and learning to be responsive to the students who come to us for help. It's always really inspiring for me to work with students of all ages and support their enthusiasm."
As a student herself, Kresek's time at Mannes helped her create the successful foundation she's been able to build her current career from, and continues to inform the work she does now.
"We had a core community of like-minded players that I'm happy to report I still know and work with today," Kresek said. "I appreciated that so many people at Mannes helped us to understand that we didn't all have to come out being able to just pass a jury, but that it was about finding the start of a path and carving out our places in different musical communities."

Kresek plans to put her heart into the reopening of Moulin Rouge! for the time being, as she continues to deal with COVID-19 protocols that have slightly changed her rhythm as a writer and performer. She also hopes to begin looking ahead to some exciting new projects she has up her sleeve.