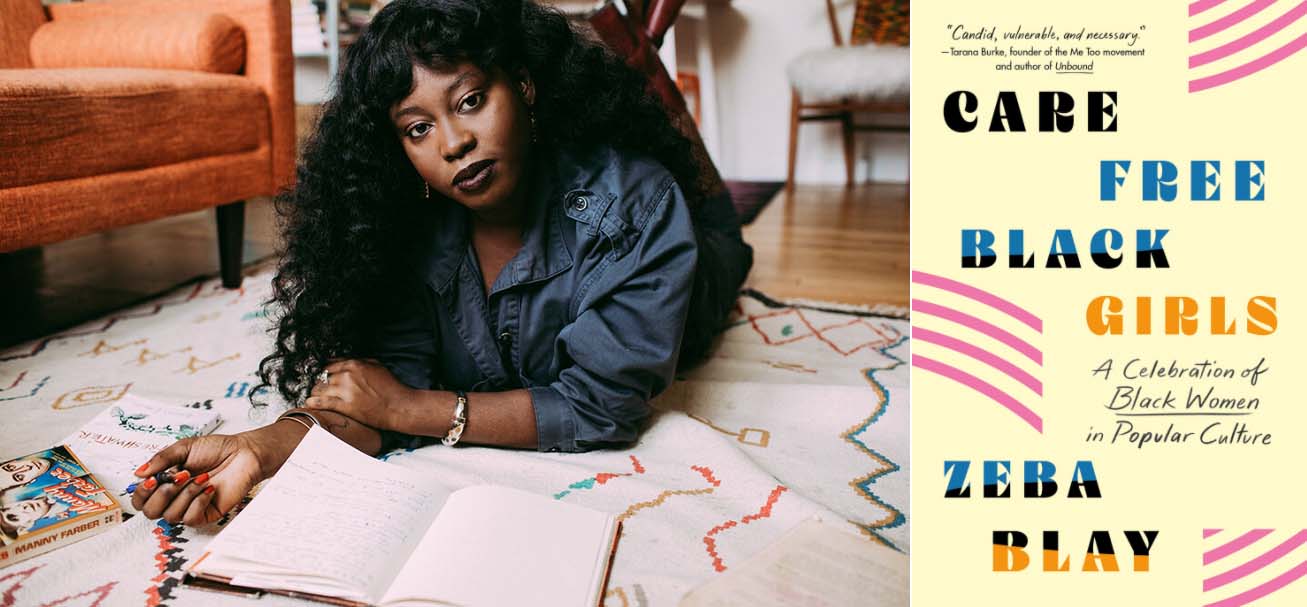 Zeba Blay, Liberal Arts '13, Brings #CarefreeBlackGirl to the Masses with Her New Book
The first time Zeba Blay, Liberal Arts '13, used the hashtag #CarefreeBlackGirl, it was for a selfie she took standing in front of the 65 West 11th Street building. She used the hashtag she coined as the title of her new book, Carefree Black Girls: A Celebration of Black Women, an exploration of the impact Black women have made on pop culture. The book was published on October 19, 2021.
"My book is about representation and what that even means," says Blay. "It's also about mental health and what it actually means to be free in an unfree society." Freedom is a concept that comes up a lot for Blay and is one of the defining features of her time at Eugene Lang College. "When I was at Lang, there was such a feeling of freedom to be honest and open about exploring ourselves and our identities in and outside of classes," she says. "It was through having conversations like those that I found a community of other queer Black and Brown people at the university who understood where I was coming from."
As a budding culture critic, she benefited from the freedom Lang gave her to explore her voice and tastes and immerse herself in the cultural mecca that is New York City. She transferred to Eugene Lang College after her second year at a small college in New Jersey that "was not giving me life and what I needed. I wanted to transfer to a school in New York City, and The New School was at the top of my list. It was actually the only school I applied to." However, as a transfer student, she did not know at first that writing about movies was even an option as part of her major.
Along with Noah Isenberg (a former Lang professor of culture and media), Blay created a in Liberal Arts program for herself exploring cultural criticism. "Isenberg was a huge champion for me in that pursuit. I had never really known that writing about movies was an option. Together we created a curriculum where I could explore my voice and my tastes."
"I've always loved movies and the fact that movies can make you feel so much. Ostensibly, you're looking at make-believe people and situations, and yet they create such visceral reactions in us and we see so much of ourselves in films," says Blay. "I knew that I wanted to be a part of contextualizing that and exploring those feelings we get when watching movies. I knew this was the world, the interest I had, when it came to writing."
The university's New York location allowed her to immerse herself in the city's vibrant and eclectic culture, a crucial advantage for an emerging critic. "I'm lucky enough that I grew up in Jersey City, which is just a few minutes outside of Manhattan, so I always had access to the city. But it's different when you're in your 20s and living and working right in New York. The Independent Film Center, Film Forum, and AMC theaters were all nearby. It was like a smorgasbord of movies. I was able to be exposed to culture, and as someone who writes about that, it was a huge part of my development as a writer."
Later Blay would have the opportunity to cover her first film festival, not in New York but in Switzerland, after Isenberg nominated her for the IndieWire/Locarno Critics Academy. Held in conjunction with the Locarno Film Festival, the Critics Academy gives aspiring college-age film critics from around the world the opportunity to write about one of the oldest festivals in the world along with a chance to network with the international film community. "It was my first time ever covering a film festival. Experiences like that came through the people and the professors I met at Lang."
While Blay is excited about her new book, she's also looking forward to the publication of two more books next year. She gives Lang credit for providing a space, and giving her space, to explore and develop her voice and interests. "What I really loved is that I never felt hemmed in — I took a playwriting class and a class on detective fiction. All those different spheres melded together and helped inform the kind of work I want to do."