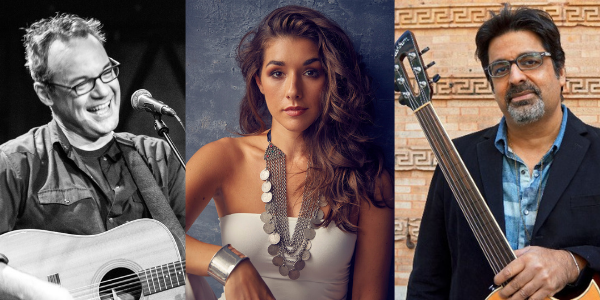 New Faculty Members at the School of Jazz and Contemporary Music are Making Waves in the Classroom and Beyond
The School of Jazz and Contemporary Music has long been known as one of the most acclaimed and innovative jazz schools in the world. Faculty, alumni, and students are regularly nominated for and win awards, including Grammys, in addition to releasing celebrated music, performing at top venues, and more.
This Fall, the School of Jazz welcomed twelve new faculty members, including Rez Abassi, who recently won a Guggenheim award, Thana Alexa, a Jazz alum and Grammy nominee, and Mike Errico, who released his new book, "Music, Lyrics, and Life" this month.
"Our first semester on-campus since the start of the coronavirus pandemic has been more thrilling than ever thanks to the addition of our twelve new faculty members, all of whom are bold, unique musicians," said Keller Coker, Dean of the School of Jazz and Contemporary Music. "Our students will also benefit immensely from the multi-disciplinary and rigorous teaching of these new lauded faculty members. I am so excited to see what they create this year and in the future."
Abassi, who was voted #1 in the Rising Star Guitarist category in Downbeat's 2013 Critic's Poll, won his Guggenheim Fellowship for Composition, where the organization noted he is "among a rare breed of artists that continue to push boundaries while preserving the traditions he has embraced."
Alongside his innovative work in the classroom and private lessons, Errico's new book features interviews with the writers, producers, and A&R executives behind today's biggest hits. He investigates the larger questions of creativity with a wide range of innovative thinkers, including astrophysicist Janna Levin, who theorizes on the importance of repetition, both in choruses and in the exploration of the universe; painter John Currin, who praises the constraints of form, whether it's within a right-angled canvas or a three-minute pop song; actor Phil LaMarr, who counsels on how to co-write like an improv comedian; and bestselling author George Saunders, who unpacks the hidden benefit of writing and revising authentically.
"This is a book for songwriters, future content creators, music lovers, and anyone who wants to understand how popular art forms are able to touch us so deeply," shares Errico.
Alexa, who received dual degrees from the School of Jazz and Contemporary Music and Eugene Lang College in 2010, received a 2020 Grammy nomination for Best Jazz Vocal Album for her album ONA, which was inspired by the cross generational and cross-cultural stories of the immigrant women in her family and evolved into an exploration of the experiences of contemporary women everywhere. During the coronavirus lockdown of 2020, she also co-founded a fundraising initiative, Live From our Living Rooms, which featured performances from musicians and artists that helped raise more than $140,000 and helped facilitate more than 80 grants to musicians in need.
The School of Jazz and Contemporary Music also welcomed Wendy Eisenberg, an improvising guitarist, banjo-player, vocalist and poet; Ross Wightman, a double bassist and composer; Jean Rohe, a singer-songwriter; Kat Reinhart, a vocalist and songwriter; Steven Long, a composer, pianist, and improviser; Willerm Delisfort, a pianist and composer; Jordannah Elizabeth, a writer and music critic; Carmen Staaf, a pianist and composer; and Brandee Younger, a harpist and composer.
Looking ahead, the College of Performing Arts will be presenting a wide variety of concerts and performances, including live shows at the Glassbox Theater courtesy of The Stone.