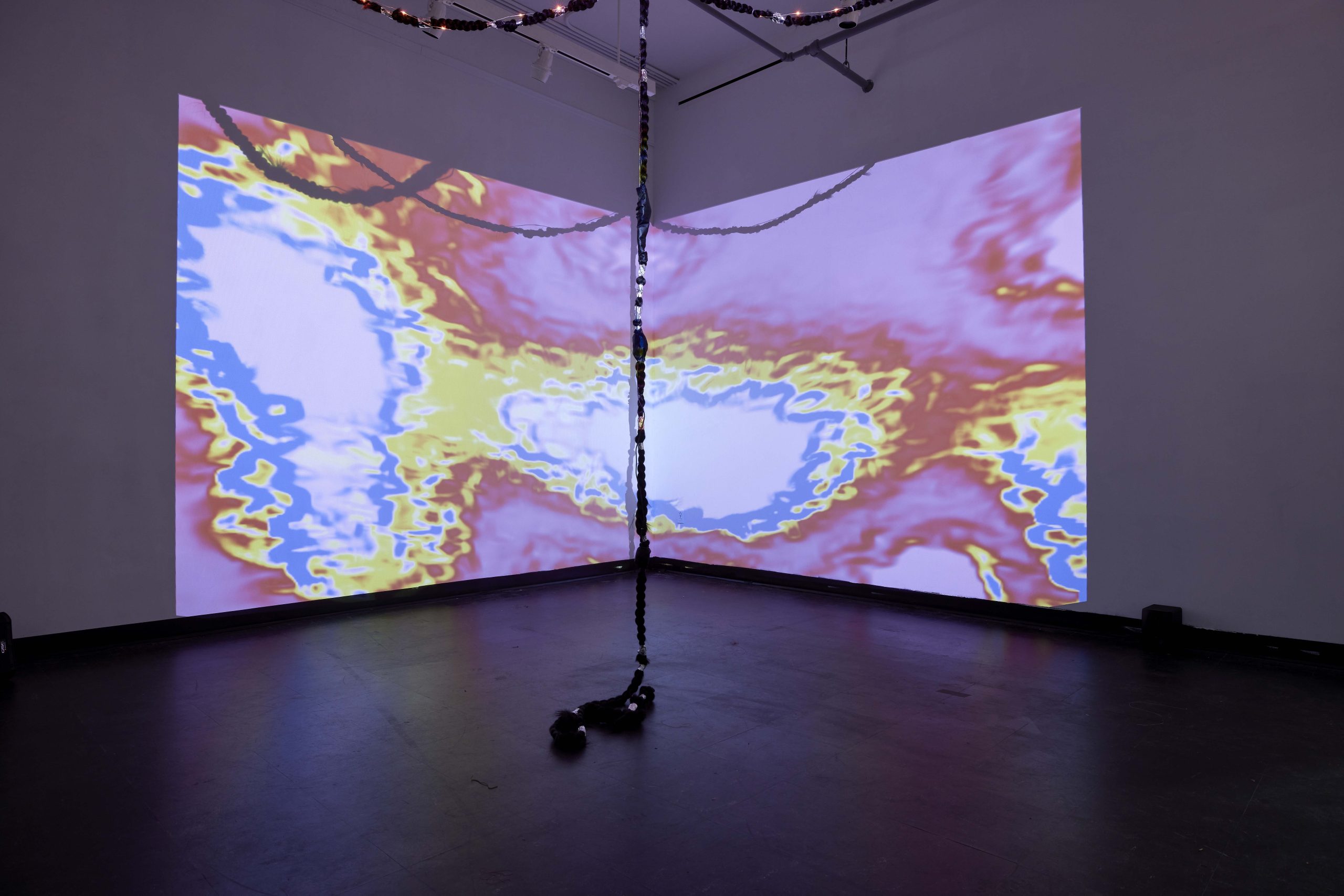 Artist Suzanne Kite Debuts New Show in Partnership with the Vera List Center for Art and Politics
"Where does art come from?" "When I write a song, where does that come from?" "When I make a new technology, how do I make it in a way that is both ethical and good?"
These questions, and more, helped inspire Oglála Lakȟóta artist Suzanne Kite's new show Hél čhaŋkú kiŋ ȟpáye (There lies the road), which was recently exhibited at the PS122 Gallery in New York City. The artistic project, which was produced at the invitation of the Vera List Center for Art and Politics, considers the ethical creation of artwork using artificial intelligences through the development of protocols based on Lakȟóta ontologies.
"Generally, my interests are in exploring what our relationships are to the non-human world, and this project in particular asks that question," explains Kite. "The installation delves into answers that are both in this world and in the spirit world. Lakota includes knowledge from both of those worlds."
Throughout the past year, Kite has been engaged in collaborative conversations with her community about how people make art. She was particularly focused on the making protocols of her Indigenous contemporary art colleagues, a community of Native American church singers in South Dakota, and her family. Her panel Hél čhaŋkú kiŋ ȟpáye (There lies the road) – A Dialogue About Making Art in a Good Way with the Vera List Center this past May gathered both Indigenous artists, and the general public to explore notions of ethics, protocols, and artificial intelligence.
For this site-specific installation, Kite and a team of collaborators developed a body interface for movement performances, carbon fiber and stone sculptures, immersive audio-visual installation, and graphics. Together the works on view reconsider our current and future relationships to nonhumans, especially to technology and artificial intelligence, and attempt to establish a sense of relationality between gallery visitors and the computer as a nonhuman entity.
"I think the themes of the show are very pressing," said Kite. "I'm trying to create methodologies that can help people create in an ethical way. Creating anything computationally right now is an inherent failure because of how the supply chain is set up. It's very easy to critique computation and the unethical practices. The challenge to everybody is to come up with generative ways to do things ethically, which means reaching into ways that we've done for millennia. We know how to do these things, but we've chosen not to because of capitalism."
"For us at the Vera List Center," Curator Eriola Pira says, "this year-long research project was an opportunity to contend with these issues as related to our 2020–2022 focus theme As for Protocols. Kite, who participated in our 2017 series of programs Indigenous New York, speaks to an interest in technology, or more specifically the Internet protocols that shape our current conditions. Kite's work also points to how to rethink and design more equitable and ethical protocols, from our relationship with technology to our connections with one another."
In Lakȟóta ontologies, materials such as metals, rocks, and minerals are capable of both volition and kinship with human beings. It is from this perspective that Kite creates new spaces for encounters with artificial intelligence, forming innovative methodologies for approaching human and nonhuman relations in a Good Way (an ethical way).

By bringing Indigenous epistemologies to bear on questions of AI, Kite's work as a scholar and an artist develops conceptual frameworks and protocols by which we can conceive of relationships with nonhuman computational technology and AI, and make room for them in our collective future.
"A lot of my work is in the AI world, and I had a lot of theories about the Lakota people and their relationship with stones, but there was no research yet," she said. "So I had to go make it."

Kite has noticed that people in her community and other communities are excited about the prospect of adapting Indigenous protocols to make new technologies. As an artist, she is working toward creating more opportunities for Indigenous communities to make new models, as she sees many technically capable Indigenous people who simply need a facilitator to come in, listen, and help advocate for change.
Looking ahead, Kite is currently working on a new collaborative show about stones at the Hammer Museum in Los Angeles, which will open in the Spring.