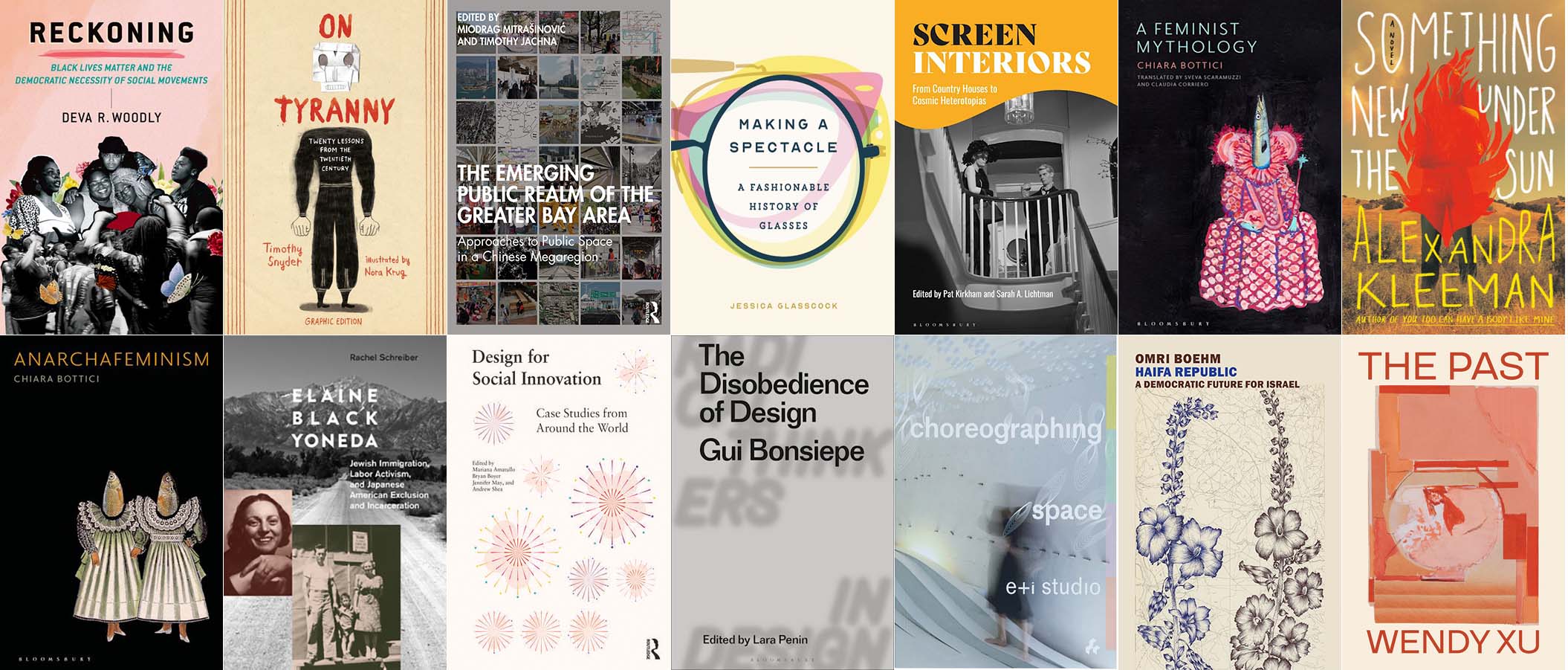 The New School's Fall 2021 Semester in Books: Faculty Selections
From an examination of the significance of the Movement for Black Lives and the democratic necessity of social movements to an illustrated history lesson on resisting authoritarianism, faculty authors confronted a number of pressing social and cultural issues in several books published this semester. Works published range from critically acclaimed novels to enchanting poetry collections, compelling philosophical essays, and insightful nonfiction.
The following is a list of books by faculty members released over the fall 2021 semester. Discover your next great read below.
Design for Social Innovation: Case Studies from Around the World
Mariana Amatullo, Vice Provost for Global Executive Education and Online Strategic Initiatives (co-editor)
Andrew Shea, Assistant Professor of Integrated Design (co-editor)
Haifa Republic: A Democratic Future for Israel
Omri Boehm
Associate Professor of Philosophy
A Feminist Mythology
Chiara Bottici
Associate Professor of Politics
Anarchafeminism
Manifiesto anarcafeminista (translation in Spanish and Italian)
Chiara Bottici
Associate Professor of Politics
Making a Spectacle: A Fashionable History of Glasses
Jessica Glasscock
Assistant Professor
Cake in My House
Leah Iannone 
Assistant Dean for Academic Planning, Schools of Public Engagement
Something New Under the Sun
Alexandra Kleeman
Assistant Professor of Writing with concentration in Fiction
On Tyranny Graphic Edition: Twenty Lessons from the Twentieth Century
Illustrated by Nora Krug
Associate Professor, Illustration Program
Screen Interiors: From Country Houses to Cosmic Heterotopias
Sarah A. Lichtman
Assistant Professor of Design History
Labor Contestation at Walmart Brazil: Limits of Global Diffusion in Latin America
Scott B. Martin
Assistant Professor
The Emerging Public Realm of the Greater Bay Area: Approaches to Public Space in a Chinese Megaregion
Miodrag Mitrašinović
Professor of Architecture and Urbanism
The Disobedience of Design: Gui Bonsiepe
Lara Penin
Associate Professor of Transdisciplinary Design
Choreographing Space
Eva Perez de Vega
Associate Teaching Professor
Elaine Black Yoneda: Jewish Immigration, Labor Activism, and Japanese American Exclusion and Incarceration
Rachel Schreiber
Executive Dean of Parsons School of Design
Reckoning: Black Lives Matter and the Democratic Necessity of Social Movements
Deva Woodly
Associate Professor of Politics
The Past
Wendy Xu
Assistant Professor of Writing