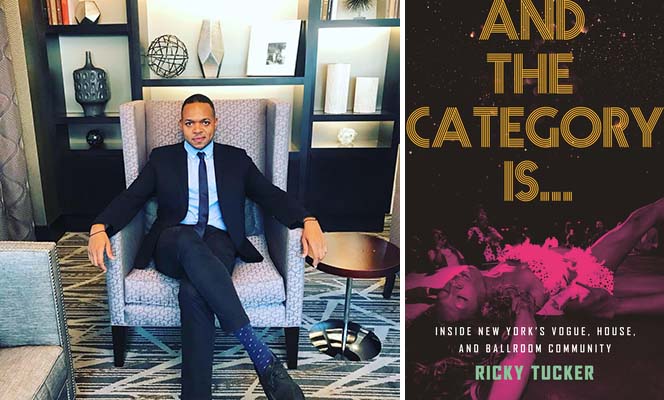 Ricky Tucker, Riggio Honors Program '14, Celebrates the Legendary LGBTQ African American and Latinx Ballroom Scene in His New Book
"Every book is an act of service," says Ricky Tucker, Riggio Honors Program '14 and Eugene Lang faculty member, in discussing his new book, And the Category Is…: Inside NY's Vogue, House, and Ballroom Community. The book explores Ballroom, an underground subculture founded over a century ago by LGBTQ African American and Latinx men and women in Harlem. The Ballroom scene has exploded in popular culture recently, having been featured in the FX series Pose and HBO Max's Legendary and referenced repeatedly on RuPaul's Drag Race. The origins of Tucker's book predate this renaissance, though; it was inspired by a New School course he took as a student at the university.
"This book really came together because of The New School. The first course I ever registered for as a student here was Vogueology, a dance course at Eugene Lang College taught by professor Robert Sember and Ballroom House of Garçon founder Michael Roberson. I had a desire to learn more about Ballroom from knowing about the documentary Paris Is Burning and, of course, Madonna's song "Vogue." It was a dance course, but it was also very much a cultural class. It was part practice and part theory, a class where we examined Ballroom as a culture and were able to meet with folks in the Ballroom community, who taught us how to vogue," says Tucker.
While the genesis of the book lies in that class, it was a connection Tucker made several years later that helped the book take shape. "After graduating, I started working as a writer in the university's Marketing and Communication department and was able to participate in the 400 Years of Inequality coalition," a New School-wide effort in which students and faculty members, marking the anniversary of the tragedy of Jamestown, worked to deepen their understanding of the history of inequality and build new coalitions to define and address common needs. "A friend and colleague who was part of that coalition also worked as a literary agent. She saw an email with me and Roberson and made the suggestion that I should write a book about Ballroom. I don't walk the balls and I periodically questioned what was my lane in this community. Realizing I should write the book was an aha moment—I'm a writer and a friend of Ballroom, and this let me combine my activism and work and the creative spaces I want to be in."
Although Tucker's connections to the university are tight and he has been part of every New School community—students, alumni, staff, and now faculty—he took a circuitous route to get here. "I'm from North Carolina and left home at 19. I eventually ended up living in Boston and working at Northeastern University. That school isn't known for writing, something I always knew I was meant to do, so I decided to move on and go to New York." As a home to many exceptional writers and a center for adult learners, The New School ended up at the top of his list. "I had in my mind that James Baldwin and Jack Kerouac went to The New School, so that was where I needed to go," says Tucker. He enrolled in the Riggio Honors Program: Writing and Democracy, part of the Bachelor's Program for Adults and Transfer Students (BPATS) at the Schools of Public Engagement. "Although I was in my late 20s when I applied, I wanted a traditional college experience and to not feel like I was going to night school. I wanted a program that catered to students like me, and that's what BPATS and Riggio did."
Riggio and BPATS also offered him a home when he first arrived on campus. "When you go to The New School, or really any school in New York, it's easy to feel untethered because you're plopped into the middle of a big city. You may feel like you don't have any grounding. At Riggio, there is a linkage, a foundation you receive as part of the writing program. It gives you a culture, and the people I met in the program have remained some of my best friends. If you're a writer, and you mean it, Riggio will sharpen your skill set quickly."
While Tucker has moved on from his time as a writer in the Marketing and Communications department, where he wrote Gnarls Narwhal's biography, he's now come full circle, teaching Reading for Writers at Eugene Lang College. "Everyone who teaches it has their own take on the course. I'm teaching American Gothic and the evolution of who's allowed to talk about America."
In addition to teaching, Tucker is already at work on his next book, But They Did Do That on Television: Queer Dispatches in the Golden Age of Entertainment. "Gayness and queerness has always been on TV, but it used to be coded in a way you had to be hip to to understand. This book is for LGBTQ+ kids who like to think. I have a mission to help people and write the books I wish existed when I was a kid."