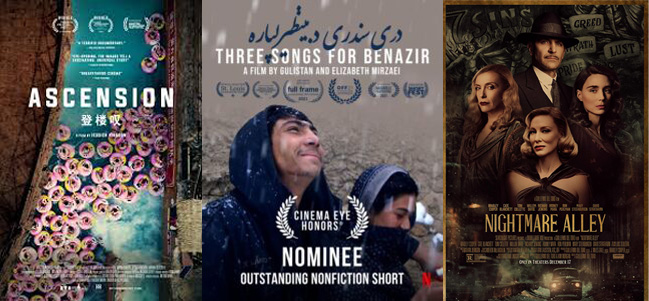 2022 Academy Award Nominations Recognize New School Alumni in Numerous Categories
This year's Academy Awards nominees range from grandiose stories such as Dune and The Tragedy of Macbeth to the more intimate, such as CODA, Belfast, and Drive My Car, with a few surprise nominations and perceived snubs thrown in for good measure.
Three New School alumni received nominations, including Jessica Kingdon, MA Media Studies '14, for Best Documentary Feature for her film Ascension, Elizabeth Mirzaei, BFA Photography '06, for Best Documentary Short for her film Three Songs for Benazir, and Bradley Cooper, Drama '00, for Best Picture for Nightmare Alley, where he served as a producer, in addition to his role as an actor.
Ascension, which follows the pursuit of the Chinese dream through the social classes, has been nominated for a slew of awards in recent months, and won Best Documentary Feature when it premiered during the Tribeca Film Festival in June, 2021.
The New York Times noted that the film "concerns itself with impressive and frequently alienating images showcasing Chinese productivity, innovation and consumption across class lines, revealing everyone from the day laborers to the middle-class hustlers to the privileged elites to be mere cogs in a ridiculously well-oiled machine."
Three Songs for Benazir tells the story of Shaista, a young refugee living in modern-day Afghanistan who is struggling to balance his life as a newly married man with pressure to start a family and his dreams of being the first from his tribe to join the Afghan National Army.
In an interview with Variety, Mirzaei, who co-directed the short film with her husband, explained that "Despite being bombarded with media about Afghanistan, the world often sees only a fraction of the reality and there is a poverty of imagination about the lives of real people in the region. This story about a young couple searching for their place in the world is a universal one in many ways, and we are thrilled that it will now have a global reach we could not have imagined."
Nightmare Alley, which was also nominated for Best Cinematography, Best Production Design, and Best Costume Design, earned Cooper his 9th Academy Award nomination, and his 4th as the Producer of a Best Picture nominee. In their review, The New York Times highlights Cooper, noting that he "adds charisma and an anxious backbeat to the story, while the old-timey carnival gives the movie texture and novelty."
All three films are currently available to watch on various streaming sites.