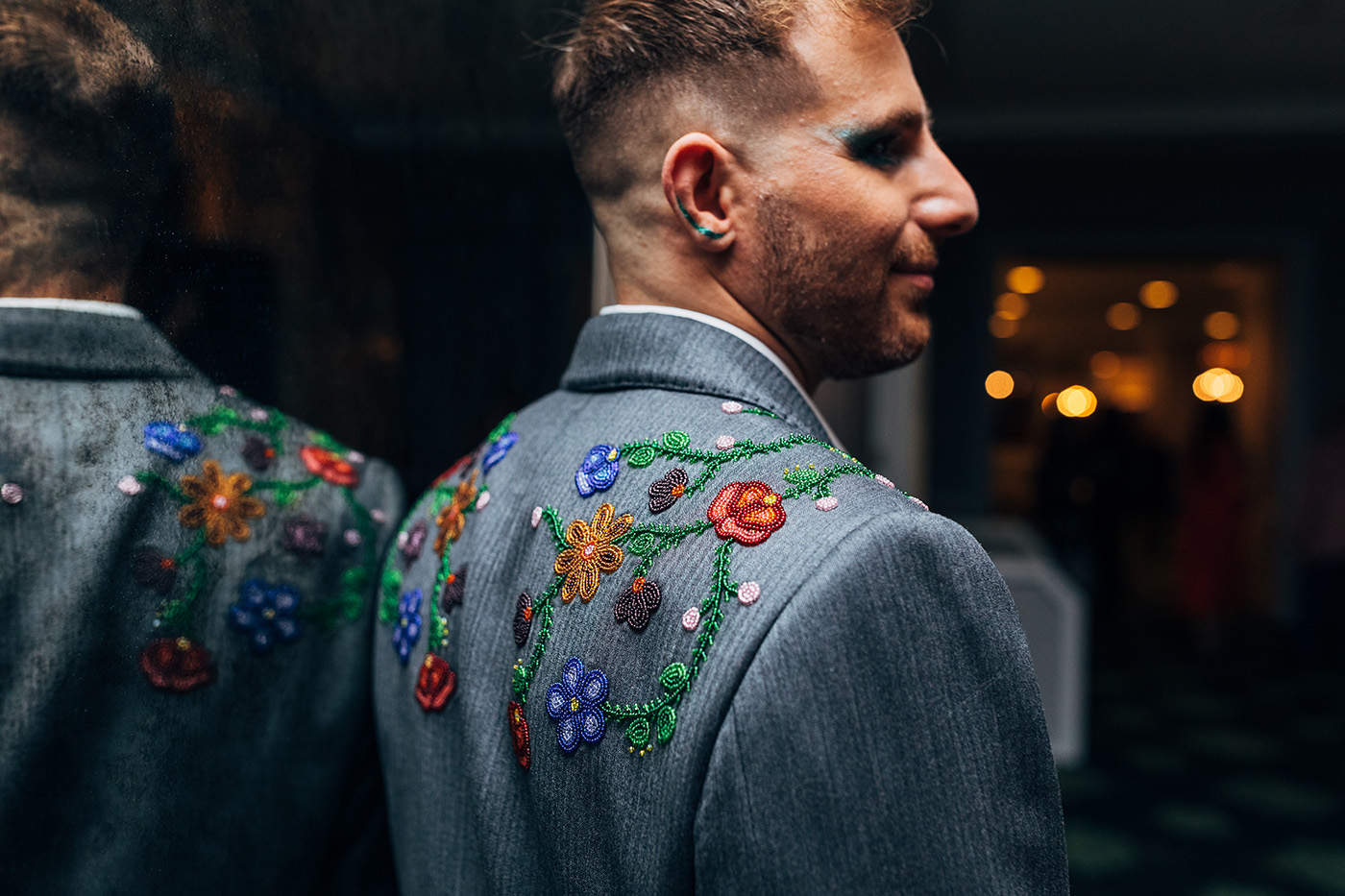 An Interview with Ben Barry, School of Fashion's New Dean
Ben Barry is an educator, author, researcher, and activist who has spent more than 15 years advancing inclusive fashion pedagogy and research to create a future in which bodies that are currently stigmatized and excluded are instead valued and desired. Last July, he joined the School of Fashion as Dean, where he leads and oversees all areas of the school including an innovative curriculum that encompasses the BFA in Fashion Design; AAS degree programs in Fashion Design and Fashion Marketing; MFA in Fashion Design and Society; MFA in Textiles; and MPS in Fashion Management.
New School News recently spoke with Dr. Barry on a variety of topics, including his vision for the School of Fashion, the reasons he was attracted to joining Parsons, and the leaders who inspire him.
What attracted you to The New School / Parsons?
When I was in graduate school, I'd regularly email the Dean of the School of Fashion at Parsons and inquire about job opportunities. He always generously responded, even though there were no open positions at that time. To me, The New School and Parsons represented a place of radical possibility in art and design education. I would read about the experimental and creative approaches to teaching that connected theory and making, welcomed-in community and industry collaborators, and grounded social and climate justice. I wanted to be part of that!
How have your past roles/experiences prepared you for your current role as Dean of Fashion?
I joined Parsons from X University (formerly Ryerson) in Tkaronto (Toronto), Canada where I began my teaching career. I was most recently Chair of their fashion department where I worked with colleagues to develop a curriculum and culture that prioritized inclusion, decolonization and sustainability. Working to bring about this systemic transformation taught me about the necessity of academic leadership that is grounded in humility, community and love, as well as about the possibilities and challenges of navigating change within the colonial university system.
What are some of the things you hope to change about the School of Fashion and what do you hope to introduce to the school?
I am completely inspired by the legacy of many School of Fashion colleagues and students who have grounded equity and justice into their work and often in the face of resistance and obstacles. As Dean, I hope to honor, amplify and continue their pathbreaking vision and practices. I am currently working with the faculty, staff, students and alumni to develop a revised vision, guiding principles and actions to realize them for the School of Fashion. Our VisionSoF: Reimaging Our Purpose project will articulate and set into motion a philosophy and politics of fashion education at Parsons that redresses the harm caused by the continuing legacies of settler colonialism and trans-Atlantic slave trade and that grounds transformative justice.
Are there any leaders or artists from the past or present that you turn to for inspiration and whose words or work you think inspire others?
My understanding of the world, my place in, and how I can contribute to more just futures is indebted to Black feminist thinkers and activists. In particular, the brilliance of bell hooks and adrienne maree brown have shaped my approaches to pedagogy, leadership and just being human. As I work to help bring about institutional change, adrienne maree brown has been my guidepost in navigating its messiness by grounding interdependence, humility, accountability and pleasure.
From a fashion perspective, I am constantly inspired by those who use fashion history and design as a political tool for re-making worlds grounded in transformative justice. Sky Cubacub and Rebirth Garments, Theresa Stevenson and Iskwew Rising, and Kimberly Jenkins and the Fashion and Race Database all demonstrate how fashion can be in the service of collective liberation.
What excites you most about working / teaching on campus?
I'm teaching a new elective this semester called Fashion and Disability Justice. We're exploring how fashion design can articulate desire for disability and how access opens up aesthetic possibilities. In the course, we learn about the wisdom developed by queer and trans disabled people, particularly those of color. We then work interdependently with multiply marginalized disability communities to design garments that provide access of their mind-bodies and express their desired identities. While the course is on campus, we're using our experiences of learning and fostering relations digitally over the past two years to imagine how collaboratively designing through multiple mediums can provide access for more body-minds in fashion.
What books are on your bedside table right now? And which TV shows are you currently binging?

Right now I'm finishing up Crip Kinship by Shayda Kadai that tells the story of the disability justice performance group Sins Invalid. This book not only inspires my current teaching and research practice, but it helps me to connect with the histories and knowledges of my community as a disability-identified queer person. I've been binging "We Are Here," as well as the continuous new seasons of RuPaul's Drag Race, despite the tragic elimination of my fellow Canadian Jimbo from "UK vs The World!" Every moment of queer joy nourishes my being!