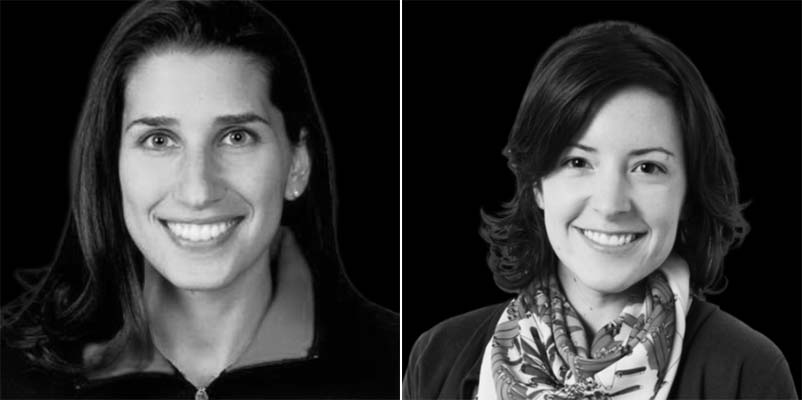 New School for Social Research Students Champion Athlete Mental Health with New Symposium
Last year, athletes like the tennis player Naomi Osaka and the gymnast Simone Biles drew attention to the mental health concerns athletes face when they cited those challenges in announcing their withdrawal from major competitions. This issue is the focus of the work of New School students Chloe Sherrill, a PhD Psychology student, and Nicole Ross, MA Psychology '22. The two developed the inaugural Athlete Mental Health + Wellbeing Symposium, which brought together scholars, clinicians, and athletes to take an interdisciplinary approach to this complex topic.
"Athlete mental health has been a hot topic since the last Olympics, and we wanted to create some depth and substance behind the headlines," says Ross. "Our concept was to bring together different stakeholders, including athletes who could share their lived experiences, to understand where things stand right now in the realm of athlete mental health and what needs to happen moving forward."
"We had the idea that a symposium could take the temperature of what is happening, what is not, and the future direction for athlete mental health," says Sherrill. "Our goal was to bring together people from different areas who are working in this space to promote cross-disciplinary collaboration. We're happy to know that a lot of interesting collaborations are coming out of the symposium."
The Athlete Mental Health + Wellbeing Symposium looked at the status of athlete mental health and well-being in diverse environments, the obstacles to and opportunities for providing athletes with mental healthcare, how athletes and the media can work together to reimagine expectations, and ways race-based and other forms of discrimination negatively affect athletes.
The event featured two panels. The first panel showcased Olympic-level athletes, who shared their own experiences with mental health challenges; the second panel brought together researchers, clinicians, and people working as coaches at the Olympic, National Collegiate Athletic Association (NCAA), and youth levels to discuss how they address the mental health challenges their athletes face. "We also had an interesting perspective from one of the panelists, Olympic fencer Khalil Thompson, who talked about the stigma and fear around speaking up as a male athlete, specifically as a Black male athlete, in his community about mental health struggle and the stigma that still exists around that," says Ross.
Ross and Sherrill worked as a team of two in organizing the event, although they did receive support from areas throughout the university. "We had a lot of support from our faculty advisor, Adam Brown, an associate professor of psychology and the vice provost for Research. We worked with a designer from Parsons, Michelle Silva, who helped us with our microsite and graphics we used to advertise the conference. We also had a colleague, Savannah Woods, who helped us the day of with behind-the-scenes organization with Zoom," says Sherrill. The pair also received funding through the Dean's Conference Fund of The New School for Social Research (NSSR), which supports a range of student-organized projects and conferences each year.
While Sherrill and Ross have an academic interest in this topic as students in The New School for Social Research's Clinical Psychology program, their interest goes beyond the professional. Before coming to The New School, both participated in competitive fencing. Sherrill is a former NCAA champion, and Ross competed in the 2012 and 2020 Olympics.
"Growing up, I had heard of Chloe since she was in the fencing age group above me. She was ranked really high and was a bit of a legend to me in women's foil. I have also known Chloe's husband since I was ten, because we fenced in the same club in New York, and Chloe and I became friends later on. She's the one who inspired and encouraged me to apply to The New School and pursue clinical psychology. She's been an inspiration, a friend, and a colleague to me," says Ross.
"We're both inspired by our own experience in sports and by how we can help athletes. We want to bring awareness to this area and create new knowledge and understanding about athletes and mental health," says Sherrill. "I was thrilled when Nicole came to The New School, and now that we're working together, it's exciting because we have a shared passion for fencing and for psychology. Even though we were never fencing teammates, we're teammates in research."
The symposium is a launching pad for what Ross and Sherrill hope will become the first in a series of discussions and conferences that will help produce strategies to benefit athletes at every level.
"We're planning a conference for the fall that would be a multi-day event with dialogues between researchers, clinicians, and athletes. We're hoping to also showcase work from students at The New School and other universities. We're hoping to create a space where New School students interested in athlete mental health can become involved and showcase their work. We're looking to do that in the fall," says Sherrill.
"The symposium was such a great starting-off point for our research, and a lot of synergy was created through the connections forged among the panelists, moderators, keynote speaker, and the Trauma and Global Mental Health Lab at The New School," says Ross. "We're looking at this as the beginning of what will hopefully be a series of events and research projects for many years to come."