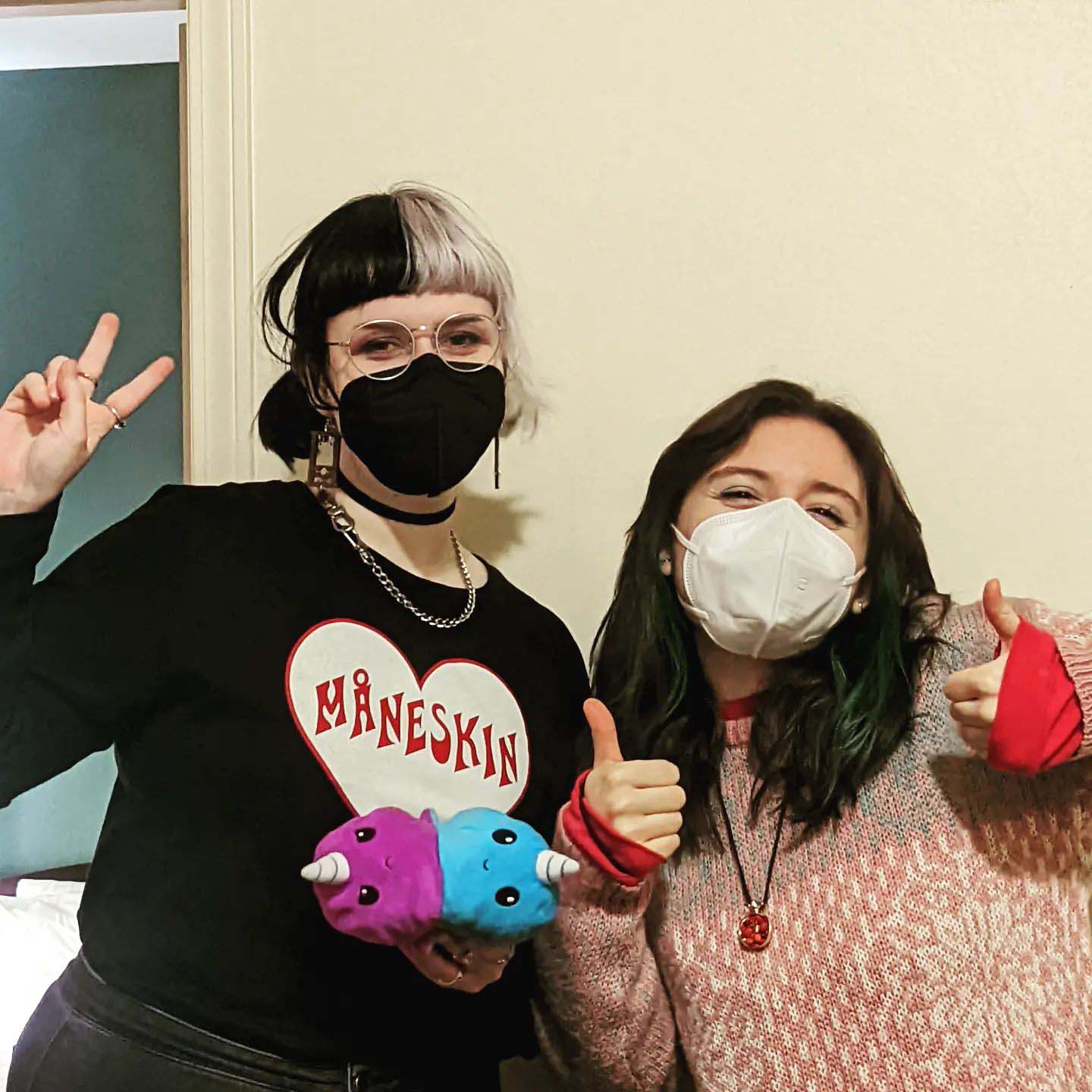 New School Debate Team Members Noor Lima Boudakian and Katrina Butler Qualify for the National Debate Tournament
This February marked the return of in-person tournaments for New School Debate, which sent the squad to the Northeast Regional Championships and National Debate Tournament District Qualifier, held at the University of Rochester. During the tournament, the team reached a significant milestone: Team members Noor Lima Boudakian and Katrina (Kat) Butler became The New School's first debate partnership to qualify for the National Debate Tournament. Created in 1947, the National Debate Tournament is one of the most prestigious, elite, and challenging competitions for debaters in the United States.
"The National Debate Tournament was always one of those aspirational, pie-in-the-sky dreams that I'd had since I learned about it as a novice," says Butler, Politics and Economics '23. "A lot of debate programs across the country orient most of their goals around qualifying for the tournament and encouraging past high school debaters to try and qualify. This was never really the vibe at our program; we always emphasized community building, particularly in our Northeastern region. Despite this, there's still this hype around the National Debate Tournament in the community, and I always thought it would be really neat to train hard in novice and JV debate to see how far I could get as a varsity debater."
Qualifying for the National Debate Tournament is an extremely selective process, with only 78 partnerships from across the United States chosen to participate. Sixteen partnerships identified as the top debaters in the country by a tournament committee receive bids; the rest must qualify from their district tournaments.
"We're in District 8, which covers New York State and New England. Harvard, Dartmouth, and Cornell are part of our district, so it's really exciting for us to try to qualify," says Vik Keenan, a lecturer at Eugene Lang College of Liberal Arts and the coach of the debate team. "The tournament itself is very grueling. It is three days of preliminary debates. You have eight debates total, and each debate is two hours long. I feel the students have to want to have that experience before we decide that it's something we're going to participate in. But once a student does, then I want them to achieve that goal."
New School Debate is a program of the Office of Civic Engagement and Social Justice at Lang and is open to all degree-seeking undergraduates interested in learning to conduct research on policy questions and to debate employing the lens of social justice. The team looks at debate as a way to gain an understanding of power structures and make change from within them. So while the team has achieved many successes over the years, they're not just striving to win trophies; through every argument or research investigation, they're seeking to advance social justice.
"The National Debate Tournament is an especially interesting question and event for a New School debater. The tournament is the metric of success that most college policy debate teams strive for and see as the culmination of all their work," says Lima Boudakian, Global Studies and Economics '22. "Because of this, it is often framed as the only way to be considered as someone who has had a successful debate career. A subversion of this mindset is a pretty significant part of why Kat and I decided to try to qualify—we want to emphasize how a cutthroat competition takes away from debate's ability to be educational and critical."
Lima Boudakian and Butler's success is also notable for the fact that both started participating in debate during their first year of college. Unlike many college debate programs, The New School's team primarily recruits students with no debate experience, unlike some of the competitors they face, who have been competing since high school and sometimes middle school.
"I'm so lucky to have found a debate program at The New School that feels so strongly about novice debate and introducing college novices to debate. Without that, I don't think I would've had the freedom or room to grow that allowed me to discover what I'm good at and what I want my argumentation style to look like. My research skills have improved so much, and I've found it so much easier to formulate my own arguments in anticipation of tournaments and on the spot," says Butler.
"Joining debate was likely one of the best decisions I will have made in my life. I learned about the team through Kat, who was my first friend at The New School," says Lima Boudakian. "Debate has been hugely helpful to me in my academics, in terms of how I am able to process information and also how I do research. I have learned about a lot of theory in debate before it comes up in my classes and am always excited when I get to connect something between the two. My areas of study are such that I am able to apply literature and logic across school and debate, and I often draw on knowledge from classes during tournaments."
Keenan attributes Lima Boudakian and Butler's success in part to the fact that they decided to join the team during their first year at The New School. "Noor and Kat are remarkable because they're one of the few teams we've had at The New School that began debating in college and found the team early enough in their college experience–they both joined the team as first-year students–that they've had enough time to become open, or varsity, debaters. The New School has a lot of really great debaters, but they find us as juniors and seniors, so they graduate before they would reach the open level," says Keenan.
"I want to underscore how impressive their achievement in qualifying for the National Debate Tournament is, because it is not normally a goal of our debate team—it's not something I spend a lot of time as a coach working towards. So essentially for them to qualify means they're really doing it based on their own efforts and their own merits as debaters."