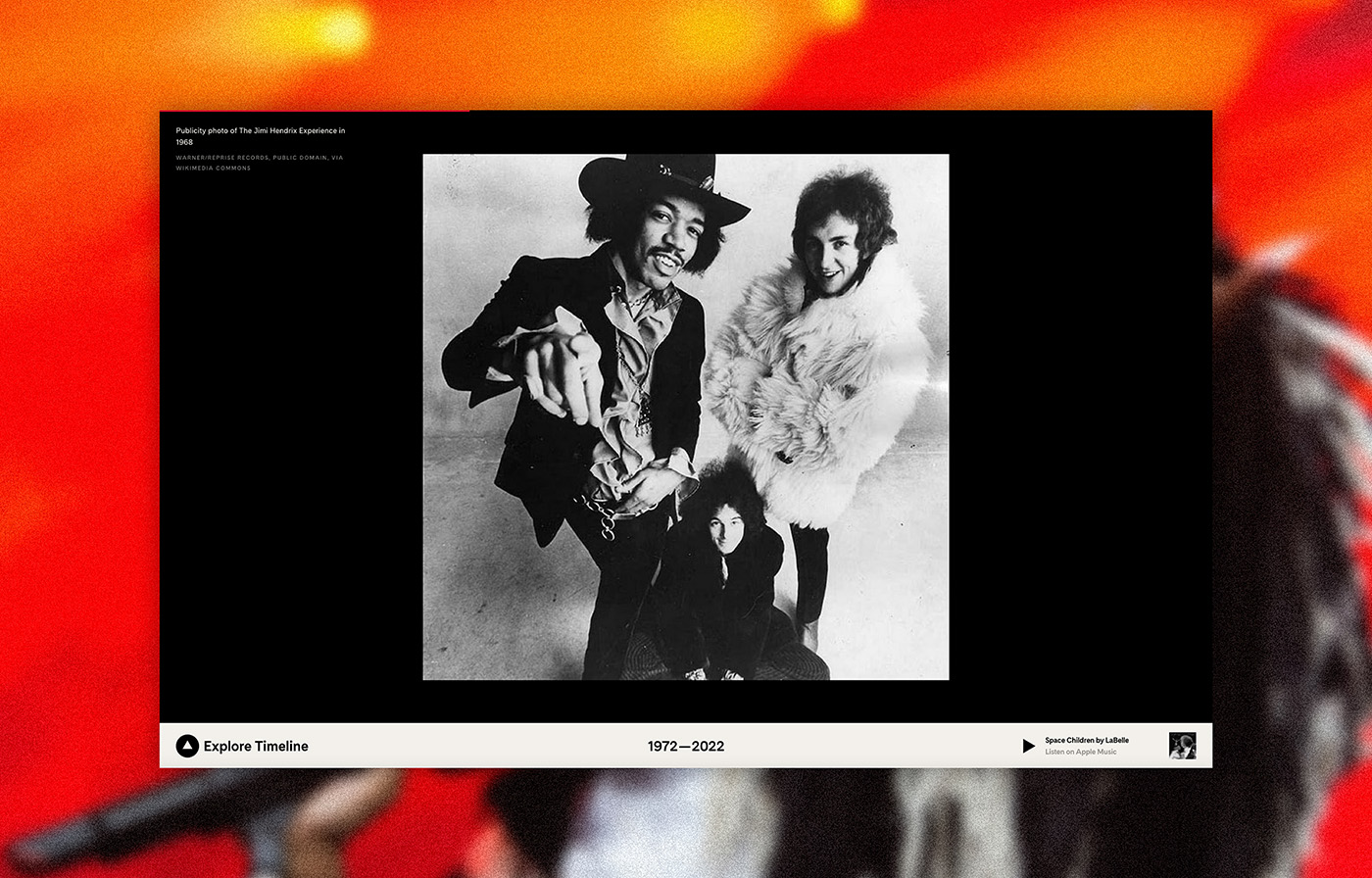 YuJune Park and Caspar Lam, Assistant Professors of Communication Design at Parsons, Redesign Carnegie Hall's Timeline of African American Music
As one of the most iconic and prestigious music venues in the world, Carnegie Hall is at the forefront of presenting bold artistic programming featuring the most acclaimed musicians and artists working today. The venue is also a cultural and educational institution, committed to showcasing and exploring music history in all of its forms.
In 2009, the late internationally renowned soprano Jessye Norman curated one of Carnegie Hall's first citywide festivals, HONOR! A Celebration of the African American Cultural Legacy. As a cornerstone of the festival, Norman wanted educational initiatives to expand the audience's journey of discovery, including the first interactive version of the Timeline of African American Music.
Now, the Timeline of African American Music, which is based on the work of Dr. Portia K. Maultsby—founding director of the Archives of African American Music and Culture at Indiana University and consultant for the National Museum of African American Music—has received an innovative redesign thanks to Synoptic Office, which was founded and currently run by YuJune Park and Caspar Lam, Assistant Professors of Communication Design at Parsons.
"Carnegie Hall's Timeline of African American Music is a prime example of the ways in which education, technology, and design can be combined for the greatest possible impact," says Park. "The impact of the new timeline is, in large part, about bringing the history of African American Music beyond classroom conversations, and to the wider public."
"In the years since HONOR!, we have been delighted to hear from educators, telling us how the timeline became a valuable tool in their classrooms, helping them trace the evolution of different musical genres and bring stories to life," says Clive Gillinson, Carnegie Hall's Executive and Artistic Director.
Park and Lam collaborated with Carnegie Hall to lead the process of translating the project's complex wealth of data into a compelling and easily digestible format that could serve educators, students, and music lovers around the world. They sought to harness the enormous developments in digital technology and user experience since the timeline was originally launched in order to bring the lessons from the timeline to a broader audience and elevate awareness for the extraordinary musical legacy of African American Music.
Encompassing the earliest folk traditions to present-day popular music, the new Timeline of African American Music is a detailed view of the evolution of African American musical genres that span the past 400 years. This exploration of African American musical traditions reveals the unique characteristics of each genre and style, while offering in-depth studies of pioneering musicians who created some of America's most timeless artistic expressions.
"Because the timeline targets different audiences who have different motivations and goals, we do not expect the outcomes for each type of user to be the same," says Lam. "This means that the redesigned timeline is multi-faceted in nature and provides multiple pathways for exploration and understanding this content."
The redesigned timeline includes academic essays, photos and historical images, and audio. Park and Lam adopted a progressive approach to the redesign, where they utilized broad humanities themes that give exhibits thorough context for a particular time period, and don't trap audiences into a singular path as they explore. The result is an intuitive, expansive, and cohesive experience that allows users to access the timeline for a wide range of reasons.
The timeline is also introducing a partnership with Apple Music, explains Park, which means that "with the music embedded within the timeline itself, Carnegie Hall can tell the story of music in an innovative way – the history of music through music."
Collaboration was key to the success of the redesigned timeline, which was also supported by a Digital Projects for the Public grant from the National Endowment for the Humanities, in addition to Carnegie Hall, Dr. Maultsby, and a distinguished committee of contributing scholars from universities across the country.
"The timeline is an intricately connected text that embraces a dynamic visualization to highlight complex relationships between genres and artists," according to Chris Amos, Carnegie Hall's Chief Digital Officer. "This technology is also being offered as an open-source template in hopes that this type of visualization will inspire others to create resources that feature other types of music and art forms."
For Park and Lam, their work with Synoptic Office and as professors at Parsons regularly inform their dual roles, with educational and design work being given equal weight. Their design studio is research-driven, where teaching and learning are crucial aspects of any projects they take on.
"I think many people think of teaching as imparting knowledge onto another person," shared Park and Lam. "But we think of teaching as more of a dialogue, because students will have something to teach you or offer you in return—specifically, their perspectives and their viewpoints. For us that type of dialogue is integral to figuring out what our culture is and what design is."