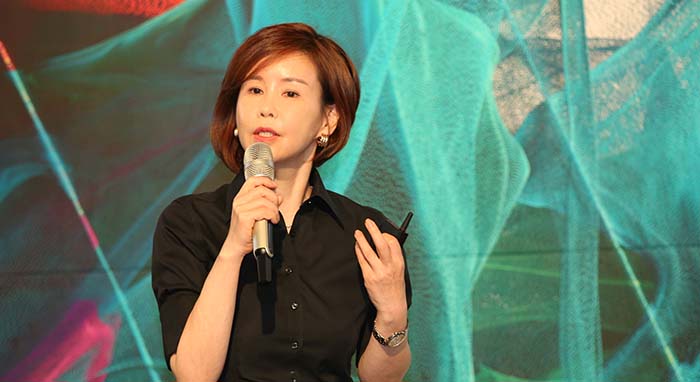 An Interview with Erin Cho, Dean of the School of Undergraduate Studies at the Schools of Public Engagement
Erin Cho is a highly regarded scholar, researcher, and author who has applied her unique academic background in both design and business to develop expertise in innovation, entrepreneurship, design management, and e-commerce. A longtime professor at Parsons' School of Design Strategies, she became the first female Asian dean to serve at The New School when she was appointed dean of the School of Undergraduate Studies (SUS) at the Schools of Public Engagement in January 2020.
The New School News recently spoke with Dean Cho about a variety of topics, including her vision for SUS, how her research and experiences influence her leadership approach, and the leaders and innovators who inspire her.
You were appointed Dean of SUS, which includes the Bachelor's Program for Adults and Transfer Students (BPATS). That appointment has made you the first female Asian dean to serve at The New School. What motivated you to take this position?
I am honored to be the first school dean at The New School who is female, Asian, and also an immigrant, although I did not recognize this aspect when I accepted the position.
I have been an academic for a long time. I finished my PhD in 1998, so even before joining Parsons in 2006, I was a professor at two different land-grant universities. For a long time, my professional identity was grounded in academic research and teaching. But throughout this long journey, I was also invited to carry out various services at the divisional and the university levels involving curricular development, budget decisions, faculty affairs, and other administrative tasks for institutional building. I got to the point where I felt that I had developed both generalizable and specific institutional understanding and knowledge necessary to move critical academic matters forward. An opportunity to lead as school dean came at the right moment.
I am a child of a veteran who turned his life around by grabbing opportunities that education offered to him in a country ruined by war. Growing up in such a household made me realize how much education can elevate people's lives, particularly for the underprivileged and those with hardships, not only in terms of socioeconomic opportunities but also in self-actualization and fulfillment. I am honored to serve as the dean of the school whose curricula are designed to enhance such possibilities and whose pedagogical mission includes serving non-traditional student populations.
In addition to serving as the SUS/BPATS dean, you have been at The New School for close to 16 years as a professor at Parsons' School of Design Strategies. You're a respected scholar, especially in the fields of human-computer interactions, human-centered design strategies, and technology for social justice. How does your research background and other experiences influence your leadership approach to this position?
My research background and past experience have tremendously influenced my approach to any leadership position that I had to carry out. My research lies at the intersection of management, design, and technology grounded in human factors—cognition, perception, and behavior—and human-centered perspectives in all steps of the problem-solving process. My research constantly questions how we define effectiveness and usefulness, enhance well-being, instill empathy, improve accessibility, and address sustainability. It requires not just putting together technology, analyzing data, and managing processes but considering and incorporating human dignity, diversity, and inclusion to conduct good research.
At the same time, the by-product of being a good researcher is that you become more sensitive, perceptive, nuanced, human informed, and culturally sound. In fact, critical thematic focuses of my research have been trust, trustworthiness judgments, empathy, collaboration, and commitment and how people use these judgments to cope with uncertainty and manage risks. For example, I have published an article in one of the top journals in human-computer interactions, entitled "The Mechanism of Trust Affecting Collaboration in Virtual Teams and the Moderating Roles of the Culture of Autonomy and Task Complexity." This article was published in 2019, so I began working on this piece without having the slightest idea that a virtual team would be the dominant form of interaction in such a short time due to the pandemic. So in a way, this is an example of how my research has informed and guided a critical principle of my leadership approach, trust, when we had to shift the school's operations entirely into the digital space.
Empathy is another aspect of my experience that has guided my leadership style. My being a female minority and an Asian immigrant is particularly relevant to my approach to people. I grew up in a country that was devastated by war and struggled to rebuild everything in its foundations. The most distinct memory on my college campus was tear gas because we were protesting against a military regime and fighting for democracy. Also, I would be lying if I said building my career in the United States was not a struggle. Coming from a foreign country poses many challenges, including language, inter-relational, and cultural differences. I have experienced firsthand many different forms of aggression and am still dealing with these extra layers of complexity related to being an Asian immigrant in everyday life. As much as these have been challenges, they helped me be more empathic and understanding toward differences and helped me become a more inclusive leader.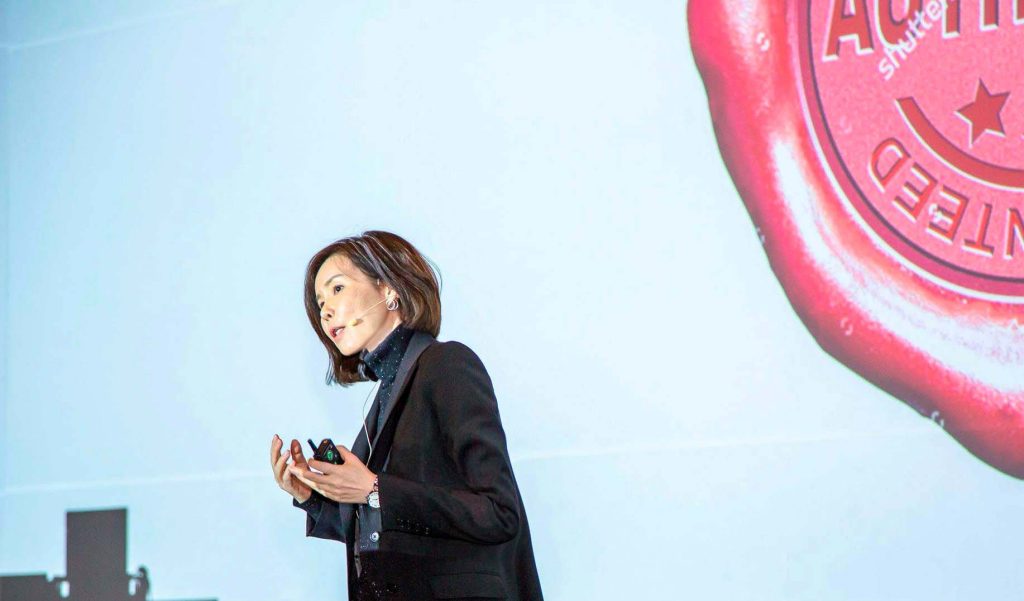 Recently, BPATS has revamped some of its curricular offerings, launching the new BA and BS major Management Leadership and Entrepreneurship and adding new minors, Environmental Management and Technology Management. What other changes do you hope to bring to the school?
Thank you for recognizing these curricular developments made in BPATS. I am also proud that we were able to move through these developments during these uncertain and chaotic times. We now offer an online degree completion option for most of our programs in addition to the hybrid and on-site options we currently have, thus providing greater flexibility and accessibility for our current and prospective students.
I am also hoping to build up a more robust career development program for our students. While most of our students are working professionals, many still feel overwhelmed to think about the possibilities of what they can do with this educational advancement and qualifications. Some students also aspire to use their education as a career-changing tool but are often unsure how this could happen, which direction to aim toward, and what specific steps they need to take to achieve it.
Expanding international collaboration both at the research and the teaching levels is another space that I hope to work in, particularly global partnership between universities, as this could benefit all members of these academic programs. Globalization fueled by the advancement of technology and transportation is becoming our firsthand reality. In particular, digital communication methods have greatly facilitated academic and curricular collaboration between foreign counterparts, making it much easier and faster to organize and disseminate. The New School is also known to have a significant portion of students coming from all over the world. It would be great if we could make the most of these possibilities by forming global partnerships and fostering relationships with international institutions sharing our vision.
What excites you most about working and teaching on campus?
It is the students I see on campus and who I interact with. The New School campus is a microcosm of the world. We tend to define diversity in the context of domestic minorities, but the diversity at The New School represents the diversity of people who grew up in different cultures, different natural environments, with different languages, different foods, and different ways of communicating who they are. You do not even need to walk around the campus to feel it—it is enough to be inside an elevator. This kind of diversity on campus improves critical attributes, enabling students to become thoughtful leaders and contributing citizens in an increasingly complex and pluralistic society. It fosters mutual respect, self-motivation, intellectual engagement, and tolerance for differences, which all help build creativity, critical thinking, and thought-processing skills.
I also love it because the diversity on campus also helps me become a better teacher, better scholar, and better person through the opportunities to work with and learn from students with different challenges, viewpoints, strengths, and experiences. It helps me be more creative, open-minded, and strive for inclusive excellence in my work.
Are there any leaders or artists from the past or present that you turn to for inspiration and whose words or work you think would inspire others?
I have so many that I cannot list them all. I have a strong penchant for facts, and from very early on in my life, my favorite stories to read were biographies about past great men and women who changed the world. While growing up, I turned to women scientists for inspiration, such as Hedy Lamarr, who invented a communication system that was a precursor to wireless technologies including Bluetooth and Wi-Fi, and Rosalind Franklin, who worked to identify the structure of DNA at a time when women were not even allowed to eat in the college cafeteria. I am also constantly inspired by those who stand up for the rights of children and education for women. Among more recent heroes that I turn to for inspiration is Malala Yousafzai, for her bravery, her human rights advocacy work, and the cause of ensuring that all girls receive an education. Her approach to her work particularly resonates with me as she explores ways to bring education to extremely marginalized women via technology.
From a more personal side of inspiration and ways of organizing my own universe, I turn to ancient Chinese philosophers, in particular Lao Tzu and his teachings in the Tao Te Ching. Old Chinese philosophies heavily influenced the liberal arts curricula I followed in middle and high school, many of which emphasize the value of being non-judgmental, of emptiness, of being accountable for one's acts, and the drawbacks of being reactive and impulsive. After moving to the United States, I forgot all about these until I got more involved in researching human perceptions, subjectivity in cognition, interactions with circumstances in judgment, and understanding behavioral contexts. It is another link making me realize that many things in life come full circle.
What books are on your bedside table right now? And which TV shows are you currently binging?
I have a pile of books on my bedside table. A book I read recently is A Year to Live: How to Live This Year As If It Were Your Last, by Stephen Levine. I read this book for the first time more than 15 years ago but somehow have kept it in the corner of my bookshelves until I picked it up again. The idea of this book is that at every end of our lives, we go through the "end-of-life recall," which is an intense flashback of our whole life through our eyes. But we do not have to wait until the end of life to do it. We can do that intermittently throughout our lives to reflect on where we have been, where we want to go, and how we approach our fears, thereby living more fully.
I am not a big TV person, so I rarely binge-watch anything, but I have recently been following one drama, Pachinko, based on the book by a Korean American journalist, Min Jin Lee, published in 2017. It is a Korean family saga from about 1910 until 1989. The backdrop of this story is in Japan, where Koreans are considered second-class citizens even if they were born in Japan. It depicts so well all the blunt and subtle suppressiveness, discrimination, good and evil, pain and redemption, ugly and beautiful human experiences through the lens of this generation of Koreans living in Japan.