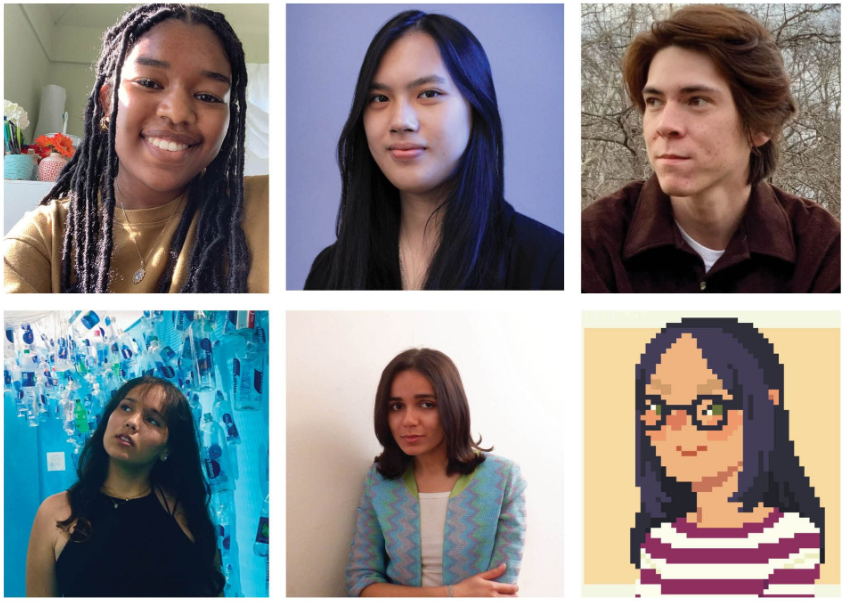 Dean's Honor Symposium at Eugene Lang College Celebrates Undergraduate Researchers and Creative Practitioners
For centuries, people have known that the best way to understand a subject is to teach it to another. As the Roman philosopher Seneca said, "While we teach, we learn." This philosophy underpins Eugene Lang College's Dean's Honor Symposium, which offers students the opportunity to develop subject mastery while learning how to present the results of their research.
More than 30 students participated this year, presenting their work during a poster session or as part of a panel. The symposium provides a welcoming place in which to make the transition from students to scholars, professionals, researchers, or artists. At the same time, the participants learn how to present their scholarly research to an outside audience.
"The Dean's Honor Symposium is a great opportunity to build confidence and to feel like your academic work matters outside of the classroom," says Nancy Wei, BA Journalism + Design '23/MA Creative Publishing and Critical Journalism '24. "It's a safe and familiar enough space for our first academic talks, but it's also high stakes enough that we're consistently pushed week after week to put together professional work."
The panels allow Lang to foster its strong academic community, as students are grouped together on the basis of the focus of their research rather than academic major. "It's wonderful to see how our students are able to apply what they have learned at Lang to create sophisticated, rigorous, and inspiring research that addresses pressing societal issues in the world," said Lang Dean Jennifer Wilson. "Lang challenges students to think critically and take charge of their own academic development, and the symposium shows how much they are reimagining their concepts of liberal arts, research, and themselves."
Panelists are guided by a faculty advisor who assists them with mastering academic discourse and scholarly presentation. Since the student panelists come from different areas of study, they have to find ways to put their projects in context with one another. Working collaboratively, students built four panels—Technologies of Human Being: Mediating Connections Between Ourselves and Nature; Multiple Timelines: Against Normative History; Intergenerational Connections: Connecting Through Memory, Loneliness, and Resilience; and Challenging The Status Quo—offering advice and helping one another develop their presentations from the early stages to the polished, final presentation. (Recordings of the panel presentations can be viewed here.)
"When I first ran through drafts of my presentation, I ran into the problem of coming across as a bit dry and austere. I wasn't really thinking about how the information was presented beyond the pure information of the theory itself," says Viyan Poonamallee, BA Philosophy '24, who was part of the Intergenerational Connections panel. "Learning from my cohort, some of whom are more artistically inclined than me, I learned about how to present information in a way that better connects to audiences. Through the sharing of personal experience, inclusion of humanity and emotion, and more visually appealing slides, I think my presentation became much more appealing than it otherwise would have been."
"At first it was a bit difficult to retain everyone else's presentations, but as we went along, everyone provided good feedback to each other," adds Wei, who participated in the Technologies of Human Being panel. "Even though we're all studying different topics, we all had much to learn about giving talks—putting together compelling visuals, writing for the ear, and also public speaking itself."
Faculty advisor Debasmita Basu, an assistant professor of mathematics, finds that the symposium gives students an excellent platform on which to present their work and receive constructive feedback from the audience. "Such feedback provided students with new directions to expand their research and exposed them to existing research and resources in their fields," she says.
In working together on the Dean's Honor Symposium, faculty advisors and students learn from one another in exchanges that reflect the collaborative model that is integral to Lang. "What I enjoyed the most about the symposium was learning about the range of research students are doing. All the students focused on topics pertinent to today's time and personal to them," says Basu. "They established the significance of the issues to society and conducted thorough research to explore them in depth."
Whether students move on to pursue careers in theater, technology, or academia, the skills they acquire in the process of organizing accessible presentations of complex information will serve them throughout their lives. "If you're looking to present your academic work in a speaking setting, where you'll be able to formalize your scholarship and show it to friends and family alike, then the Dean's Honor Symposium might be a fun opportunity. It's obviously a time commitment, but it was worth it for me," says Poonamallee.