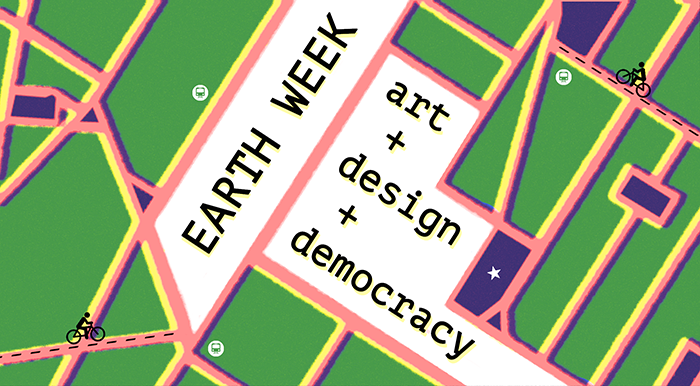 Earth Week at The New School Spotlights Art, Music, and Design's Importance to Environmental Causes
Musicians, chefs, and artists are joining with academics, scholars, and activists at The New School during Earth Month this April, sharing their experiences, art, music, and research and presenting creative and engaging ways to build environmental justice, sustainability, and community resiliency. Coordinated by the Tishman Environment and Design Center, this year's events expanded the focus to include art, music, and design along with research and activism, highlighting the importance of these fields to social justice movements and their relevance to environmental causes.
"The Tishman Environment and Design Center works across The New School to advance the university's commitment to justice in relation to climate change and environmental justice, building knowledge, working with and in communities, and supporting action for a just transition. The cross-disciplinary strengths of The New School make the university an important contributor to the urgent and critical transformations that need to be made, particularly in cities, in order to adapt to climate change and redress structural and long-standing environmental impacts on frontline and vulnerable communities," says Joel Towers, a professor of architecture and sustainable design at Parsons School of Design and the co-director of the Tishman Center. "In this context, our Earth Month programming explicitly reaches out to engage the production of culture, art, design, and performance, reflecting a broad understanding of the challenges presented and promoting actions that can be taken to address the urgent crises of climate change and the cascading impacts of historical and contemporary environmental injustice."
Earth Week 2022, titled Art, Design, Democracy: Tools to Achieve Climate Justice, featured programs created by The Arts department at Eugene Lang College, the Schwartz Center for Economic Policy Analysis, the Food Studies program within the Bachelor's Program for Adults and Transfer Students in the Schools of Public Engagement, Parsons' School of Constructed Environments, the Urban Systems Lab, and The New School for Social Research.
"Since we work at The New School, which includes fashion, art, and music, it makes sense to bring those areas into ways people can engage with environmental justice and sustainability," says Mike Harrington, MS Environmental Policy and Sustainability Management '18, assistant director of the Tishman Center and coordinator of Earth Month events. "In my job and as a student at The New School, I noticed that a lot of people, like students at the College of Performing Arts, for instance, often don't have a lot of opportunities to engage in sustainability activism. So, I wanted to bring in people like Simón Mejía from the GRAMMY- and Latin GRAMMY-nominated group Bomba Estéreo, who's a musician but is very much into working to help the environment. I think that it's important that artists get a spotlight, since art is an important part of social movements, and the environmental justice movement is no different."
Food Studies chair and visiting assistant professor Kristin Reynolds, who is also a percussionist, playing drum set and marimba, has used music to grapple with social justice issues in the food system and to help students in her classes connect with the topics they're studying. She joined with Harrington to create the event Listen Up! Understanding Food Justice and Environmental Justice Through Music. "Last summer, Mike Harrington and I were talking about our common interest in music. We thought it would be exciting to put together an event that brought together musicians, chefs, and artists who integrate music into their work for food justice, food sovereignty, and environmental justice," says Reynolds.
The event—which featured chef Bryant Terry, winner of a James Beard Foundation Leadership Award and an NAACP Image Award; Indigenous musician Lyla June; diversity, equity and inclusion consultant and musical artist Dr. Thomas RaShad Easley; and Dr. Tanya Kalmanovitch, an associate professor of music entrepreneurship at Mannes School of Music—demonstrated how music can be used to strengthen, diversify, and elevate food and environmental justice practice. "It was wonderful to bring together this amazing group of panelists who are leaders in their fields to share some samples of their artistry and the ways they connect this to food justice and environmental justice," Reynolds says.
Although the university has reopened campus for public events, Earth Month programs remained online, since planning began months before the change. Harrington noted that while in-person events do have a special energy, remaining online has made programming more accessible for both presenters and attendees, who do not need to be in New York City to participate. "For one of the events, all of the panelists will be in Colombia. Hosting events online does give us a bigger audience, and it is accessible to a lot of people. Anyone across the world with the Zoom link can come. We're looking into hybrid online and in-person events for the future," says Harrington.
Harrington is looking forward to working with even more programs across the university with an interest in sustainability. Both Harrington and Reynolds point to the many benefits of these interdepartmental collaborations. "Working together to conceptualize and plan many of the events has been enriching in terms of the types of ideas, speakers, and formats that Food Studies and the Tishman Center have co-organized. We are also able to reach more diverse audiences by publicizing our events collaboratively," says Reynolds.
"I see a lot of potential to work with centers and departments across the university on this issue and help them on the back end and with promotion. It helps for people to see everything all in one place to know that all these events are connected. I think often people look at environmental issues as just science issues; they don't look at it as a social justice issue, which it very much is," says Harrington.