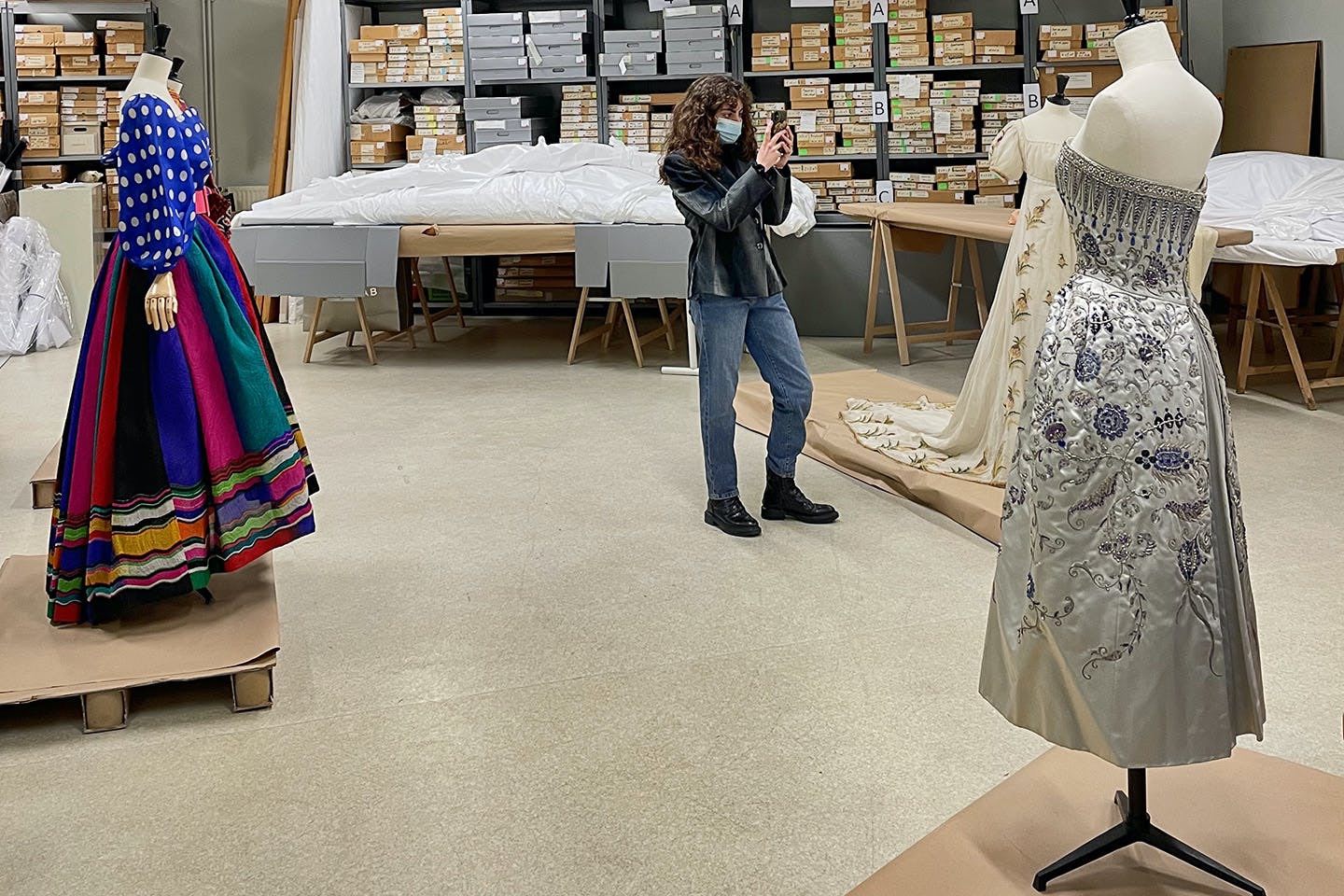 MA Fashion Studies Students Research and Explore the Collections of Palais Galliera
It's no secret that in recent years, museums have begun to more closely examine their own collections as countries, groups, and individuals have called for certain objects and artifacts to be returned to their respective owners. The problematic histories of select museum pieces is an area of study ripe for rigorous scholarship, which made it the perfect collaboration between the MA Fashion Studies program at Parsons Paris and the Palais Galliera—Musée de la mode de la ville de Paris.
"Objects in Trouble" consisted of four performances that investigated a given object's problematic histories in relation to issues of race, colonialism, elitism, and more. The artifacts from the Palais Galliera included a Dior dress from 1952 formerly owned by Wallis Simpson, an imperial coat worn by the Emperor Guangxu in China and Princess Murat in France, a book created by the famed caricaturist Georges Goursat, and a cotton gown adorned with pineapples from the early 1800's.
Throughout the partnership, students explored the way their chosen objects reflect the controversial logics of fashion—from its binary discourses to its profanization of cultures, from its unfavorable depiction of the female figure to its exploitative practices. Their final video presentations put fashion on trial by showing how their objects should not be simply condemned, but rather seen as opportunities to rethink the way museums explain the values of fashion.
"A particular attention for our MA in Fashion studies is on fashion curating, which is one of the reasons why we developed a collaboration with Palais Galliera," said Marco Pecorari, Director of the MA Fashion Studies program. "Beside working on an annual course and exhibition, students also have the chance to attend master classes with Miren Arzalluz, director of the Palais Galliera. It is important for us to expose students to people who actually work in museums, learn about the politics of curating, but also the constraints that curating may have today."
The collaboration is overseen by Pecorari and Arzalluz, as well as Laurent Cotta, Director of the Palais Galliera's Arts and Graphics Department, and a faculty member at Parsons Paris. For Arzalluz, the opportunity to work with students and share insights about museums and curating is part of the Galliera's mission, as the museum always strives to provoke new ways of thinking around fashion, and enable exciting experiences through their collections.
"We are currently working on an exhibition of our permanent collection, so it's helpful for us as well to work with students because we are trying to think outside the box on how to interpret objects differently from what we have done in the last years," shared Arzalluz. "This collaborative experience with the students makes us think differently."
For the students, the research and investigation of the museum's collections allowed them to explore a variety of themes related to fashion, history and historiography. For example, researching Wallis Simpon's Dior dress showcased the inherent dualities in the object, including vast wealth and extreme thinness, simple adornment and elaborate ornamentation, and the conveyance of royal status through appearance. Students' research into a cotton gown with pineapples uncovered the hidden history of exploitation and slavery embodied in the garment through a demystification of the symbolic connotations of the gown's cotton material and images of pineapples.
"I think an important aspect of this work is all the questions students were able to raise with their research," explained Laurent Cotta. "The point of this project wasn't to provide solutions, but rather to inspire new questions, and I think our students were very successful in doing that."
"For us, the entire collaboration was an intense brainstorm about our own collection," shared Arzalluz. "The student's research and work shapes us to have a vision of their things, it's very refreshing, and makes us feel more connected than ever."
Recently, the students also worked on projects exploring the role of traditional collecting and presenting practices in controlling access to cultural phenomena and called for more diverse and inclusionary research approaches. Rather than condemning their objects of study for their problematic nature, students challenged viewers to reimagine the ways in which museums negotiate the values embedded in fashion. The performances themselves represented an innovative way of enabling new audiences to engage with cultural and fashion theory.
"For us, this is a course, not just a partnership," explained Pecorari. "Students aren't just producing an exhibition or performance, they're learning by doing it. This is one of the ways we can innovate in our pedagogy around fashion curating."