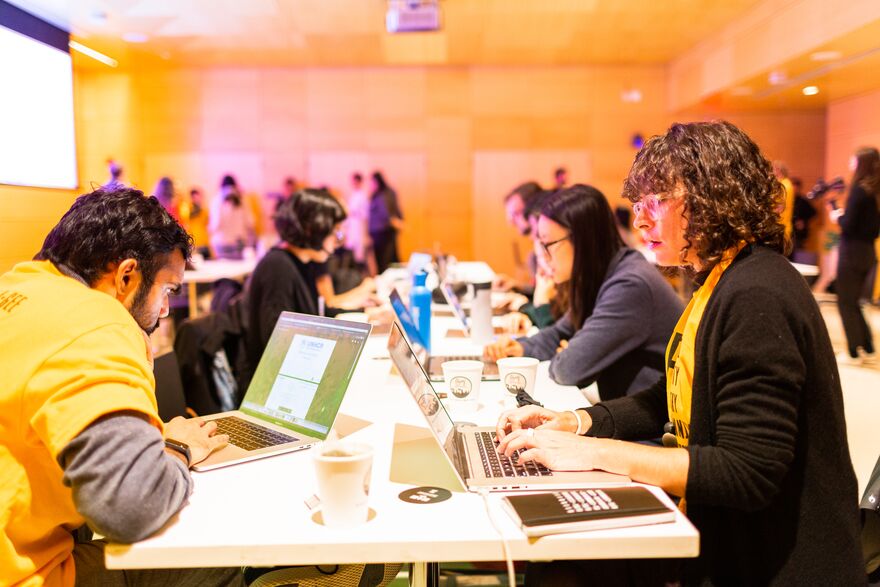 Parsons Data Visualization Launches Racial Equity Fellowship
As one of the first design-focused Data Visualization programs in the country, the MS Data Viz program at Parsons is a leader in the field, with faculty, students, and alumni who know that in order to remain at the forefront of education and prepare students for a constantly evolving industry, the program has to regularly innovate and adapt.
One of the program's most exciting innovations began in 2020, when a student-led initiative meant to address systems barriers for BIPOC candidates joining the program and anti-Black racism across technology, data science, and design, led to the creation of the Data Visualization and Racial Equity Fellowship. The Fellowship will be awarded for the first time this Spring, and is being funded thanks to a mix of institutional partners as well as Data Culture, a data engineering and visualization consultancy co-founded by an MSDV alum, Gabi Steele, which has since hired graduates of the MSDV program.
"In addition to curricular resources and training, it was clear that meaningful action would also entail a financial commitment," explained Daniel Sauter, Director of the MSDV program. "We were seeking long-term impact through an endowed fellowship, and needed to develop a new service-oriented fundraising model to accomplish this goal with immediate effect."
A fellowship of $5,000 will be awarded each year by a dedicated Parsons faculty committee, and will create a permanent space for EISJ work in the MSDV program. Additionally, Fellows will be connected to peers and mentors involved in other EISJ initiatives across Parsons and The New School. The fundraising model for the fellowship is especially unique, as both institutional partners and individual donors fund the scholarship, which the team at Parsons hopes inspires other programs at The New School to consider as they develop their own new fellowships and scholarships.
"The fellowship initiative was fueled by a need for sustainable, MSDV community-led fundraising to support a longstanding scholarship program as part of larger efforts towards systemic change against anti-Black racism," shared Marisa Ruiz Asari, Data Viz '20, and a member of the Data Culture team. "This mission is aligned with Data Culture's commitment to bringing more voices into the greater space of data science and engineering."
Asari helped organize a group of fellow MSDV graduates in 2020, including Steele and Mikaela Ergas-Lenett, to help create more opportunities for BIPOC MSDV candidates, and advocate for representation in the data visualization industry. Part of the fellowship also includes partnerships with leading companies, which gives students the chance to gain practical experience, and create a professional network.
"The fellowship directly aligns with Data Culture's mission and vision, and as a company operating in the data space, our team has always focused on contributing to greater representation in the industry which has historically been cis-white male-dominated," explained Steele.
"Those in the industry have a responsibility to ensure that the field moves towards a greater focus on equity and justice and that new generations of visualization experts feel well represented and valued — that their lived experiences enrich the potential of this field as a whole," shared Asari.
The Fellowship isn't the only new initiative in the MSDV program. Recently, students completed a partnership with the Smithsonian Institute, where they visualized and interpreted data from the world's largest museum complex held by Smithsonian's 19 museums. The program has also launched the DV Student Work Archive with all thesis projects since the program launched in 2015, and will celebrate the new cohort of DV graduates with the 2022 DV Keynotes, broadcast live online on May 18th at 5pm.