Presidential Visiting Scholar Cornel West Inspires Students to View Philosophy as Vocation, Invocation, and Provocation
After a nearly two-year hiatus, The New School's Public Programs relaunched in-person events this March, bringing audiences back to campus venues for spirited, energetic, and enlightening talks and performances. For one of the first of these events, the university welcomed the renowned philosopher Cornel West, who delivered the public lecture "Philosophy in Our Time of Imperial Decay." The event was a part of West's appointment as a Presidential Visiting Scholar. The Presidential Visiting Scholars are an initiative that brings to campus outstanding academics, artists, and activists known for their bold research, pedagogical innovations, and groundbreaking ideas to engage with the university's faculty and students.
While welcoming guests back to campus venues, President Dwight A. McBride stated, "We have the honor of welcoming to our university one of the most distinguished intellectuals not just of our time, but to walk the planet—Dr. Cornel West." Of the Presidential Visiting Scholar program, he said, "We launched this program as a way to create opportunities not only for our community to have the benefit of engaging with some of the most important and influential thinkers and creators of our time but also for those scholars and artists to have the benefit of engaging with the richness that is The New School. I could not be more pleased, more proud, and more grateful that Dr. Cornel West has accepted our invitation."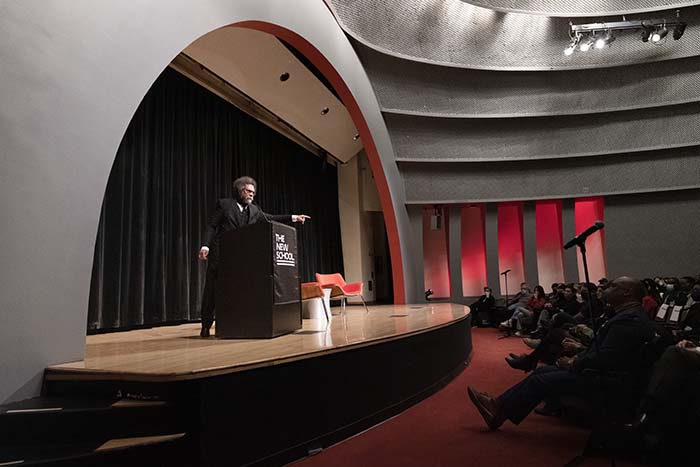 This event was a milestone for President McBride, who started his tenure at the beginning of the pandemic, as it was his first opportunity to welcome a live audience to a New School public event. "While we have been amazed at the ways that the New School community adapted and learned, gathered and learned to connect and to express ourselves in many online formats, there's something different about being together and sharing space—feeling the energy of a room and co-creating a collective experience," he said.
The lecture was the culmination of West's time on campus as a Presidential Visiting Scholar. He and Judith Butler, who led an intensive graduate seminar, Contemporary Feminist Philosophy, during the fall 2021 semester, were the two inaugural scholars. Simon Critchley, Hans Jonas Professor of Philosophy at The New School for Social Research (NSSR), who said it had long been his wish to have West speak at the university, thanked President McBride, NSSR Dean Will Milberg, and NSSR staff members Sherri Cohen and Despina Dontas for making it possible. "There is nobody like Cornel in the world of philosophy and in the world of the life of the mind," said Critchley during his introduction of West. "He brings realism. He brings truth. He brings an often ugly and unpleasant truth, but he also brings—and I've been listening to him for the last two days— joy. What you get with Cornel is the joy of thinking. The joy of living, thinking, and doing philosophy. The life of the mind."
During his tenure as a Presidential Visiting Scholar, West delivered two lectures solely for New School students, faculty, and staff—"Philosophy as Vocation" and "Philosophy as Invocation"—and held an open discussion with MA and PhD Philosophy students. "What I've been talking about these last few hours, last two days, is philosophy as vocation, philosophy as invocation, now philosophy as provocation—what does it really mean to take seriously the calling of the love of wisdom," said West during the lecture.
During his talk, West connected The New School's history of engaging with international scholars who question and challenge the status quo with people's struggle to find their own vocation and voice. "What is distinctive in part about The New School is what I love, which is that it wants to stay in contact with the humanity of those European intellectuals who were aware of European crimes and could bring critiques of those European crimes as Europeans," said West. "Because they believed in intellectual integrity, they believed in freedom for everybody, they believed in mechanisms of accountability, namely democratic practices on the ground. That is the level of philosophy as vocation: finding one's voice."
He also called upon attendees to question their own activism and where it might be weakened by nationalism, an ideology that is rarely questioned but has significant ramifications, now being seen worldwide. "Are you disproportionately accommodating yourself to the nationalism of your day? Because nationalism remains the most powerful ideology of the modern world, and people are willing to live and die for it. And how much we talk about class, race, gender, and sexual orientation—the international versions of those fall in the face of nationalism."
West concluded by encouraging all to use their careers as their calling, be willing to feel deeply, display genuine care and solidarity, and, most important, be willing to act. "It has everything to do with how seriously we take our quest for truth and beauty and goodness and justice. And all persons, of all colors and genders and sexual orientations, can contribute to the quest for those particular ends and aims by taking very seriously the variety of the voices raised, the examples enacted, the movements created. And in the end, that still might not be enough. So what. We go down swinging."